Warzone Wednesdays, the tournament that sees some of the biggest content creators and esport stars pair up and duke it out for ,000, is entering its seventh week and for the first time former CS:GO pro shroud will be joining the action.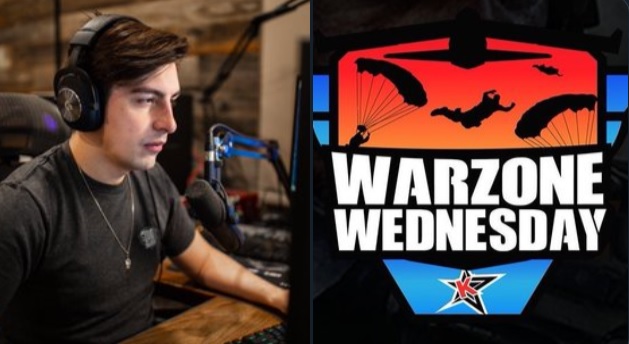 (Picture: Keemstar)
Joining him will be the likes of T100's Nadeshot, Ninja, Aydan and NICKMERCS making this one of most stacked Warzone tournaments yet.
The kill chase format means it is all about the eliminations meaning we get to see these guys do what they do best - frag out. 
There will be $20,000 up for grabs and all of it goes solely to the winning duo - so it's all or nothing for those competing! 
Here is everything you need to know ahead of Week 7 of Warzone Wednesdays.
Schedule
Warzone Wednesdays Week 7 is scheduled to start at 1 pm (PT) / 4 pm (ET) / 9 pm (BST) and will run for approx seven hours going off past tournaments.
Teams
bobbypoff & Tommey
Aydan & TeePee
NoahJ456 & Merk
Shroud & Crimsix
NICKMERCS & Swagg
Vikkstar123 & ItzWarsZ
TGLTN & Fuzwuz
Crowder & CouRageJD
Ninja & DrDisRespect
Trainwreck & Felo
KYR SP33DY & SideArms
GreekGod & LyndonFPS
Nadeshot & Cloakzy
Symfuhny & DougisRaw
Castro1021 & NepentheZ
Tourva & Censor
And here is the first round of games courtesy of Keemstar himself.
Format and Rules
Warzone Wednesday's is a knockout tournament with a double-elimination bracket.
The two duos up against each other join a party as a squad and queue up.
Two standard squad games will be played
The duo with the most kills across the two games proceeds to the next round.
The losers drop into the lower bracket for another chance at victory.
You can see a live bracket on Keemstar's Challonge page.
Warzone Wednesdays Week 7: How-To Watch
The event will be broadcast live on KEEMSTAR's Twitch channel, you can also watch all the action from the players' by tuning into their respective streams. We have included both the main broadcast and some players that are worth tuning in for.
NICKMERCS
Nadeshot
DrDisRespect