Halo:Â you've definitely heard of it and many of you maybe even grew up on it. The franchise was born in 2001 with Bungie releasing Halo: Combat Evolved, which tied in directly with the release of the first Xbox, kicking off a relationship that lasts to this day. The game was a huge success and by November 2005 it had sold over five million copies worldwide. Naturally, like any game, a competitive fanbase started to form and in 2002 Major League Gaming (MLG) was formed.
Halo events
were featured heavily on the MLG Pro Circuit and became a staple of this infantile esports scene.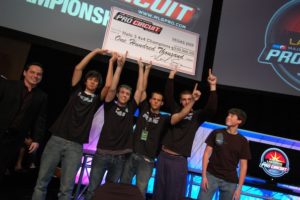 Years later came Halo 3, which much of the community consider being the best entrant in the series. The numbers back it up too, with over 14 million copies sold worldwide, still sitting as the most sold Halo game. The esport was also thriving, with MLG giving away over $1.8 million in prize pool money over three years. Then  Halo began on its steady decline with viewership, player base and prize money all depleting. Halo Reach released in 2010 to huge backlash from the competitive community. This would be Bungie's last instalment in the series as the new developers, 343 industries, joined the fray.
What was next for Halo?
In 2014, 343 released Halo Chief: Master Collection, which pumped the passion and love for the old games back into older players. Following this, 343 released their flagship title that is being played to this day, Halo 5: Guardians. Halo 5 had removed many features that had ruined the experience for players previously and, most importantly, added an 'observer' feature which paved the way for Halo 5 as a spectator esport. [caption id="attachment_106591" align="alignnone" width="600"]
Credit: Robb McCormick Photography[/caption] Halo 5 has given away over $6 million in prize pool money with next week's event, Dreamhack Atlanta, boasting a $300,000 prize pool to fight for.
What can Halo esports improve on?
Halo in the present day has never been in a better place, with support from Microsoft and the Halo Championship Series (HCS) and some semblance of a seasonal infrastructure in place. However, Halo continues to struggle with viewership numbers as they merely scrape 7000+ concurrent viewers on most matches. This is a problem that needs to be solved, but how do they bring back the thriving community that once was?
In-game cosmetics
Halo 5 was the first to do this with esports weapon camos, but not on a huge scale. Supporting the organisations that are involved in your esport title is crucial to maintaining their wellbeing in the industry. One way to do this is to offer a revenue share system with in-game items such as weapon skins or outfits that include the organisation's logos and brand colours.
Increased player base
Halo is one of the better-recognised games, having left their mark on the industry after revolutionising the FPS genre. With this being said, Halo needs to cater to their existing audience whilst also enticing new players that are looking to enter the series. Upcoming title Halo Infinite (release date TBA) will need to not only be refreshing and fun but also welcoming to an outside audience, Halo fans or not.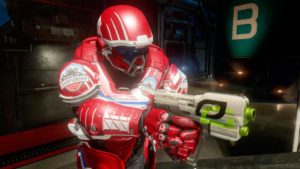 The main aim now for developers at 343 industries needs to be how they can target that audience and grab their interest as spectators. To do this Halo needs to become fun, addictive and truly competitive as it once was. The game not only has to play well but continuous goals and challenges need to be put in place to keep players wanting more.
Equal support worldwide
The Halo Championship Series proved to be very successful in North America (NA), Europe (EU) and Latin America (LATAM), however, it was questioned whether all regions got equal amounts of support. It was a pretty well-known fact that NA teams and players had a lead over others, possibly due to more events being located inside North America that were more viable to attend for them. On the flip side, there has always been a severe lack of events outside of North America. For Halo to become truly worldwide, it needs to be supportive of each community in each country and put together events and tournaments to support these scenes. Halo has so much potential to contend with other console esports such as Call of Duty, which many Halo players have started to switch to, but they need the right gameplay to feature. They need to prove they can revive what was one of the greatest legacies esports has known. Don't forget to tune in to this weekend's event on Twitch.tv/Halo to show your support for an esport that so many of us grew up on.