The
Overwatch community
has been very vocal about Overwatch's Skill Rating (SR) system since the launch of the game. Whatever magical formula Blizzard implements at any given time has never done much to satisfy the angry mob. Then there are the various forms of account manipulation including boosting and "smurfing", or high-ranking players messing around in lower leagues, to consider. The problem gets more complicated once you examine the very top of the competitive ladder, which
had some Redditors debating
yesterday after Calvin, a player with multiple Top 500 accounts,
voiced his opinion about account saturation on Twitter.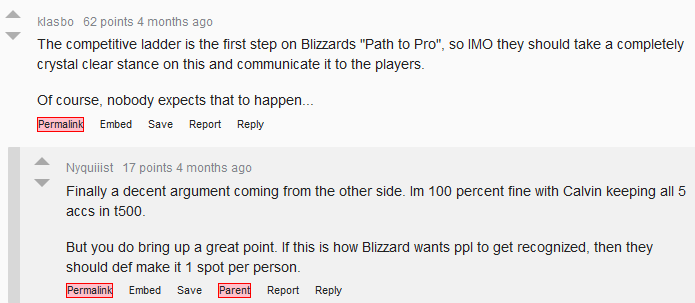 On the surface, the "issue" almost seems like a non-issue. The Top 500 is a simple reflection of the Top 500 accounts, nothing more. There isn't anything saying that it's supposed to be reserved for 500 individual people. Indeed, there are many, such as San Francisco Shock analyst, Harsha Bandi, who believe that the system is more or less fine, and that if you're really as good as you think you are, you shouldn't have a problem getting a Top 500 account.
Don't understand why people feel that players with more than one top 500 account are selfish... if you really "deserve" top 500, then you should go out and earn it!

The more competition for the spot, the more weight it carries. Artificially making it easier is backwards imo. — Harsha Bandi (@ggHarsha) December 17, 2017
Being in the Top 500: Does it really matter?
If you read through Harsha's thread, you'll get a feeling of how the other side of the fence views the perceived problem. When you have thousands of players fighting for top spots in the competitive scene, it might seem like an exercise in futility when a few of them have many accounts in the Top 500. Depending on how you look at it, these players might seem "selfish", and the integrity of what the Top 500 means might come into question. So, then, does being in the Top 500 really matter? You get a special icon and spray for finishing in the Top 500, but the visibility you get for being in the Top 500 is potentially invaluable. Overwatch League starts next month, and many pros and aspiring pros are putting together teams for Overwatch Open Division as well as Overwatch Contenders Season 2. Being able to say you're a Top 500 player gives you a ton of credibility right out of the gate. If the "path to pro" is something you're interested in, having people with multiple Top 500 accounts could be getting in your way. [embed]https://youtu.be/rhdJouQwH8I[/embed]
SSSniperWolf about reaching Top 500
As the Overwatch pro scene develops, so too will the significance of the Top 500. If nothing else, it's really great to see so many people hungry for those top spots.