Blizzard Entertainment has been known to add Easter Eggs to World of Warcraft expansions, referencing some of the biggest happenings in the year leading up to an expansion. Shadowlands is no different, as there's an Easter Egg to find which references the COVID-19 pandemic. Here's how you can find the Pandemis NPC, and what the Shadowlands COVID-19 Easter Egg is all about.
Shadowlands COVID-19 Easter Egg: Pandemis Location
First off, the NPCs name, Pandemis, is clearly a reference to "pandemic". The world has been in chaos throughout 2020 due to the global COVID-19 pandemic, and Blizzard has added a relatively tasteful nod with the Panedmis NPC.
The NPC is found in the Maldraxxus, which is filled with war, massive bones, and of course, plague. 
You can find the Pandemis NPC in Shadowlands by making your way to the House of Plagues in Maldraxxus, at location 60, 71 on your map.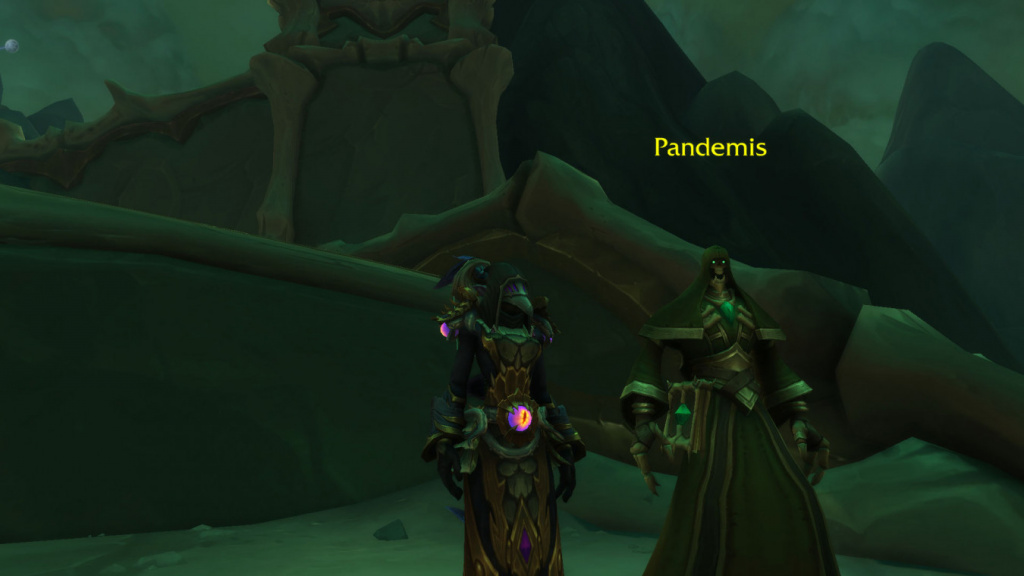 (Picture: WoWHead)
In this Shadowlands Easter Egg, Pandemis reminds you to wear a mask, and wash your hands.
When a player interacts with Pandemis, he will say the following line: "I was informed you would be heading into the crash site. You're going into the most dangerous place in Maldraxxus. Be careful, wear a mask, and wash your hands."
You will then have the option to ask him "Wear a mask?" At this point, Pandemis will state: "How do you survive? Not wearing basic protective gear while doing dangerous activities. Here, take this extra one."
The Shadowlands NPC referencing the COVID-19 pandemic will then cast Personal Air Filtration on the player, which equips your character with a mask in the style of a plague doctor which lasts 10 minutes.
This Shadowlands Easter Egg referencing the COVID-19 pandemic is quite tasteful, reminding players to wear a mask and wash their hands while steering clear of any types of jokes surrounding the serious issue. Well done, Blizzard.