The World of Warcraft: Shadowlands expansion is releasing in Q4 2020, and Blizzard is seriously stepping up their game.
The developer has made some great choices with the upcoming expansion, from the Torghast Tower content, quality of life additions, and a whole lot more.
One of these choices is to squish the level cap down to 60. You will need to go through the Shadowlands levelling content on your first try, but afterwards, you can choose an expansion in which to level your alt.
Shadowlands level squish and changes
For those who hate the grind of levelling in World of Warcraft, you will be happy to know it is now 60-70% faster to go from level 1-50. This is compared to the time it takes to get from 1-120 on the live servers right now.
In the Shadowlands levelling system, new players will need to go through Battle for Azeroth as their first levelling experience. Once you reach level 50, you can head into the Shadowlands content to level to 60 (the new maximum level).
All players will start in the Exile's Reach zone, which is a newbie zone in Shadowlands. Once you reach level 50 and create an alt character, you can choose which expansion to level your alt in, from level 10 to 50. 
In short, you can few the layout of the new Shadowlands levelling progression system below.
New Players:
1-10: Exile's Reach (new newbie zone for all players)
10-50: Battle for Azeroth
50-60: Shadowlands
Experienced Players:
10-50: Any choice of the 8 expansions
50-60: Shadowlands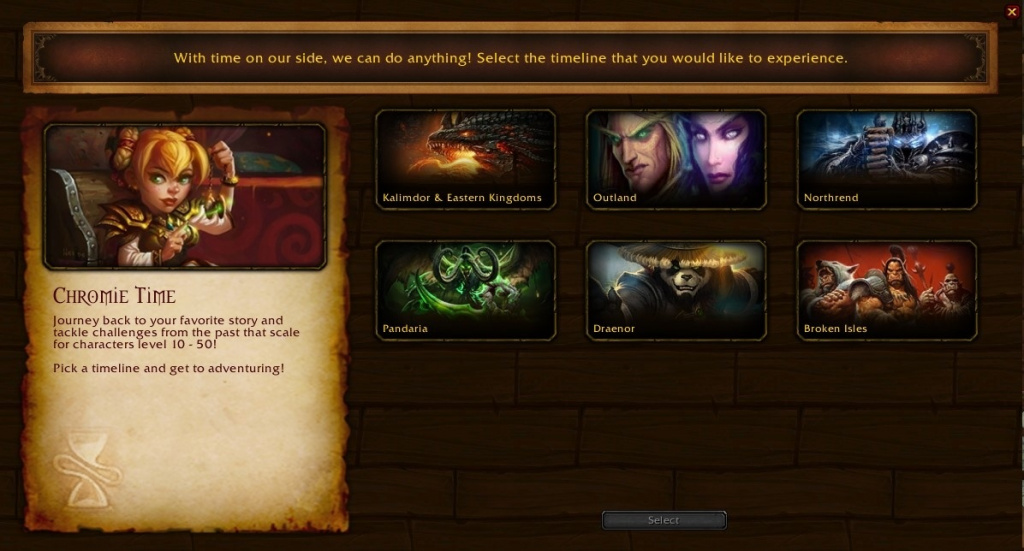 Chat to Chromie at level 10 to choose an expansion (Picture: Blizzard)
Veteran World of Warcraft players (those who've levelled up to 120, or the new 50) will also be able to choose if they want to go to Exile's Reach for their first 10 levels, or to the starter zone of their selected character. Demon Hunters and Death Knights will start at level 8 in their traditional class areas.
Blizzard also wants levels to become more meaningful, as players will get awarded with something new on every glorious "ding". 
While feedback surrounding the new World of Warcraft: Shadowlands levelling changes seem quite positive. It remains to be seen how it will all work in practice. As with nearly every big change Blizzard makes, not everyone will be happy.
While you wait for the Shadowlands expansion to release, keep yourself busy by watching the latest episode of our Lockdown video series.