Call of Duty: Warzone publisher Activision has filed a complaint last week over a cease-and-desist letter sent to the publisher by a creator of a web-based game warzone.com.
Usually, the big publishers are those who are suing the smaller guys over copyright infringement, but this time around Activision is the one who is defending its right to trademark Warzone and Call of Duty: Warzone in relation to videogames and entertainment services.
Warzone is a web-based strategy game based on Hasbro's Risk, and it has been around for several years, as it was first released back in November 2017, and a spin-off game, Warzone Idle, was launched in 2020, with both games now being available on mobile as well.
The game itself is based on the game WarLight, which was launched back in 2008, and Warzone is a sequel to that game.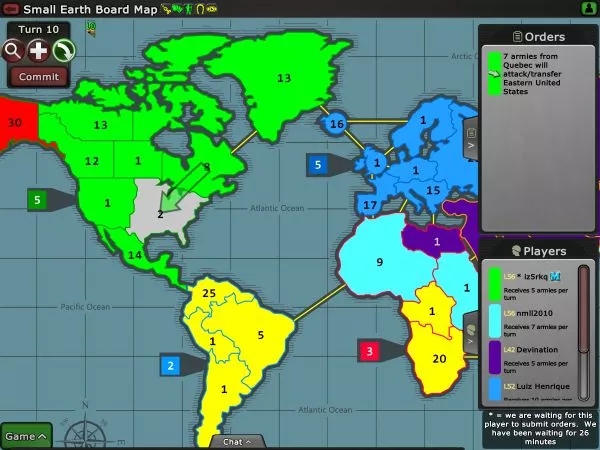 Warzone.com is several years older than Activision's Warzone battle royale (Picture: warzone.com)
All these games were created by a single indie developer that goes by the name Fizzer, and he was the one sending the cease-and-desist to Activision in November 2020, threatening to "seek massive damages" from Activision for trademark infringement if they do not comply.
In their complaint, Activision claims they have applied for the trademark in June 2020, while Fizzer filed his trademark application in October 2020. According to Activision, Fizzer claimed that "Activision's trademark has already and will continue to result in the relevant consuming public being confused, mistaken or deceived."
On the other hand, Activision states that this is basically impossible, calling Fizzer's game "a low-budget, niche virtual board game" and concluding that "it is inconceivable that any member of the public could confuse the two products or believe that they are affiliated with or related to each other."
It is unlikely that Fizzer will be able to win in this case but until the court declares that Fizzer legally has no rights to issue a cease and desist order over the "Warzone" trademark, Activision won't be able to complete their trademark registration, so this case might end in some kind of an out-of-court settlement, as Activision probably wants this to end as soon as possible.
Recently, Activision was involved in another legal dispute over Warzone, when they shut down popular Call of Duty: Warzone stat site SBMM Warzone over privacy concerns.