The C58 Assault Rifle (AR) is a relatively new addition to Call of Duty (COD) Warzone with arguably one of the best kill-to-death (K/D) ratios in the game. The C58 also received a menu of weapon and balance changes, including a significant 8% buff to maximum damage range, albeit with a few nerfs to weapon recoil and headshot and limb multipliers as well. Don't let that dissuade you because we have the best loadout for the C58 in Warzone Season 4 reloaded. This loadout claps, no cap.
Best C58 loadout for Warzone Season 4 Reloaded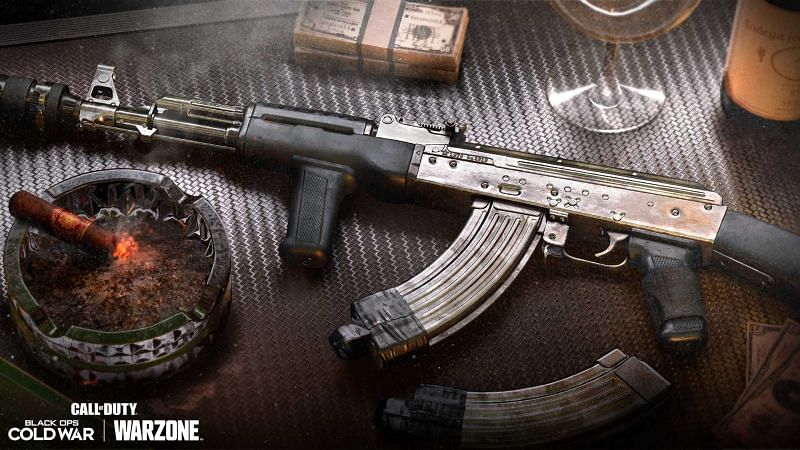 Muzzle:  Agency Suppressor
Barrel: 18.5" Task Force
Optic: Royal and Kross 4x
Underbarrel: Field Agent Grip
Ammunition: STANAG 55 Rnd
Once again, we'll kick off the loadout with the Agency Suppressor for sound suppression. This attachment will also boost bullet velocity and effective damage range but also compensate for the recent recoil nerf by boosting vertical recoil control.
The 18.5" Task Force Barrel will further improve bullet velocity and effective damage range. It will also offer additional recoil control in both horizontal and vertical axes. The Field Agent Grip Underbarrel will also further boost recoil control.
We've gone with the Royal and Kross 4x Optic to improve targeting over long ranges, although you could also use the Axial Arms 3x Optic. As we indicated previously, the choice of Optic is largely based on personal preference.
The C58's measly ~30 default ammo capacity is certainly not enough for runs in Verdansk or Rebirth Island, so we've opted for the STANAG 55 Rnd Mag for additional ammunition.
We're not sure if Raven Software were trolling us with the latest patch because we're not sure if the C58 was nerfed at all. The damage range buff appears to have greatly bolstered the damage output potential of the C58, which makes this AR incredibly scary right now.
Let us know what you think of this loadout and how well it fares by tweeting at us on Twitter.
Don't forget to check out our dedicated Call of Duty section for news, leaks, guides, weapon tier lists, loadouts, and more.
Header image via Activision.
---
For more Call of Duty news, be sure to check out our dedicated section or some of our MW2 Guides & Tutorials below:
Modern Warfare 2 Guides - Jack Links Skin | Unlock All Operators | Check Server Status | Get Twitch Drops | Post-Credit Scene Explained | Unlock Gold Camo | Get Burger Town Operator | MGB Nuke | Unlock Every Weapon | All Killstreaks| Safe Code Locations|Check KD Ratio|XP Farm Trick|Chopper Gun Glitch|Weapon Tuning|Change Name Color|Hardcore Tier 1 Mode| Turn Off Crossplay|Steam Deck| Raid: Atomgrad | How To Play "Support A Team" | Unlock Orion Camo | Aim Assist Settings | 
Modern Warfare 2 Fixes & Issues-Best NVIDIA GeForce Drivers | Dev Error 6036 | MW2 Missing Items | Unlimited Tactical Sprint Bug | Stuck On Installing Bug | Display Name Not Allowed Bug|Gold Camo Not Unlocking|Voice Chat Not Working| Display FPS Counter | 
Best Modern Warfare 2 Loadouts -  Best Weapon Tier List |  M4 Loadout|  PDSW 528 Loadout|TAQ-V Loadout|M4 Loadout|Fennec 45| No Recoil M4 Loadout | SA-B 50 Loadout | Kastov-74U Loadout |