The mid-season update for Call of Duty: Warzone Season 4 is live now for all the platforms.
With a plethora of new guns, modes, killstreaks, and cosmetics, there's a ton of different content to explore in the latest version. While the new content is a welcome surprise for a large portion of Warzone players, at the same time, the weapon balance changes introduced in the Season 4 Reloaded update might disappoint some gamers. 
Following the Season 4 Reloaded patch release, the Kar98k is still going strong since it has been left untouched in the newest update.
As the update was carrying many weapons nerfs and buffs, players might wonder what could be the best class setup for their beloved Kar98k sniper. With that in mind, here is the best loadout for the Kar98k after the Season 4 Reloaded update.
Best Kar98k loadout for Warzone Season 4 Reloaded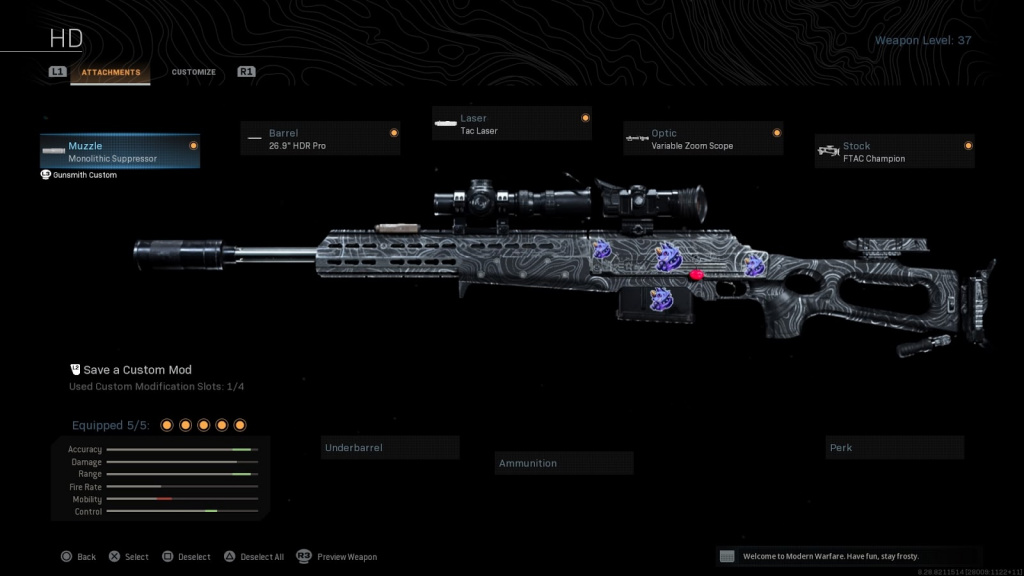 The best Kar98k loadout at the start of Warzone Season 4 Reloaded is:
Muzzle: Monolithic Suppressor

Barrel: Singuard Custom 27.6"

Optic: Sniper Scope

Rear Grip: Stippled Grip Tape

Laser: Tac Laser
Almost every Warzone weapon loadout starts with Monolithic Suppressor as it is an obvious choice to remain hidden on the minimap and improves the damage range during fights. 
The Singuard Custom 27.6" Barrel not only enhances the bullet velocity but further improves damage range and recoil control, allowing players to hit one-tap headshots a bit easier.
As we all know, Snipers are incomplete without optic attachments, and here we have decided to go with the Sniper scope to gain a clear vision and increase the aim accuracy while taking distant fights.
Similarly, the Stippled Grip Tape for Warzone snipers like Kar98k is a must-have attachment as it increases ADS speed and faster firing after a sprint. However, the Stippled Grip does hurt aiming stability, and players can use it on the Rear Grip slot if they're not really concerned about it.
Finally, we have decided to use the Tac Laser that only activates when you aim down sights and provides you with better accuracy. However, your location will be exposed while the Tac Laser is active.
Don't forget to check out our dedicated Call of Duty section for news, leaks, guides, weapon tier lists, loadouts, and more.,
---
For more Call of Duty news, be sure to check out our dedicated section or some of our MW2 Guides & Tutorials below:
Modern Warfare 2 Guides - Jack Links Skin | Unlock All Operators | Check Server Status | Get Twitch Drops | Post-Credit Scene Explained | Unlock Gold Camo | Get Burger Town Operator | MGB Nuke | Unlock Every Weapon | All Killstreaks| Safe Code Locations|Check KD Ratio|XP Farm Trick|Chopper Gun Glitch|Weapon Tuning|Change Name Color|Hardcore Tier 1 Mode| Turn Off Crossplay|Steam Deck| Raid: Atomgrad | How To Play "Support A Team" | Unlock Orion Camo | Aim Assist Settings | 
Modern Warfare 2 Fixes & Issues-Best NVIDIA GeForce Drivers | Dev Error 6036 | MW2 Missing Items | Unlimited Tactical Sprint Bug | Stuck On Installing Bug | Display Name Not Allowed Bug|Gold Camo Not Unlocking|Voice Chat Not Working| Display FPS Counter | 
Best Modern Warfare 2 Loadouts -  Best Weapon Tier List |  M4 Loadout|  PDSW 528 Loadout|TAQ-V Loadout|M4 Loadout|Fennec 45| No Recoil M4 Loadout | SA-B 50 Loadout | Kastov-74U Loadout |