When players were scrolling the patch notes for the Warzone Season 4 Reloaded update, some might have been shocked to see the Swiss K31 on the list of weapon changes.
The Swiss K31 isn't overpowered and didn't really deserve a change in either direction. 
This shock quickly subsided when players read the notes for the Swiss K31, as Raven Software simply updated its ADS animation and base reticle.
Although, even a change like this might have some wondering if they should throw on the Swiss K31 again. Its sniping counterpart, the Kar98k, still dominates the quick scoping department in Warzone but the Swiss and its top loadout are nothing to scoff at.
Best Swiss K31 loadout for Warzone Season 4 Reloaded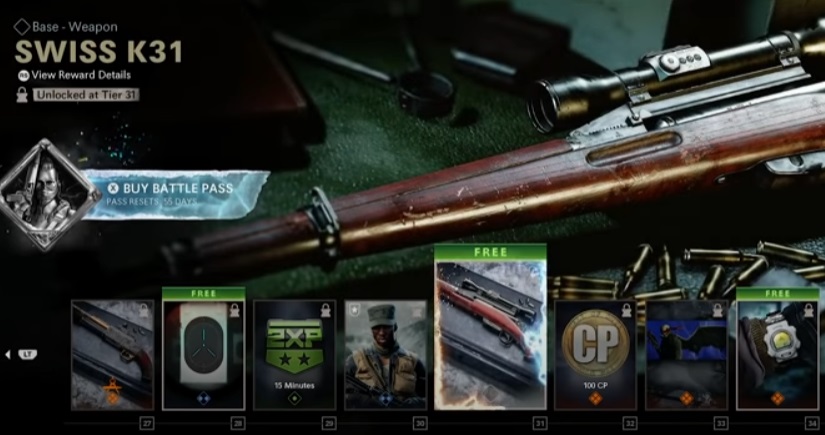 Due to its compact size and stats, the Swiss K31 is most proficient at close-range sniping. While it can still deal damage at long range, it's not meant for that kind of gameplay. This does affect its loadout quite a bit and players will notice it's dramatically different from something like the HDR or LW3 Tundra. 
Muzzle: Sound Moderator

Barrel: 24.9″ Combat Recon

Laser: SOF Target Designator

Ammunition: 7 Rnd

Stock: Raider Stock
To help with the aforementioned close-range sniping, the Raider Stock and SOF Target Designator come in clutch. The former increases sprint-to-fire time and the latter increases ADS time, both of which allow the Swiss K31 to be pulled up faster in gunfights. These are the two most important areas for quick scoping. 
For damage range and bullet velocity, the 24.9" Combat Recon and Sound Moderator are equipped. Both boost those stats as well as provide sound suppression in regard to the Sound Moderator. 
To close out the loadout, the 7 Rnd mag is slotted to provide players with a couple more bullets in each clip. This will make reloading less of an ever-present thought in players' minds so they can focus more on downing the enemies in front of them.
Don't forget to check out our dedicated Call of Duty section for news, leaks, guides, weapon tier lists, loadouts, and more.
---
For more Call of Duty news, be sure to check out our dedicated section or some of our MW2 Guides & Tutorials below:
Modern Warfare 2 Guides - Jack Links Skin | Unlock All Operators | Check Server Status | Get Twitch Drops | Post-Credit Scene Explained | Unlock Gold Camo | Get Burger Town Operator | MGB Nuke | Unlock Every Weapon | All Killstreaks| Safe Code Locations|Check KD Ratio|XP Farm Trick|Chopper Gun Glitch|Weapon Tuning|Change Name Color|Hardcore Tier 1 Mode| Turn Off Crossplay|Steam Deck| Raid: Atomgrad | How To Play "Support A Team" | Unlock Orion Camo | Aim Assist Settings | 
Modern Warfare 2 Fixes & Issues-Best NVIDIA GeForce Drivers | Dev Error 6036 | MW2 Missing Items | Unlimited Tactical Sprint Bug | Stuck On Installing Bug | Display Name Not Allowed Bug|Gold Camo Not Unlocking|Voice Chat Not Working| Display FPS Counter | 
Best Modern Warfare 2 Loadouts -  Best Weapon Tier List |  M4 Loadout|  PDSW 528 Loadout|TAQ-V Loadout|M4 Loadout|Fennec 45| No Recoil M4 Loadout | SA-B 50 Loadout | Kastov-74U Loadout |