Captain Price is one of the most popular characters in the Call of Duty: Modern Warfare series. The character will likely appear as a playable operator in season four of Modern Warfare. To celebrate and promote the character coming to multiplayer, Captain Price's voice actor sent a few personal messages to popular Call of Duty streamers.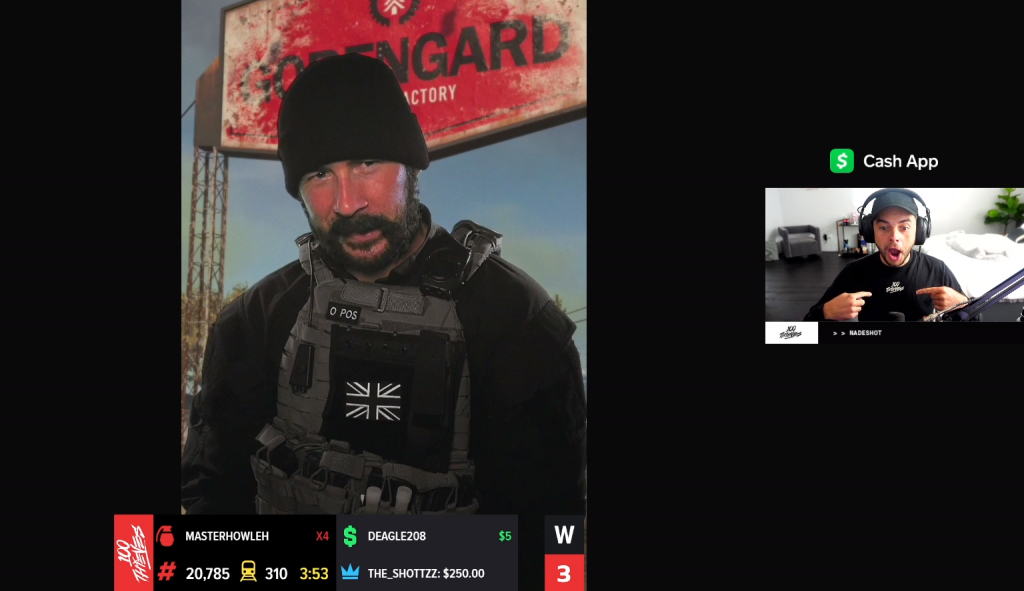 Nadeshot was just one of a number of streamers who got a personalised message from Captain Price. (Picture: Nadeshot)
 
Captain Price needs backup 
Actor Barry Sloane dressed up as his iconic character and called on several big streamers to help him in Modern Warfare's season four. 
Matthew "Nadeshot" Haag is the CEO of 100 Thieves and is a former professional Call of Duty player. Captain Price had a few tough words for the popular streamer and even called him out for a mistake he made in 2015. 
Nadeshot famously pulled out an HBR assault rifle during the Call of Duty Championship for Call of Duty: Advanced Warfare. Nadeshot has still not lived down his mistake and was called out by one of the most iconic characters in Call of Duty history. 
However, Nadeshot was not the only person to receive a message.
Timthetatman is another popular streamer who has spent a lot of time playing Warzone. Captain Price also asked Tim to join him when he drops behind enemy lines on June 3rd and even called out Tim for checking his chat during the message. 
Vikkstar also received his own personal message from the Captain who congratulated him on breaking the Warzone kill record. Captain Price also explained that he is known for breaking a few things as well such as necks, body armour, and a few hearts now and then. 
All of these personal messages are a clear promotion for the new season of Modern Warfare, but it is nonetheless a fantastic idea. Season 4 promises a lot of new content including Captain Price and Gaz as playable characters, a brand new battle pass, and the return of the iconic multiplayer map Scrapyard. 
When does season four of Call of Duty: Modern Warfare start?

(Picture: Infinity Ward)
Season four of Call of Duty: Modern Warfare begins on June 3rd. Players have until June 2nd to finish any last-minute challenges in their season three battle pass. 
 
---
For more Call of Duty news, be sure to check out our dedicated section or some of our MW2 Guides & Tutorials below:
Modern Warfare 2 Guides - Jack Links Skin | Unlock All Operators | Check Server Status | Get Twitch Drops | Post-Credit Scene Explained | Unlock Gold Camo | Get Burger Town Operator | MGB Nuke | Unlock Every Weapon | All Killstreaks| Safe Code Locations|Check KD Ratio|XP Farm Trick|Chopper Gun Glitch|Weapon Tuning|Change Name Color|Hardcore Tier 1 Mode| Turn Off Crossplay|Steam Deck| Raid: Atomgrad | How To Play "Support A Team" | Unlock Orion Camo | Aim Assist Settings | 
Modern Warfare 2 Fixes & Issues-Best NVIDIA GeForce Drivers | Dev Error 6036 | MW2 Missing Items | Unlimited Tactical Sprint Bug | Stuck On Installing Bug | Display Name Not Allowed Bug|Gold Camo Not Unlocking|Voice Chat Not Working| Display FPS Counter | 
Best Modern Warfare 2 Loadouts -  Best Weapon Tier List |  M4 Loadout|  PDSW 528 Loadout|TAQ-V Loadout|M4 Loadout|Fennec 45| No Recoil M4 Loadout | SA-B 50 Loadout | Kastov-74U Loadout |