PlayStation 4 users have been experiencing the
Call of Duty: Black Ops Cold War Alpha
all weekend long, and one thing is incredibly noticeable. Snipers are everything in this game.
The long-range weaponry has often been a source of crazy damage in Call of Duty, and it seems that Cold War is certainly following the established pattern. Snipers are so powerful that the weapon class already has a confirmed nerf incoming but, before that happens, here's the best LW3 - Tundra loadout.
Best LW3 - Tundra Loadout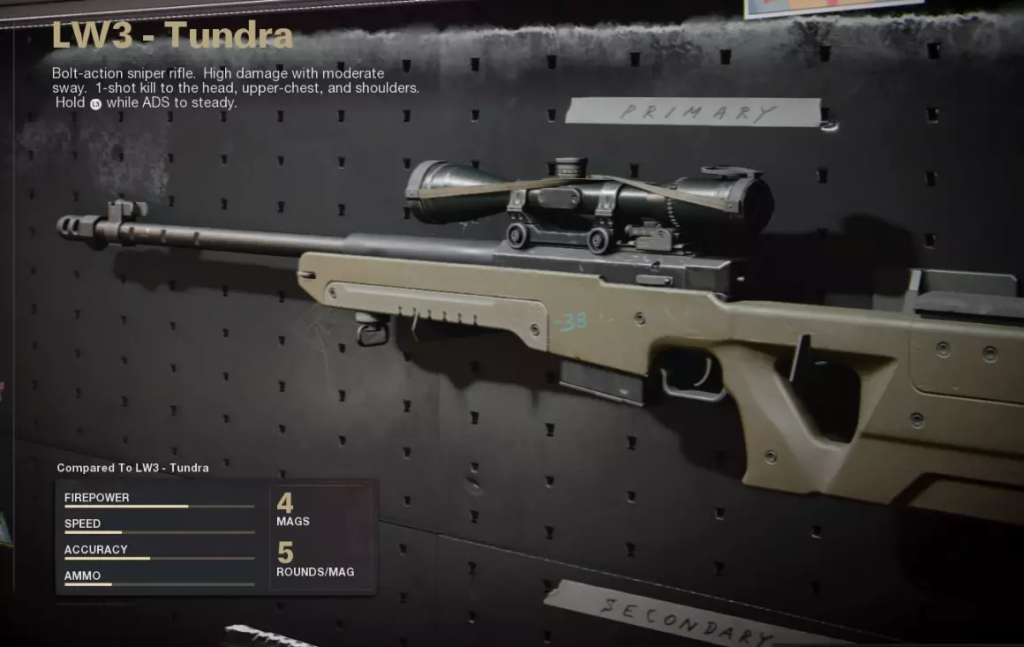 (Picture: Treyarch) 
According to YouTuber SoaR Zephy, this is the best setup for your LW3 - Tundra that will net you the most success in Call of Duty: Black Ops Cold War. Only 5 attachments are allowed on this weapon, and these are the ones you should be choosing.
Barrel: 27.6" Paratrooper
Underbarrel: Marshal Foregrip
Body: Steady Aim Laser
Magazine: 7 Rd Speed Mag
Handle: Mike Force Rear Grip
Primarily, this loadout will help boost your aiming speed, as snipers in Call of Duty tend to be on the move more than the class would typically be in most shooters.
The 7 Rd Speed Mag ensures that you'll never be left high and dry with the standard 5 round magazine, and also increases reloading speed. The Marshal Foregrip allows your character to move faster with the gun as well as aim quicker.
The Steady Aim Laser allows for bonus hip-fire accuracy, for those moments when you don't have time to scope in on a nearby enemy. Using it could be the difference between life and death, especially as the Foregrip we're running decreases your initial hip-fire accuracy.
With the LW3 - Tundra's barrel, the 27.6" Paratrooper will allow players a slightly boosted fire rate, as well as 50% extra muzzle velocity. As a tradeoff, it makes the weapon slightly more prone to swaying.
This loadout is guaranteed to be better when it comes to the close to mid-range sniping that Call of Duty typically sees, but it's also a solid all-around build. Those who are taking advantage of Cold War's incredible snipers should absolutely consider giving it a try.  
Have you tried out this loadout? For more on Call of Duty, check out.how to get a free Beta code.