While many gamers are enjoying Call of Duty: Warzone, some of them simply can't get into the game. This is due to an error stating "Unable to access online services", and it might be a bit difficult to fix. After going through and testing the process a few times, we've got a fix for this annoying error. 
Warzone unable to access online services error fixes
While trying to play Call of Duty: Warzone for the first time, I personally ran into the "Unable to access online services" error on my PS4 Pro. Every other game worked fine online, and my internet connection is a stable Fibre-to-the-Home 100mbps one. Warzone, however, simply refused to work.
First up, Activision support tells you to check if the servers are online. Then, you can also restart your gaming device, and check if your internet connection is stable. This might work for some players.
However, if you are here, you've probably exhausted all general support fixes for the "Unable to access online services" error. This error can occur on PS4, Xbox One and PC, and there is no easy fix.


Not a great first experience (Picture: Activision)
If you have exhausted the options above, then you have three options left. Quit Warzone and play another one of the hundred Battle Royale titles, phone Activision support (good luck with that), or follow us into the world of Port Forwarding.
Warzone Port Forwarding
Before we get started, you should know this option isn't for everyone and requires focus. Proceed at your own risk. 
With the disclaimer out of the way, it is important to note I have gone through the steps in this section three times, confirming it works perfect and fixes the Warzone error "Unable to access online services".
First and foremost, you will need access to the router you connect your gaming device to, including it's IP Address. This should be in the router manual, or on its box. Once you find your router's IP Address and Password, you need to follow the steps below exactly.
Open your browser and type in your router's IP Address.
Log in using the Username/Password provided by your ISP, or chosen by you during the router setup.
Locate your router's Port Forwarding settings. This is generally under advanced settings but may differ from router to router.
The option can also be called "NAT Forwarding" or "Port Triggering, as you can see in the image below.
The image below showcases the Warzone Port Forwarding details you will need for PS4.
Add ports one-by-one and select UDP or TCP as specified below the image in this article for the gaming platform.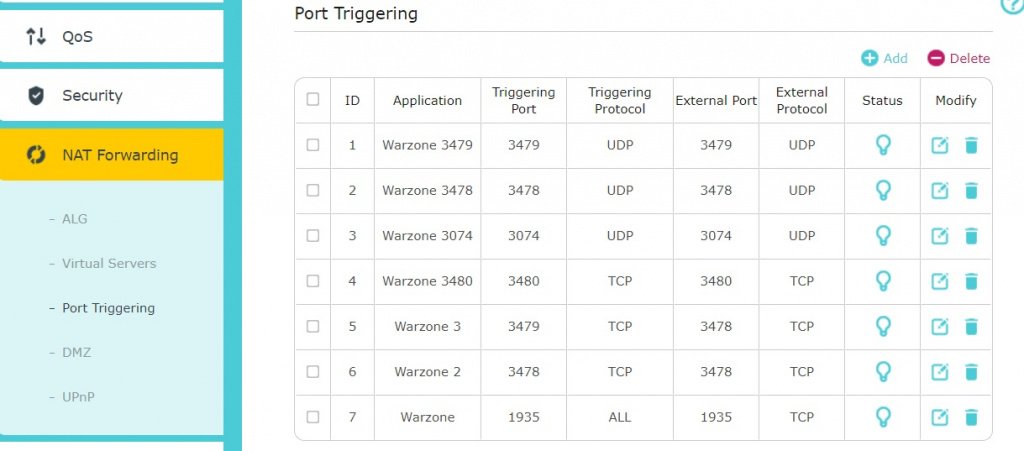 A screenshot from my router (Picture: Wessel Minnie)
There are different Warzone Port Forwarding details for each platform. Check them out below.
PS4:
TCP: 1935,3478-3480
UDP: 3074,3478-3479
Xbox One: 
TCP: 3074
UDP: 88,500,3074-3075,3544,4500
PC:
TCP: 3074,27014-27050
UDP: 3074,3478,4379-4380,27000-27031,27036
Again, this should be your last option to fix the Warzone "Unable to access online services" error. If you do choose this path, follow the steps carefully.
Remember, while this worked for me, and I wanted to share this fix with our readers, you should proceed at your own risk, or ask someone with network expertise for help.