The Call of Duty League Los Angeles Home Series served surprise upsets and turnarounds, as more teams assert themselves as major threats.
After they topped their homestand last month and with Chicago Huntsmen out of the picture, many predicted Atlanta FaZe would clinch the fourth Call of Duty League weekend in Los Angeles with relative ease.
The Call of Duty League however is becoming more unpredictable with each passing homestand, with Atlanta FaZe's perfect winning streak ruined by Minnesota RØKKR - who defeated the top team in the semi-finals with an incredibly narrow 3-2 victory.
The other semi-final saw Dallas Empire go up against OpTic Gaming LA who, with the crowd on their side, managed to achieve their first wins of the league by beating fellow home team LA Guerrillas 3-2 and Minnesota RØKKR 3-0.
Whether it was the home crowd or the recent position switch for Brandon "Dashy" Otell, OpTic Gaming LA's impressive run couldn't topple Dallas Empire. After a painfully close Domination round where Dallas pulled ahead in the final 20 seconds, the team couldn't quite maintain the momentum and were knocked out 3-1.
The final between Dallas Empire and Minnesota RØKKR was the best of any series yet, going to five games for the first time. Dallas looked set to take the Home Series at first, securing a comfortable win in Hardpoint on Ruins 250-181 and pulling ahead with a Search and Destroy win 6-4.
Minnesota RØKKR however managed to disturb their flow by winning Domination on Gun Runner with a narrow 158-149 lead, pushing the series to a fourth game. The follow-up Hardpoint was even closer, with Minnesota holding off Dallas just long enough for a 250-247 win.
The deciding round came down to Search and Destroy on Gun Runner. Despite securing two rounds, Minnesota RØKKR couldn't pull off the reverse sweep - with Dallas Empire winning 6-2 to secure the Los Angeles Home Series 3-2.
It marks the first Home Series win for Dallas Empire, putting them just 10 points behind Chicago Huntsmen and Atlanta FaZe for leaderboard supremacy.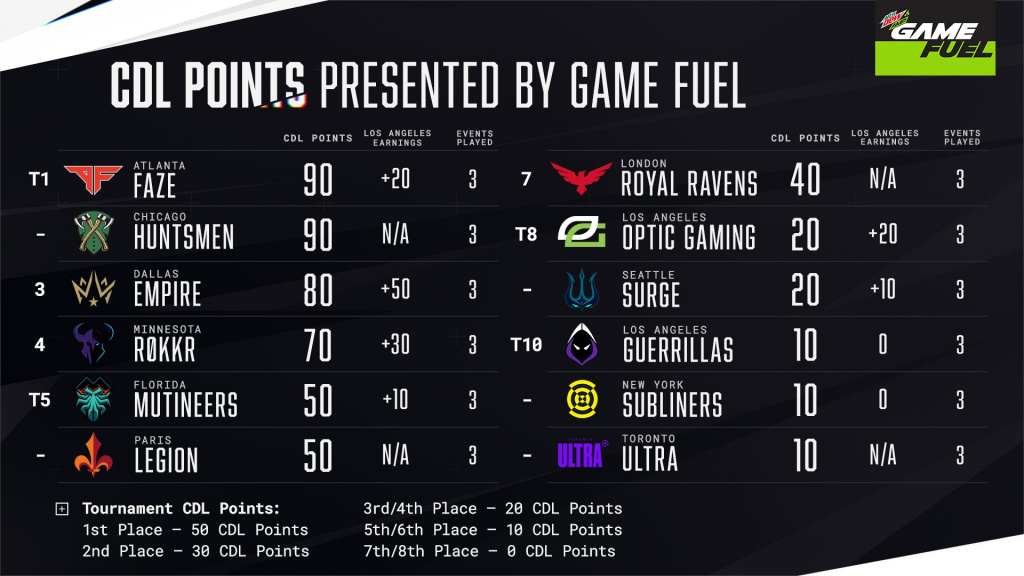 The standings after the Los Angeles Home Series (Picture: Call of Duty League)
This Home Series was arguably the defining turning point for Minnesota RØKKR however, who pulled themselves away from 'dark horse' status to one of the best teams in the league.
But will Dallas Empire pull off a second win at their homestand? The next Call of Duty Home Series takes place in Dallas on 28-29th March.