Famous Call of Duty streamer, Jordan "HusKerrs" Thomas from NRG will be hosting a massive Call of Duty: Warzone tournament, produced by gaming and esports marketing agency
Ader
. The tournament is called HusKerrs Howl, and will feature a mammoth prize pool to compete for. Here's what we know so far about HusKerrs Howl Warzone, including how to watch, the tournament format and more.
Prize pool
Over the course of two weeks, 16 Duos teams will compete for a massive prize pool of 300,000 USD.
During each week of play, a percentage of the massive prize pool will be awarded to the top teams. At the time of writing, the exact prize pool distribution is unknown.
Format
The HusKerrs Howl Warzone tournament isn't your average Warzone tournament. Not only does it spam three weeks but it also includes a section where teams will face off in Zombie Royale from the Haunting of Verdansk event.
HusKerrs Howl is a 2vs2 tournament in celebration of Halloween. HusKerrs comments: "I'm really pumped for this Halloween tournament. I'm looking forward to seeing all the Warzone players come out and put their best foot forward."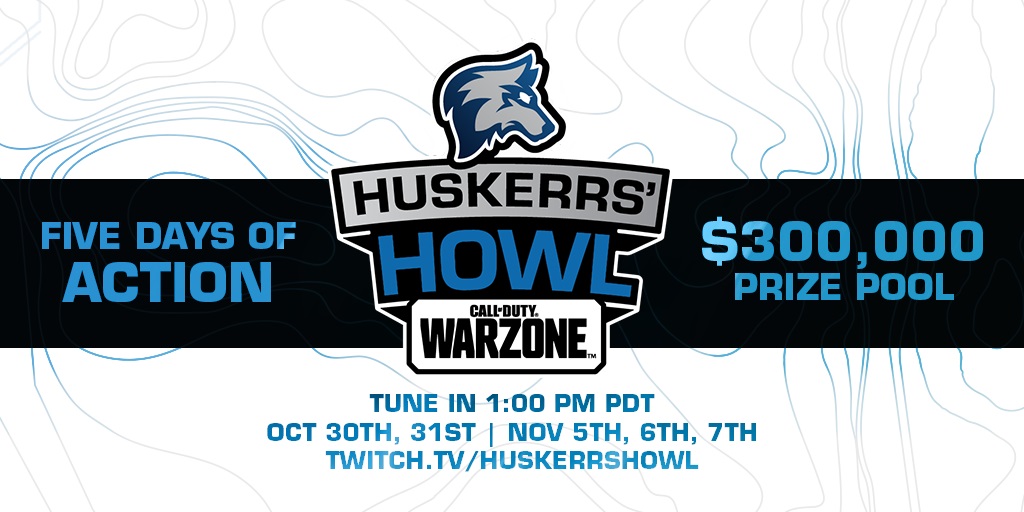 (Picture: Ader)
No information about the teams and players have been revealed thus far. However, you can expect some top Warzone players and content creators to join in the action.
Schedule
The action kicks off on 30th October 2020, with teams participating in the Zombie Royale game mode. Check out the schedule for HusKerrs Howl below:
Zombie Day: 
Qualifiers:
31st October
5th November
6th November
Finals:
You can watch all the action from 13:00 PDT, which is 18:00 for those in the UK.
HusKerrs Howl Warzone: How to watch
Since HusKerrs will be hosting the tournament, you can catch all the action on the Twitch.tv channel embedded below.