Be prepared to see a lot of people wielding the M4A1 in Warzone, as NICKMERCS has revealed his take on the new, strongest class to support the weapon.
As the popular YouTuber and Twitch streamer points out, the classic M4 build comes with iron sights, and it's a powerful setup in its own right, but NICKMERCS thinks he's finally found the right combo to content with it.
After getting "fried" by this gun online, NICKMERCS thought the user was hacking to have killed him so easily. The biggest change to the gun that the Twitch star noted, was that the enemy player was running the Corp Combat Holo Sight with a blue dot. 
Trying it for himself, NICKMERCS noted that he was "able to hit headshots way easier." Hailing the new build as "the best M4 class currently right now."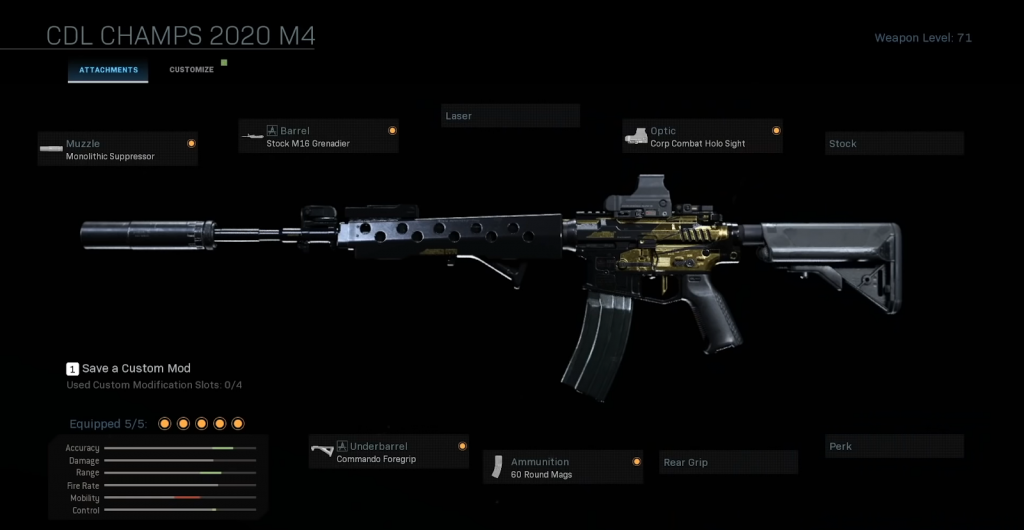 (Picture: NICKMERCS)
Here is the full build for NICKMERC's best M4A1 in Season 5:
Muzzle: Monolithic Suppressor
Barrel: Stock M16 Grenadier
Optic: Corp Combat Holo Sight (Blue Dot)
Underbarrel: Commando Foregrip
Ammunition: 60 Round Mags
The Twitch star then shows off his new favourite M4 build in some incredible gameplay, alongside fellow streamers TimTheTatman, Cloakzy, and DrLupo. True to his word, the gun looks incredibly accurate, though this could simply be down to the gamer's insane skills.
The content-creators also talk about the R9-0 Dragon's Breath rounds, complaining once again about the gun's power in Warzone. The users are still hoping for the weapon to see some nerfs in the future, and claim that NICKMERCS' video will draw enough attention to the issue to get it changed.