The
Black Ops Cold War Season One update
with Warzone integration brought a tonne of content, and a new
100 tier Battle Pass
. In the Battle Pass, players
can unlock two new weapons
, the Groza AR and the MAC-10 SMG.
While we've already provided you with a great MAC-10 loadout, it is always nice to see what high-skilled players are using. Famous Call of Duty streamer Nick "NICKMERCS" Kolcheff has now shared a MAC-10 loadout which he believes is so powerful it can be called "broken".
The broken MAC-10 loadout from NICKMERCS
In a new video from NICKMERCS, the Call of Duty star streamer showcases his broken MAC-10 loadout in action.
NICKMERCS goes on a rampage with the loadout's fast movement speed and sprint to fire increases.
NICKMERCS explains: "It's the best gun in the new Season of Warzone, without a doubt. Don't worry about other opinions, don't worry about comments, trust me. This thing is broken, it's overpowered, it's unbelievable."
Check out NICKMERCS' MAC-10 loadout below, featuring all the attachments he uses to dominate his opponents.
MAC-10 Loadout: 
Muzzle: Muzzle Break 9
Barrel: 5.3" Extended
Stock: Wire Stock
Underbarrel: Patrol Grip
Ammunition: STANAG 53 Round Drum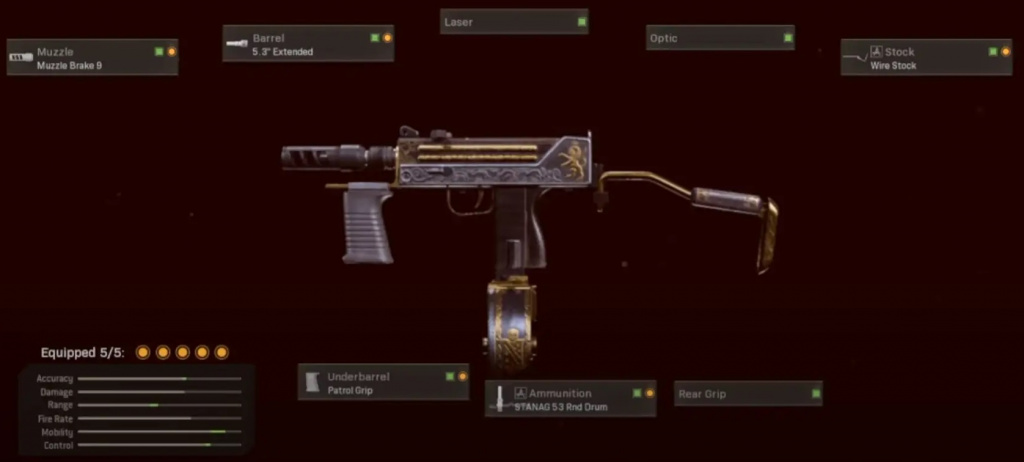 (Picture: NICKMERCS)
NICKMERCS goes for the Muzzle Break 9 for additional recoil control, the 5.3" extended barrel for added DPS, and the STANAG 53 Round Drum ammunition attachment. We have both theBarrel and Ammunition in our best MAC-10 loadout but went for more range and accuracy.
However, NICKMERCS goes for the Patrol Grip Underbarel, as well as the Wire Stock for better sprinting movement speed as well as sprint-to-fire speed in his MAC-10 loadout.