Want something new and shiny to show off in the Warzone? Well, then Twitch drops are for you. If you are excited to watch the Warzone Twitch Rivals Showdown 3, the biggest one yet, then you shouldn't miss out on some freebies. Here's how you can get some Twitch drops from the latest Warzone tournament.
Warzone Rivals Showdown 3: How to get Twitch drops
While the exact loot drops from the Warzone Twitch Rivals Showdown 3 is currently unknown, we do know there will be Twitch drops to earn. To get Twitch drops during Warzone Rivals Showdown 3, all you need to do is follow some easy steps below.
Get Twitch drops from Warzone Rivals Showdown 3 with these steps:
Sign up for a Call of Duty account if you don't have one already.
Link your COD and Twitch accounts by heading to your profile, selecting Linked Accounts, scroll down to Link with Twitch Account, drop in your credentials and click accept.
Watch the Warzone Twitch Rivals Showdown 3 to earn drops.
The Warzone Twitch Rivals Showdown 3 kicks off on Wednesday, 12th August (19:00 CEST) with the European region, followed by North American on Thursday, 13th at 22:00 CEST.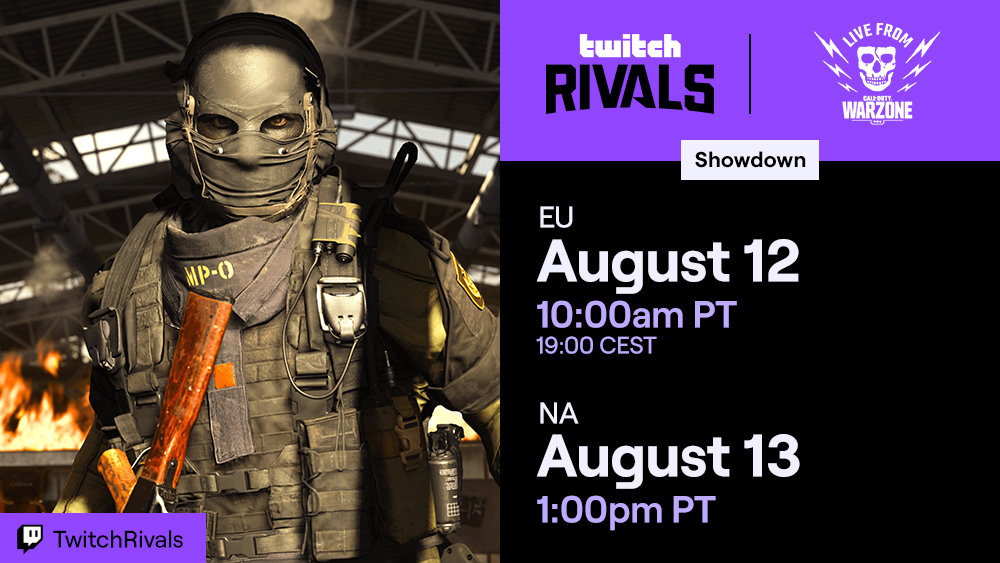 The tournament schedule (Picture: Twitch Rivals)
The Warzone Twitch Rivals Showdown 3 features a massive $150,000 prize pool, with some of the top teams from both Europe and North America competing in the event.
It will be a great tournament for Warzone esports fans to watch, with the Twitch drops being an added bonus. 
You can watch the tournament on the Twitch Rivals channel, or from one of the partners. For example, if you have a favourite player, you can watch their stream to earn Warzone Rivals Showdown 3 drops from Twitch. Just make sure there's a callout saying "drops are enabled" on their stream, and you are good to go.