The theory of a nuke event at the start of Warzone Season 3 seems more real with each new leak, but the latest glitch all but confirms it.
Since yesterday's Warzone patch, players started seeing nuclear bombs flying all over Verdansk and falling on the map, but without the actual explosions happening, rather just raising dust clouds.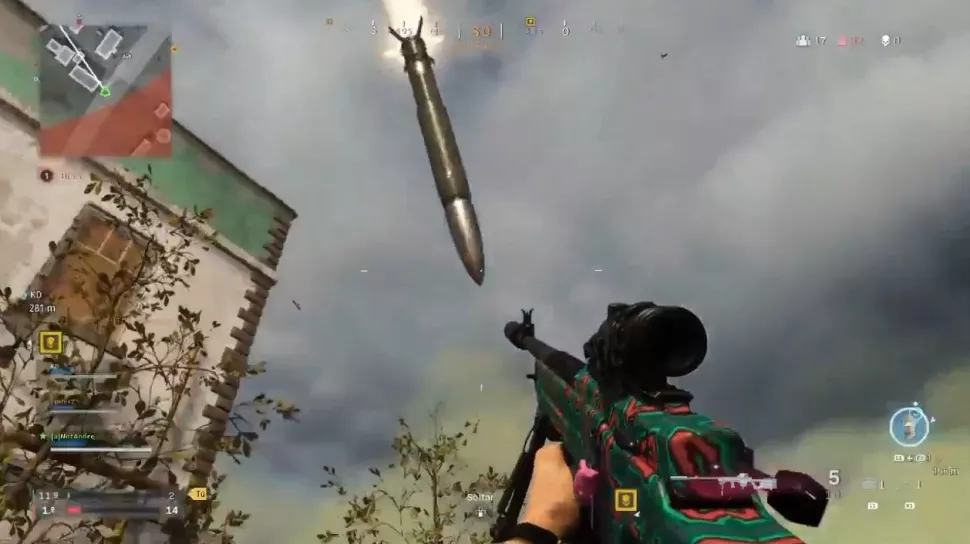 (Picture: Activision/ModernWarzone)
It is not clear if this is a glitch or some kind of a teaser for the upcoming event, as those missiles are clearly missing their warheads, and because of that it almost looks like it's intentional and not a bug.
The nuke was first spotted by ModernWarzone, a popular Call of Duty fansite. They were quite close to the bomb, and you can clearly see from their video just how impressively massive these nukes are.
As you can see, the bomb simply falls and raise a bit of dust, so players are safe... for now.
Another "nuke incident" has been spotted by a Reddit user called u/AmedeeO10 earlier today. Unlike the situation in ModernWarzone's game, this was a literal rain of nukes, with several nuclear warheads launched at once.
According to reports from players, it seems that this only occurs in King Slayer, a Team Deathmatch mode in Warzone. Missiles would randomly start launching and then crashing and disappearing in the ground, without any effect on the game itself. While nukes are flying a dialogue between Russian operators can be heard, but at the time of writing, no one knows what they are talking about.
All these random events align perfectly with a possible nuke event, which will supposedly lead to a brand new 80s themed Warzone map.
Call of Duty Black Ops and Warzone Season 3 is expected to start on 22nd April 2021.
---
For more Call of Duty news, be sure to check out our dedicated section or some of our MW2 Guides & Tutorials below:
Modern Warfare 2 Guides - Jack Links Skin | Unlock All Operators | Check Server Status | Get Twitch Drops | Post-Credit Scene Explained | Unlock Gold Camo | Get Burger Town Operator | MGB Nuke | Unlock Every Weapon | All Killstreaks| Safe Code Locations|Check KD Ratio|XP Farm Trick|Chopper Gun Glitch|Weapon Tuning|Change Name Color|Hardcore Tier 1 Mode| Turn Off Crossplay|Steam Deck| Raid: Atomgrad | How To Play "Support A Team" | Unlock Orion Camo | Aim Assist Settings | 
Modern Warfare 2 Fixes & Issues-Best NVIDIA GeForce Drivers | Dev Error 6036 | MW2 Missing Items | Unlimited Tactical Sprint Bug | Stuck On Installing Bug | Display Name Not Allowed Bug|Gold Camo Not Unlocking|Voice Chat Not Working| Display FPS Counter | 
Best Modern Warfare 2 Loadouts -  Best Weapon Tier List |  M4 Loadout|  PDSW 528 Loadout|TAQ-V Loadout|M4 Loadout|Fennec 45| No Recoil M4 Loadout | SA-B 50 Loadout | Kastov-74U Loadout |