Since its launch in early December 2021, both Call of Duty: Vanguard and Warzone Pacific Season 1 has been filled with issues. From the demon gun glitch returning periodically to bugs, performance issues and even invisibility skins, there's no doubt the developers have their hands full. To this end, Activision has announced the delay of Vanguard and Warzone Pacific Season 2, giving the developers more time to work on current issues.
A good example of the current state of affairs is how the game continued to crash and restart on Xbox after the 1.5 update was released, which was supposed to really fix a lot of issues. 
Vanguard & Warzone Pacific Season 2 release date
Vanguard and Warzone Pacific Season 2 was supposed to release on 1st February. However, the developers have delayed the highly-anticipated update by two weeks.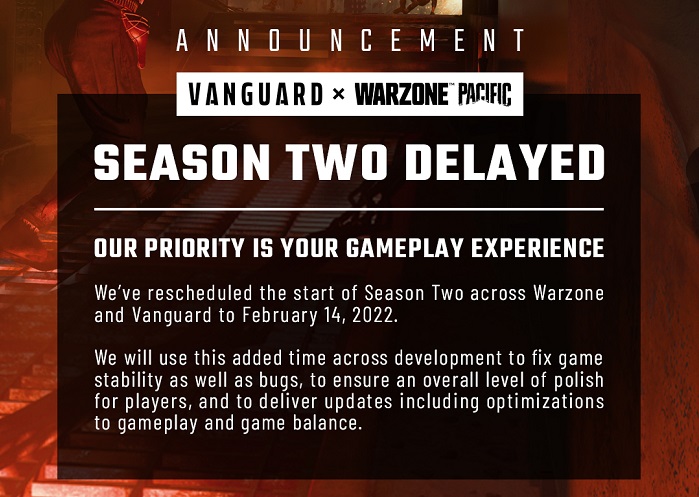 In a new Call of Duty blog post, the developers announced the new release date for Vanguard and Warzone Pacific Season 2 as 14th February 2022.
The developers kicked off the announcement by admitting the Call of Duty community is "experiencing issues across Vanguard, Warzone Pacific and Modern Warfare" noting that they hear players "loud and clear", and feel their frustrations.
The announcement reads: "To date, we've deployed a number of updates, but more needs to be done. For this reason, we have decided to reschedule the start of Season Two across Warzone Pacific and Vanguard to February 14.
"We will use this additional development time to deliver updates, including optimizations to gameplay, game balancing (including weapon and equipment balancing), to fix game stability and bugs, and to ensure an overall level of polish to improve the experience for players across Vanguard, Warzone Pacific, Black Ops Cold War, and Modern Warfare."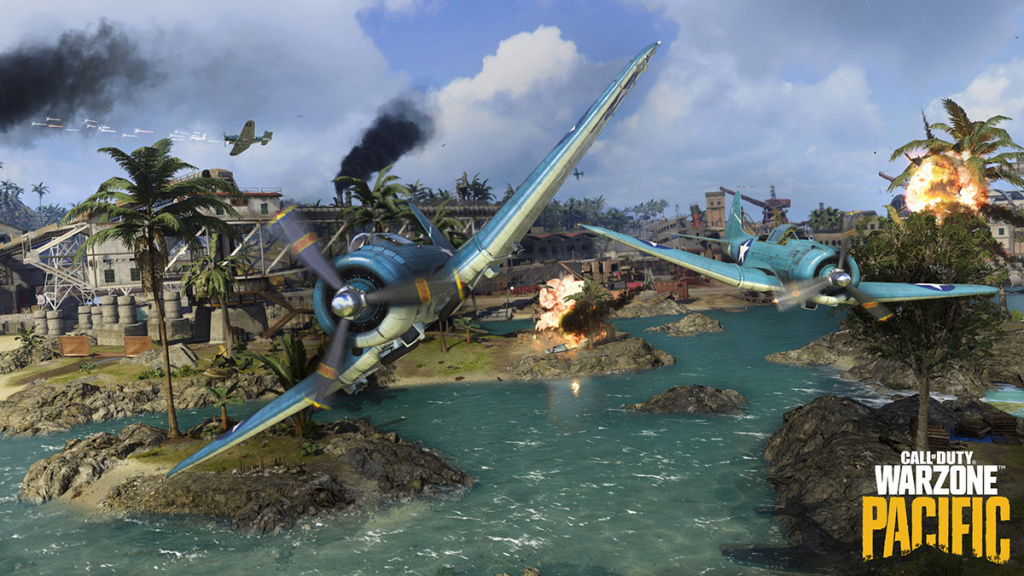 With the new release date for Vanguard and Warzone Pacific Season 2 now set, what can players expect in the near future?
Well, upcoming implementations (across all platforms) will address concerns raised by the Call of Duty community, quality-of-life improvements, balance changes, mechanics improvements, and even adjustments to the core gameplay loop.
Hopefully, the developers will be able to fix a lot of Warzone Pacific and Vanguard's issues before the new release date rolls around. While a new season of content is always nice to have, we think many would agree that delaying Season 2 was the right move considering all the current issues.
Featured image courtesy of Activision.
---
For more Call of Duty news, be sure to check out our dedicated section or some of our MW2 Guides & Tutorials below:
Modern Warfare 2 Guides - Jack Links Skin | Unlock All Operators | Check Server Status | Get Twitch Drops | Post-Credit Scene Explained | Unlock Gold Camo | Get Burger Town Operator | MGB Nuke | Unlock Every Weapon | All Killstreaks| Safe Code Locations|Check KD Ratio|XP Farm Trick|Chopper Gun Glitch|Weapon Tuning|Change Name Color|Hardcore Tier 1 Mode| Turn Off Crossplay|Steam Deck| Raid: Atomgrad | How To Play "Support A Team" | Unlock Orion Camo | Aim Assist Settings | 
Modern Warfare 2 Fixes & Issues-Best NVIDIA GeForce Drivers | Dev Error 6036 | MW2 Missing Items | Unlimited Tactical Sprint Bug | Stuck On Installing Bug | Display Name Not Allowed Bug|Gold Camo Not Unlocking|Voice Chat Not Working| Display FPS Counter | 
Best Modern Warfare 2 Loadouts -  Best Weapon Tier List |  M4 Loadout|  PDSW 528 Loadout|TAQ-V Loadout|M4 Loadout|Fennec 45| No Recoil M4 Loadout | SA-B 50 Loadout | Kastov-74U Loadout |