A mysterious new listing for the new Call of Duty, entitled Call of Duty 2020 right now, has made an appearance.
This isn't the first time Call of Duty 2020 has appeared, with pre-alpha footage reportedly floating around in June.
Call of Duty 2020: The Red Door listing
According to leaks and rumours, Call of Duty 2020 will be called Black Ops: Cold War. However, the listing which appeared on the Xbox Store, as well as the PlayStation Store (on 10th June), is called "The Red Door". 
The Red Door listing could very well be a codename for an alpha test, or it could hint towards some Cold War experiments or story points in Call of Duty 2020. What we know so far is very limited, and everything comes from leaks and rumours, which you should take with a grain of salt.
While the original leak for The Red Door pointed towards a file size of just over 71GB, the new listing, which has since been removed, shows a 10GB increase to 81.6GB.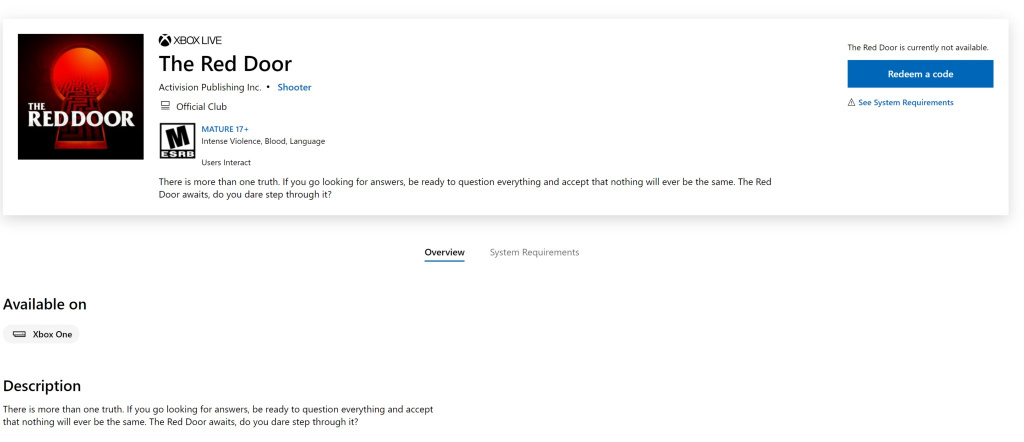 A screenshot of the Xbox Store listing for The Red Door. (Picture: Microsoft)
There's a mysterious description attached to the listing, which reads: "There is more than one truth. If you go looking for answers, be ready to question everything and accept that nothing will ever be the same.
"The Red Door awaits, do you dare step through it?"
This all sounds very intriguing, and could point towards some supernatural or sci-fi elements in Cold War experiments, but this is just a guess.
At the time of writing, Activision and Treyarch still need to officially reveal Call of Duty 2020.
However, this might happen soon, as The Red Door listing already has an age rating. Age ratings are generally given once a game is content-complete, pointing towards an imminent reveal of some kind. 
While you wait for Activision to reveal Call of Duty 2020, you can always spend some time watching the latest episode of our lockdown video series.
Lockdown: Marvel's Avengers and Assassin's Creed Valhalla deep dive (15.07.2020)