After an initial delay due to Black Lives Matter protests, Call of Duty Season 4 has officially almost arrived. 
Developer Infinity Ward have confirmed when to expect the next season of Call of Duty: Modern Warfare and Warzone, which looks set to bring in new operators, skins, modes and more. 
So itching for the next update? Here's what you need to know about Call of Duty: Modern Warfare and Warzone Season 4's release.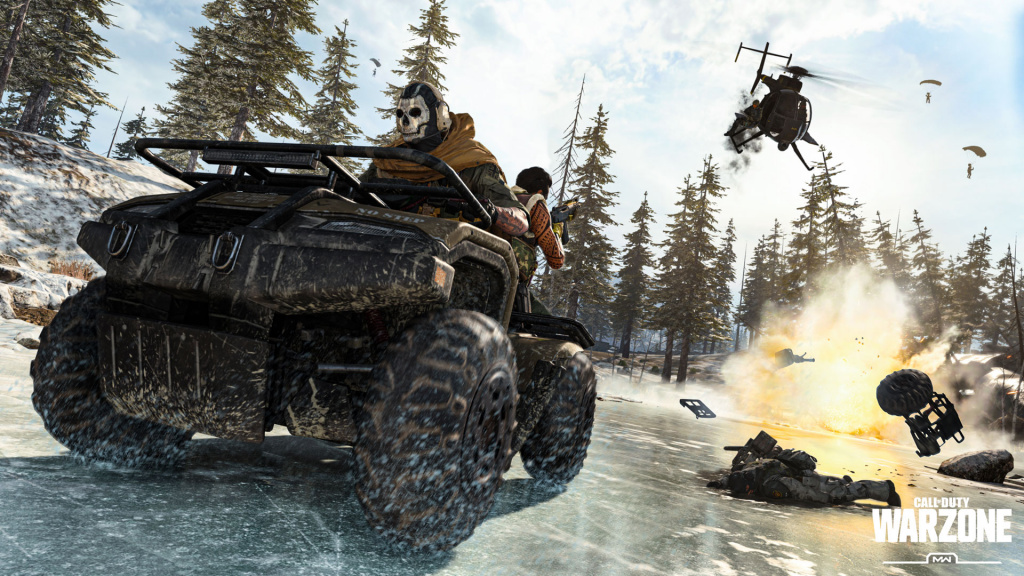 What's coming in Call of Duty Warzone Season 4? (Picture: Activision)
What time is Call of Duty: Modern Warfare and Warzone Season 4 released?
After being initially delayed from its original release date last week in solidarity of Black Lives Matter, Season four will now be released across 10th and 11th June depending on your region. 
You can check out the list of times below. 
Wednesday 10th June
West Coast America - 11pm PDT
Thursday 11th June
East Coast America - 2am ET
UK - 7am BST
Europe - 8am CEST
How large will the update file size be?
Call of Duty has generally been a monster when it comes to filesizes, requiring a huge amount of space beyond even the initial game's install. 
Ashton Williams, communications manager at Infinity Ward, has confirmed the Season 4 initial download will be huge once again - although they're compressing the size the overall game takes up, so it should only be an additional 4GB on consoles once everything is installed. 
The Season 4 download is going to be large. In order to reduce the overall disc space that MW and WZ take up, we're compressing a bunch of assets. Once installed, the S4 launch will only take up an additional 4GB on consoles for all of the new content.

— Ashton Williams (@ashtonisVULCAN) June 10, 2020
What does Season 4 include? 
The fourth season is headlined by the return of Captain Price as a new operator, although there's a whole bunch extra also expected. 
The below is what's confirmed so far, although it's likely there'll be new multiplayer maps and modes released throughout the season too. 
New operator Captain Price 
Season 4 Battle Pass with 100 levels of unlocks, new weapon blueprints and COD points
Two new weapons in the Vector and the Galil for Modern Warfare's multiplayer
Call of Duty Modern Warfare and Warzone is available on PS4, Xbox One and PC. 
What else is coming in Season 4?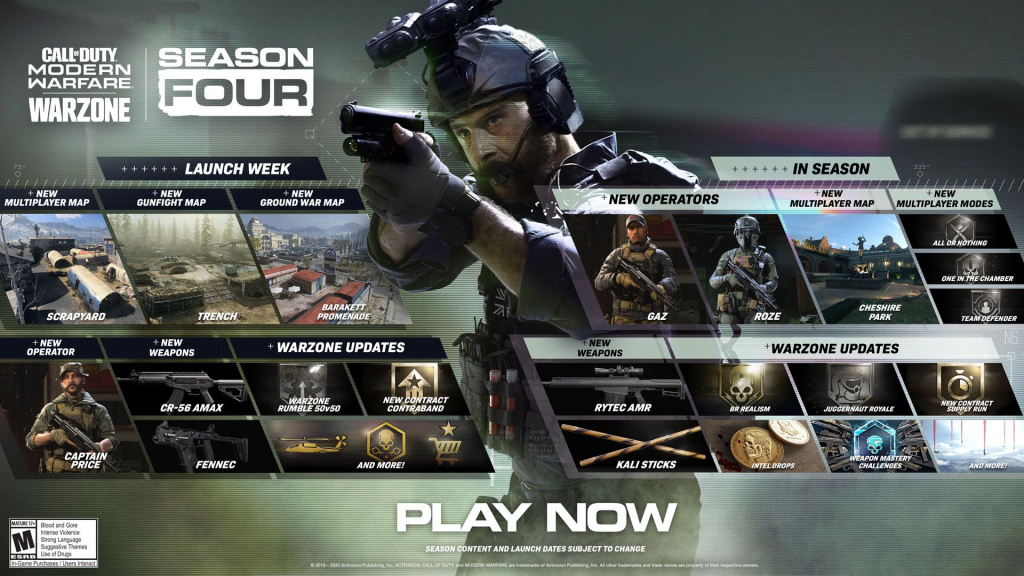 (Picture: Infinity Ward)
A whole lot of content is planned and the devs have already given us a look at some of it. During season four two new operators will be coming to again, as well as another two additional Warzone game modes and at least two new weapons! (Lots of twos we know.) You can find out everything that we know so far in our Season 4 roadmap.
---
For more Call of Duty news, be sure to check out our dedicated section or some of our MW2 Guides & Tutorials below:
Modern Warfare 2 Guides - Jack Links Skin | Unlock All Operators | Check Server Status | Get Twitch Drops | Post-Credit Scene Explained | Unlock Gold Camo | Get Burger Town Operator | MGB Nuke | Unlock Every Weapon | All Killstreaks| Safe Code Locations|Check KD Ratio|XP Farm Trick|Chopper Gun Glitch|Weapon Tuning|Change Name Color|Hardcore Tier 1 Mode| Turn Off Crossplay|Steam Deck| Raid: Atomgrad | How To Play "Support A Team" | Unlock Orion Camo | Aim Assist Settings | 
Modern Warfare 2 Fixes & Issues-Best NVIDIA GeForce Drivers | Dev Error 6036 | MW2 Missing Items | Unlimited Tactical Sprint Bug | Stuck On Installing Bug | Display Name Not Allowed Bug|Gold Camo Not Unlocking|Voice Chat Not Working| Display FPS Counter | 
Best Modern Warfare 2 Loadouts -  Best Weapon Tier List |  M4 Loadout|  PDSW 528 Loadout|TAQ-V Loadout|M4 Loadout|Fennec 45| No Recoil M4 Loadout | SA-B 50 Loadout | Kastov-74U Loadout |