Whether by coincidence or not, the Call of Duty League has become far harder to predict since it
moved to an online format
back in March. 
There's certainly a question if online issues are harming its validity as a competitive league, especially judging by reactions of disgruntled players, but it has undoubtedly made events more compelling to watch. 
The Minnesota ROKKR Home Series was the craziest in the league so far, with Seattle Surge narrowly missing out beating top team Atlanta FaZe by milliseconds and Chicago Huntsmen getting knocked out 3-2 by Los Angeles Guerrillas who sat at the bottom of the table. 
There were more surprises too on the way to the finals. Despite looking like the best team in the Call of Duty League, Dallas Empire were toppled by Florida Mutineers in a close five-game match, coming down to an 11-round Search and Destroy. Minnesota ROKKR too, who showed promising signs previously, were knocked out in the first round alongside Toronto Ultra.
While Atlanta FaZe predictably secured a place in the final against Los Angeles Guerrillas, they were the shakiest they've ever been - allowing lower ranked teams to assert dominance and force them into five-game matches. 
Their bouts of sloppiness carried over to the final against Florida Mutineers. On the opening Hardpoint, Florida Mutineers outran Atlanta FaZe from the outset - managing to secure the first game with an impressive 250-146 lead. 
Atlanta FaZe came back with strength in Search and Destroy, owning the show with a 6-1 win to equalise. 
Florida Mutineers took Domination with a comfortable 177-132 victory, but it was the second Hardpoint where the final really came alive. Echoing their early dominance, Florida Mutineers pulled away with a 70 point lead, only for Atlanta FaZe to win back the difference and threaten to derail the match with one of their infamous comebacks. 
Florida Mutineers however managed to maintain control once again to win the Minnesota ROKKR Home Series with a close 250-231 battle. 
It's the second time Florida Mutineers have won a home series, after previously coming out top at the Dallas Empire Home Series back in April. 
Call of Duty League standings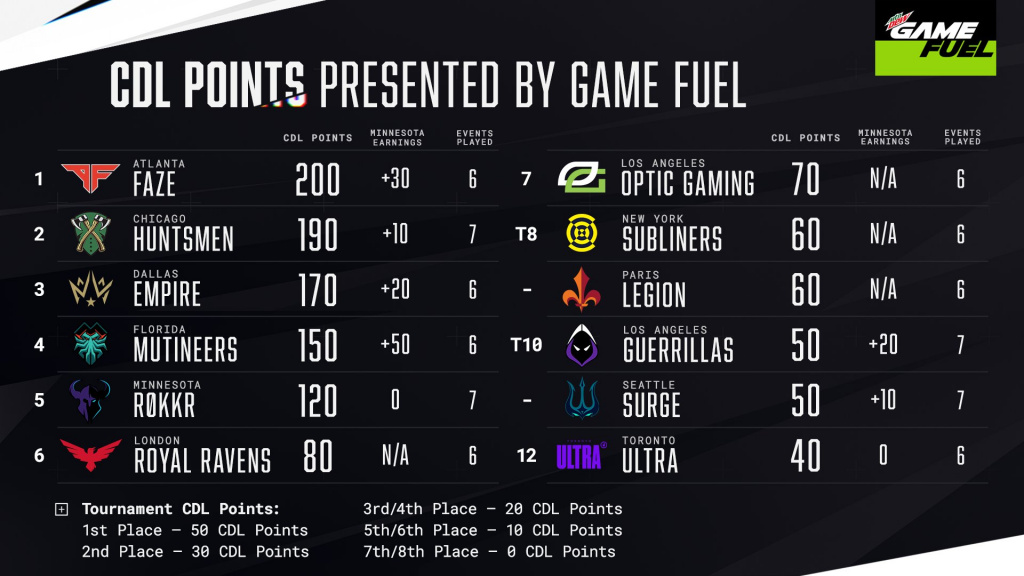 The standings after the Minnesota ROKKR Home Series (Picture: CDL)
Atlanta FaZe are still at the top of the table with 200 points, although this series raises serious questions over who are the top teams in the league - with Florida Mutineers looking better than Chicago Huntsmen and Dallas Empire. 
It's also a worrying time for Toronto Ultra who have now fallen to the bottom of the table, but will Seattle Surge and Los Angeles Guerrillas climb even higher and continue their sudden sparks of life?
There's less time to wait for the next series too, with the Paris Legion Home Series kicking off Friday 19th June.