Narratives were flipped at the Call of Duty League Stage 2 Major, as Toronto Ultra smashed their way into the league's upper echelons.
The downtime between Stage 1 and Stage 2 saw many teams make roster switches to shake up their fortunes. For Toronto Ultra, it was the surprise bench of veteran Anthony "Methodz" Zinni for Jamie "Insight" Craven, which was met with healthy scepticism.
While there's obviously other factors in their turnaround, it's a switch they'll probably be smiling about now. Toronto Ultra ploughed confidently through some of the biggest US teams, knocking OpTic Chicago to the losers bracket, grinding the LA Thieves redemption arc to a halt, and taking out both Minnesota ROKKR and Dallas Empire.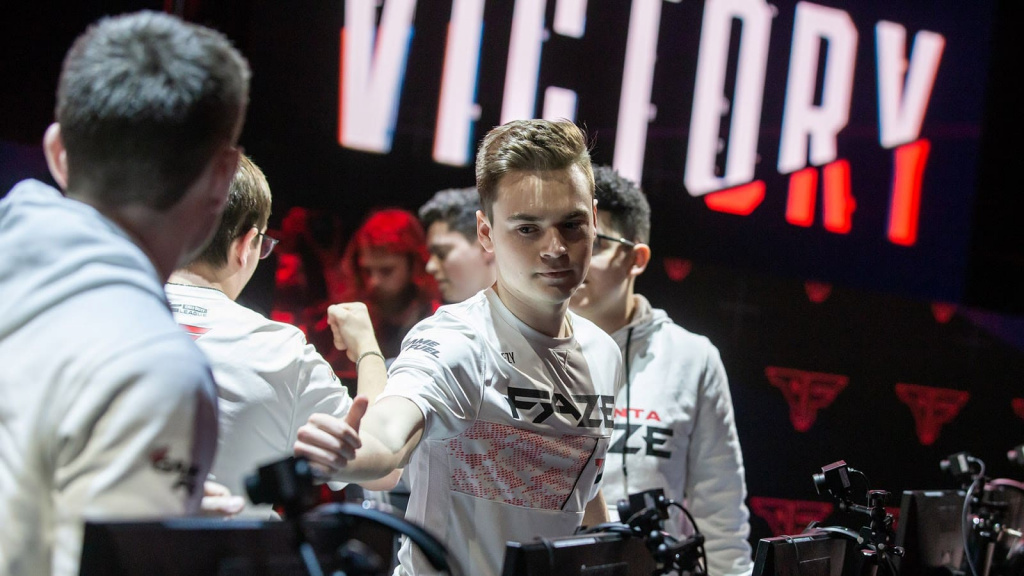 Atlanta FaZe were dethroned by Toronto Ultra (Picture: CDL) 
They faced this season's final boss, Atlanta FaZe, in the Stage 2 Major final. Despite expectations being against them after losing 3-1 in the winners bracket, Toronto Ultra rallied momentum to perform better than ever — with Benjamin "Bance" Bance and Tobias "CleanX" Jønsson particularly going above and beyond to deliver the best plays of their career.
A pivotal moment was Toronto Ultra taking Control on Raid with a swift 0-3 sweep, giving them momentum to close out the match with two subsequent wins on Search and Destroy for Express and Hardpoint on Checkmate. It was also where CleanX seemed unstoppable, going on a streak which will likely be a staple of future CDL highlight reels to come.
It's more impressive considering Atlanta FaZe weren't dropping their play either, only failing to adapt to Toronto Ultra's ferocious attacks. While there's still an argument Atlanta FaZe are the best team in the CDL, with Toronto Ultra yet to prove their consistency, it's certainly an exciting wrench in the narrative of them dominating future events.
It was a considerable shake-up elsewhere too. OpTic Chicago once again failed to make an impact after being knocked out by Minnesota ROKKR, while New York Subliners couldn't recapture their Stage 1 momentum, with LA Thieves bouncing back with their refreshed roster forcing them into a disappointing 7-8th finish.
While Atlanta FaZe appeared untouchable after Stage 1, Toronto Ultra have blown open the doors for every other team moving forward. With the right roster tweaks, momentum and dedication, there's a chance for every team to turn the standings around in Stage 3.
Atlanta FaZe vs Toronto Ultra final results
Hardpoint (Garrison) — 250-198
Search and Destroy (Miami) — 3-6
Control (Checkmate`— 2-3
Hardpoint (Apocalypse) — 250-147
Search and Destroy (Moscow) — 6-5
Control (Raid) — 0-3
Search and Destroy (Express) — 0-6
Hardpoint (Checkmate) 156-250 
Final result: 3-5
CDL Stage 2 Major results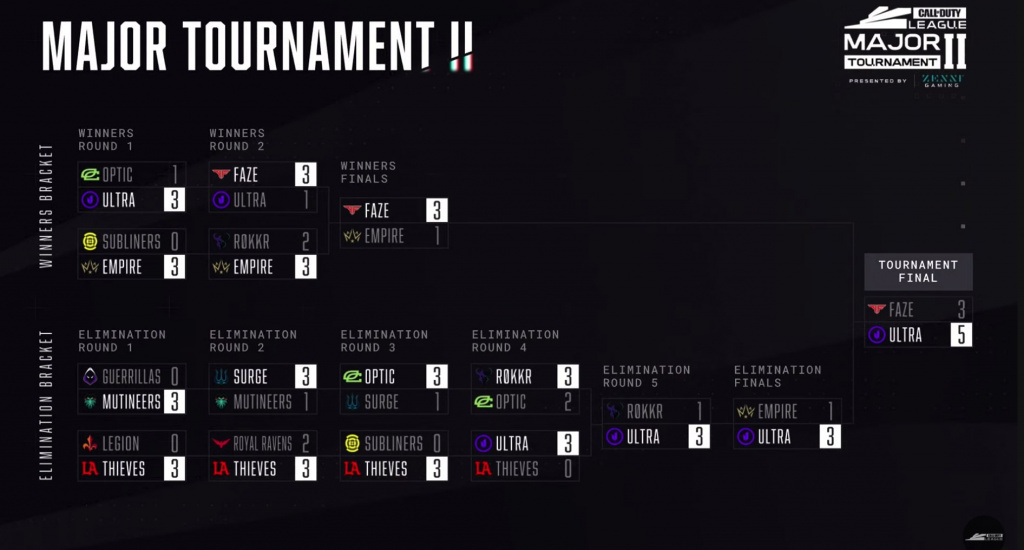 (Picture: CDL) 
1st: Toronto Ultra - $200,000
2nd: Atlanta FaZe - $120,000
3rd: Dallas Empire - $80,000
4th: Minnesota ROKKR - $40,000
5th-6th: OpTic Chicago - $20,000
5th-6th: LA Thieves - $20,000
7th-8th: New York Subliners - $10,000
7th-8th: Seattle Surge - $10,000
9th-10th: Florida Mutineers - $0
9th-10th: London Royal Ravens - $0
11th-12th: LA Guerrillas - $0
11th-12th: Paris Legion - $0
Player of the Stage: Benjamin "Bance" Bance
When is Stage 3 of the Call of Duty League? 
Stage 3 of the CDL starts on 22nd April with the London Royal Ravens' Home Series, followed by events for Paris Legion and Dallas Empire. This will culminate in the Stage 3 Major starting on 12th May.