Despite featuring the top four teams in the Call of Duty League, the Toronto Ultra Home Series proved there's still space for underdogs to take the wheel. 
The combination of Atlanta FaZe, Dallas Empire, Florida Mutineers and Chicago Huntsmen made this series unmissable, but it was Toronto Ultra and OpTic Gaming Los Angeles who proved to be the surprise forces causing them problems. 
Both teams managed to beat Chicago Huntsmen, preventing them from making the Championship Sunday in the first surprise of the weekend. Florida Mutineers meanwhile were knocked out by Dallas Empire, who looked on course to continue their dominance seen in the prior series. 
This however wasn't meant to be. In a surprise turnaround, Toronto Ultra secured their place in the final by taking out Dallas Empire with a comfortable 3-1 victory. 
While there was momentum behind the underdogs, Atlanta FaZe put on an impressive display against OpTic Gaming LA - knocking them out with a clean sweep to progress to the final. 
Many predicted a similar outcome for the final between Atlanta FaZe and Toronto Ultra, although it was closer than anyone expected. The tone was set from the opening Hardpoint, where Toronto Ultra managed to achieve a final push and narrowly win 250-247. 
Atlanta FaZe responded by flattening the team in a dominating 6-0 Search and Destroy, only for Toronto to bounce back in with a 165-157 win in Domination. 
FaZe, once again, responded with a comfortable 250-143 Hardpoint victory. This back-and-forth culminated in the final Search and Destroy, where both teams wrestled for dominance across 11 rounds. 
It was Toronto Ultra however who managed to clinch victory, sparking an incredible moment where caster Clint "Maven" Evans fulfilled his promise of coating himself in maple syrup (or very runny maple flavoured-syrup) if they won the final.
It's a huge win for Toronto Ultra, who have now moved to seventh place and bumped down Minnesota ROKKR in the final playoff standings. 
Call of Duty League playoff brackets and final standings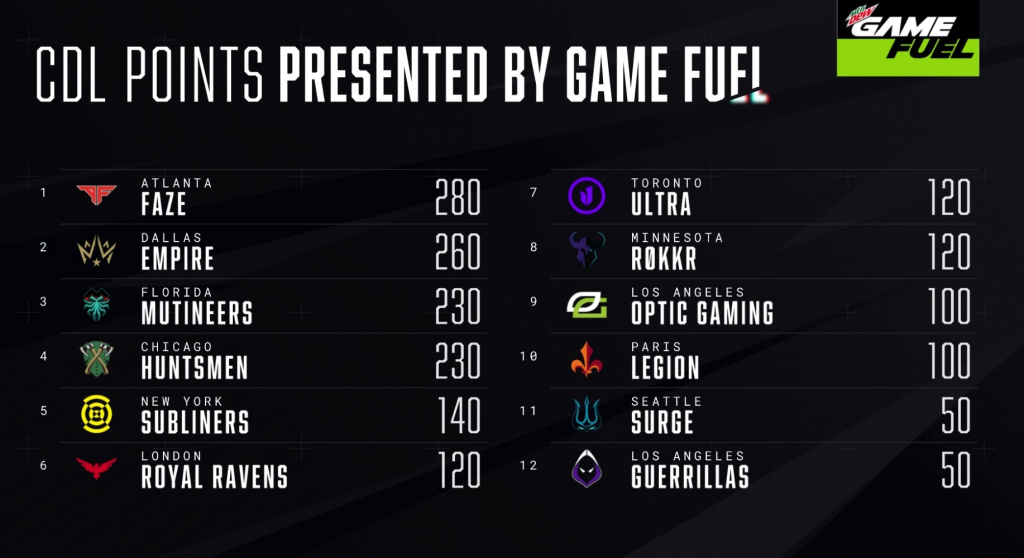 Atlanta FaZe win top seed in playoffs (Picture: CDL) 
As the regular season wraps, it's Atlanta FaZe who have achieved the top seed with 280 points, securing their spot alongside Dallas Empire in the winners bracket. 
Joining them will be Florida Mutineers, Chicago Huntsmen, New York Subliners, London Royal Ravens, Toronto Ultra and Minnesota ROKKR.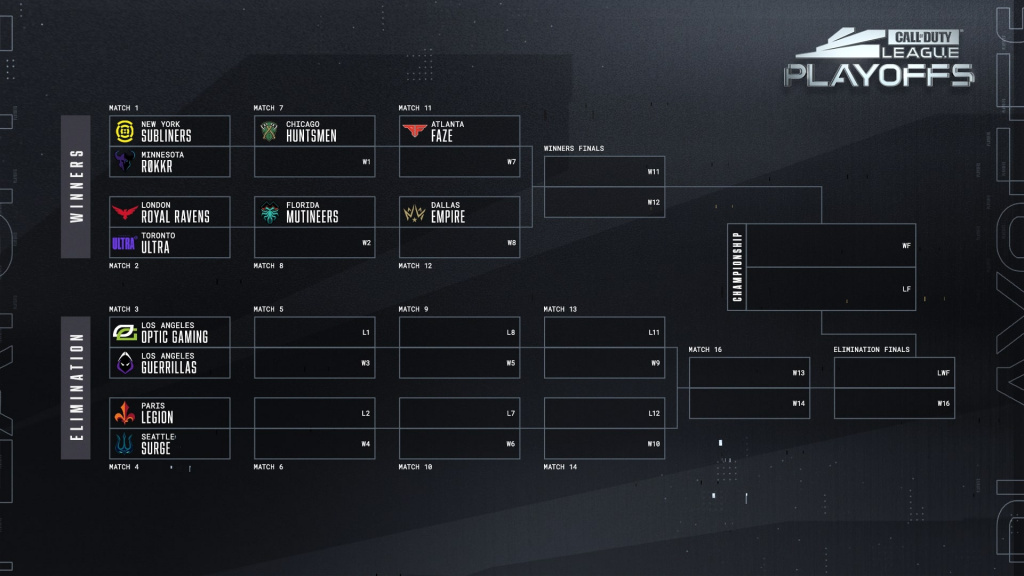 The playoffs placements have been decided (Picture: CDL) 
OpTic Gaming Los Angeles, Paris Legion, Seattle Surge and Los Angeles Guerrillas however will be placed in the elimination bracket, meaning they're all one match away from potentially leaving this year's Championship. 
The Call of Duty League playoffs, where players will be competing for a $4.6 million prize pool, starts on Wednesday 19th August at 5pm BST/12pm ET/3pm PT.