The Call of Duty: Warzone Season 5 Reloaded update is finally here! Raven Software has released its content roadmap, which includes the start of the enigmatic limited-time event called "The Numbers", later this month. There are also several new additions, including new Warzone game modes: Iron Trials '84 and Clash, a new Operator, new melee weapon, Judge Dredd skin, bug fixes, and of course, weapon balance changes.
Raven Software also surprised players with an interesting update to the DMR 14. The developers noted that rather than an outright reduction to the weapon's recoil, they decided to instead rework it. After being largely neglected following several nasty nerfs since Season 1, the DMR 14 is expected to make a massive resurgence following this change. With that said, here's the most broken DMR 14 class setup for Warzone Season 5 Reloaded.
The best DMR 14 loadout in Warzone Season 5 Reloaded
In case you don't know, the DMR 14 is a semi-automatic tactical rifle featured in Call of Duty: Black Ops Cold War and Warzone. The weapon has a high fire rate with minimal recoil and maintains a respectable damage output even over long-range engagements.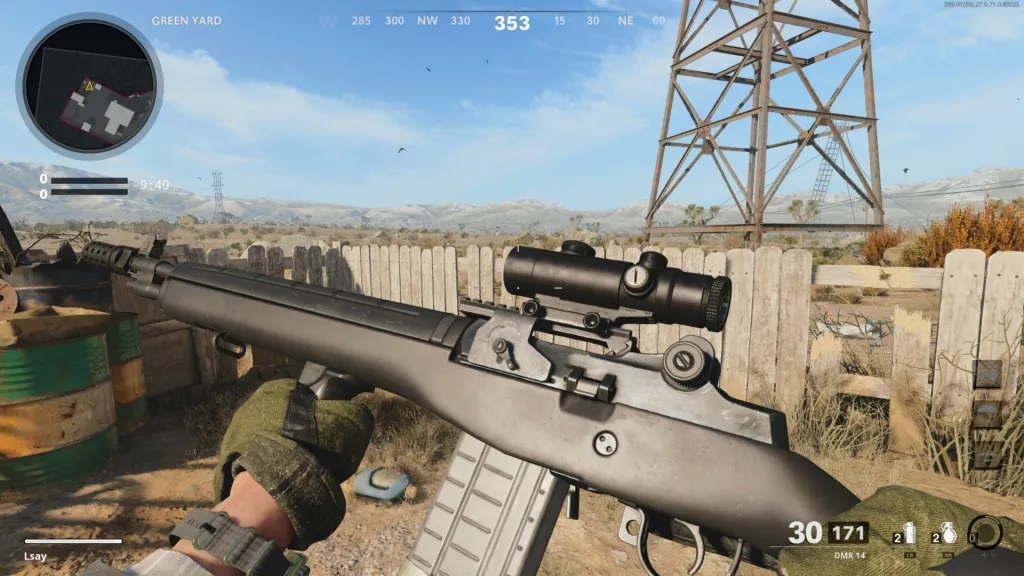 In previous seasons, the DMR 14 was considered one of the most broken weapons in the game but was later "balanced" by several significant nerfs. Warzone players will be happy to know that, following a recent rework of the weapon's recoil control, we could see the DMR 14 make a massive comeback in Warzone Season 5 Reloaded.
The following loadout is based on the DMR 14 class setup by Hydro.
Muzzle: Agency Silencer
Barrel: 16.3" Titanium
Underbarrel: Field Agent Foregrip
Optic: Axial Arms 3x
Ammunition: 30 Rnd Mag or STANAG 40 Rnd
The Agency Suppressor Muzzle is an integral attachment for most weapons in Warzone and will provide flash and sound suppression in addition to buffs to vertical recoil control, bullet velocity and effective damage range.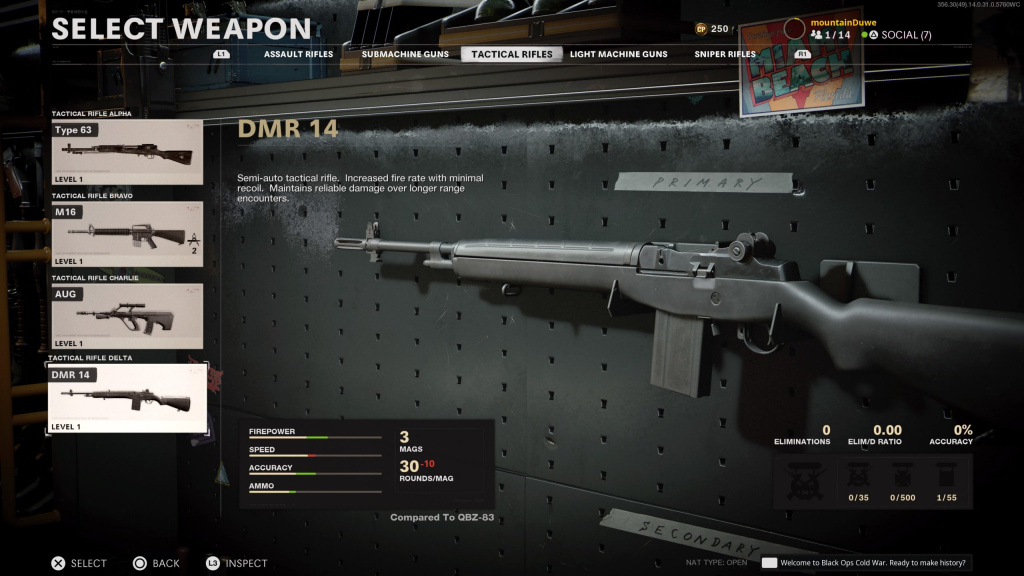 The 16.3" Titanium Barrel is arguably the most overpowering part of this loadout and will provide a significant buff to the weapon's fire rate. In previous seasons, players would use the 17.1" Strike Team Barrel because of the better recoil the attachment offered. Given the latest recoil control adjustments to the DMR 14, however, the 16.3" Titanium Barrel has become a viable pick once again.
In addition to this, the 16.3" Titanium Barrel was also buffed for the DMR 14, reducing the damage range deficit by 20%, instead of 25%. Raven Software noted that, given the weapon's recoil adjustment buff, it was fitting to make a slight adjustment to what they deemed to be "one of the most powerful attachment stats" for the DMR 14.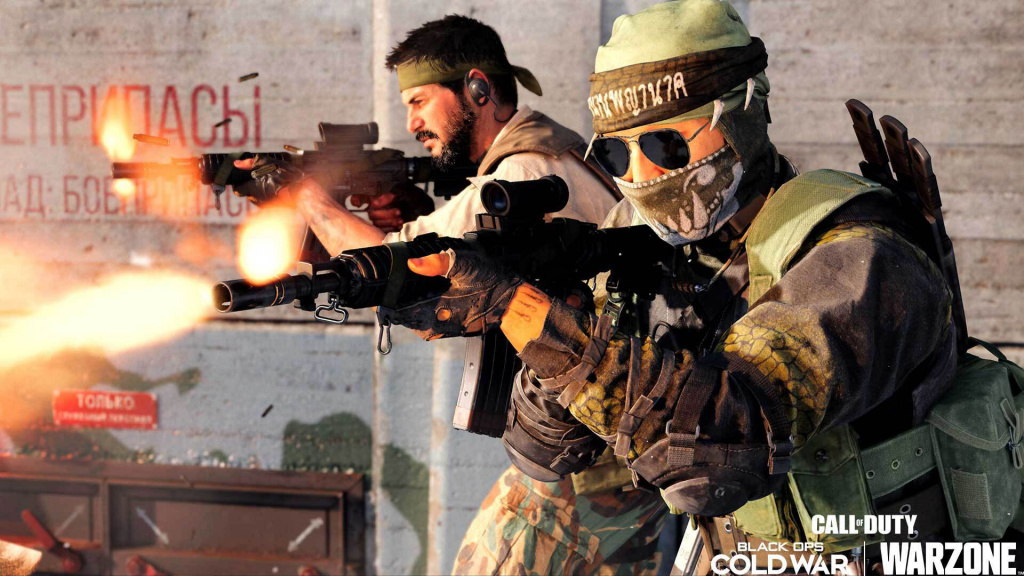 Continuing the loadout, we've gone with the Field Agent Foregrip Underbarrel attachment in order to get as much recoil control as possible. 
You can attach the 30 Rnd Mag for additional ammunition capacity or the STANAG 40 Rnd, depending on your preference. The 30 Rnd Mag will reduce reload quickness, whilst the STANAG 40 Rnd will reduce reload quickness and ADS time. You will have to decide whether the additional 10 rounds are worth the tradeoff.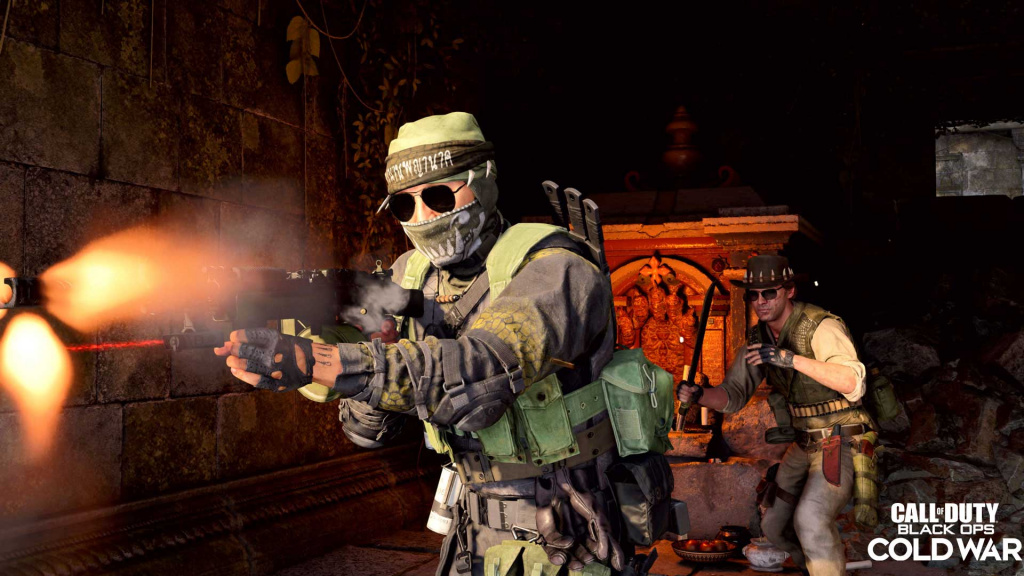 Finally, as per usual, your choice of Optic is largely preferential. We've gone with the Axial Arms 3x, however, a worthy alternative would be to equip the Royale & Kross 4x. Either attachment should work perfectly fine, although the Royal & Kross will provide better magnification for longer range engagements.
Check out the video embedded below for some insane gameplay footage that earned Hydro 31 kills with this loadout.
And there you have it, the best DMR 14 loadout for Warzone Season 5 Reloaded. This loadout will greatly improve your chances of dominating in the new meta across Verdansk, Rebirth Island or in the new upcoming map, Pacific.
Want to know more about Warzone Season 5 Reloaded? Then check out our dedicated Call of Duty section, featuring guides, best loadouts, weapon tier lists and much more.
Header image via Activision.