Some teams are over the moon when getting 50 kills with the squad in Verdansk, while others strive for greatness. Back in May 2020, 
Vikram "Vikkstar" Singh Barn
set Warzone Squads kills record with his team at 138.
No one could beat the record in 2020 but now, finally, a new Warzone Squads kill record has been set.
New Warzone Squads kill record
If you are wondering what the highest number of kills for a squad is in Warzone, maybe because you want to try and beat it yourself, good luck...
The new Warzone Squads kill record is a whopping 143. This record was set by a team composed of the following players:
The match took place on 11th January 2021, after the first DMR-14 nerf (which wasn't nearly enough) but before the second nerf.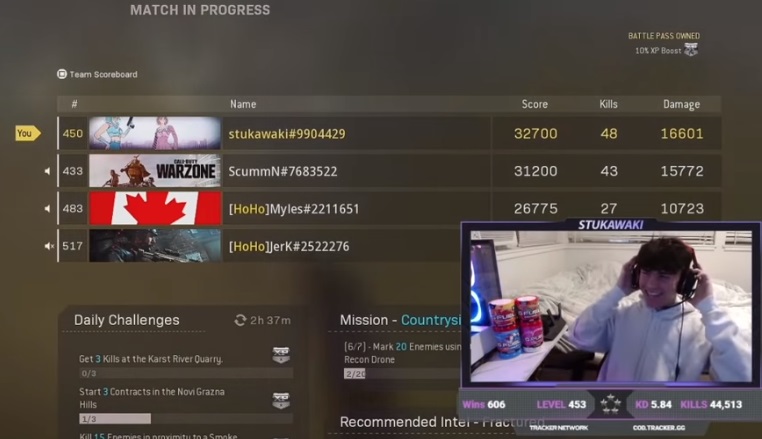 (Picture: Stukawaki)
The player Stukawaki managed to get an eye-watering 48 kills, putting him at the top of the leaderboard. ScummN got 43 kills, while TheMylesLive managed 27 kills. JerK had a total of 25 kills in the match. 
The players all utilized the MAC-10 and DMR-14, absolutely melting their opponents, showcasing both their skill and the power of these weapons in Warzone.
Check out the full video showcasing the new Warzone Squads kill record below.
With the highest number of kills in a Warzone match for a Squad now at 143, this record will likely not get broken for quite some time, taking into consideration how long it took to broke Vikkstar's record.
While it is technically possible to get more than 143 kills in a single Warzone match, the DMR-14 nerfs could also extend the record's time in the spotlight.
Unless, of course, an even more powerful weapon helps another squad break the Warzone kill record.