As the dust settled on the North American League Championship Series Semi-Finals, only two teams remain with a chance to claim the Summer Split Championship and NA's number one seed at the
League of Legends
World Championships. Despite dramatically different paths to the Finals, Team Liquid and Cloud 9 have persevered to face off in Oakland, pitting the creativity and flexibility of Cloud 9 against the experience and consistency of Team Liquid in what is one of the most intriguing Finals match-ups to date.
Cloud 9's gamble propels them to NA Finals
In a match-up of two of the NA LCS's most storied franchises, Cloud 9 and Team SoloMid both entered their semi-final match on a hot streak. At the bottom of the NA LCS after three weeks, Cloud 9 had finally found their rhythm with a lineup that featured the pairing of mid-laner Nicolaj "Jensen" Jensen and rookie jungler Robert "Blaber" Huang, catapulting them to a second place finish and a first-round playoff bye. Similarly, TSM had overcome a precarious stretch in the middle of the season to secure a playoff spot in the final week. Despite inconsistent performances from their bot lane, TSM had ridden the steady play of jungler Jonathan "Grig" Armao and the brilliance of mid-laner Søren "Bjergsen" Bjerg to a first-round victory and a match-up against Cloud 9.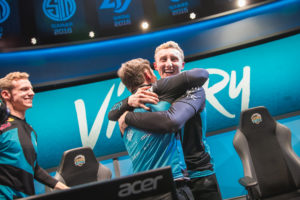 Evenly matched for the first three games of the series, TSM would hold a 2-1 series advantage when Cloud 9 would take a massive risk and substitute Blaber and Jensen with the duo of Greyson "Goldenglue' Gilmer and Dennis "Svenskeren" Johnsen. Showing their confidence in Svenskeren by placing him on a carry jungler in Graves, Svenskeren would deliver with a strong performance and a 3/1/4 scoreline as Cloud 9 evened the series 2-2. Riding this wave of momentum and energy the substitutes had brought to the team, Cloud 9 would elect to stay with Goldenglue and Svenskeren for the deciding match of the series. Despite handing Bjergsen one of his signature summer picks in Irelia, a strong performance by Goldenglue on Malzahar would help propel Cloud 9 past TSM and into the Finals.
Team Liquid secures their spot at Worlds
After winning the Spring Split Championship, Team Liquid maintained their place at the top of the standings for most of the Split. Using their wealth of experience and strong bot lane play to easily overcome and out macro most of their NA LCS opponents, Team Liquid appeared poised to once again reach the NA LCS Finals. Despite 100 Thieves 3-0 victory over FlyQuest in the first round of the playoffs, Team Liquid elected to choose them as their Semi-Final opponent over TSM. With predictable late game compositions and a weak early game, 100 Thieves knew they would have to make rapid changes to prevent another 3-0 Team Liquid sweep.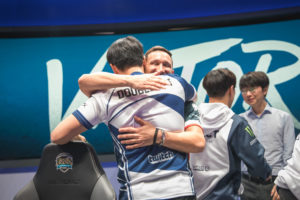 In a desperate attempt to disorient and surprise Team Liquid, 100 Thieves would substitute their bot laner Cody "Cody Sun" Sun with Samuel "Rikara" Oh for the series against Team Liquid. While the move did find early success as 100 Thieves jumped out to an early 1-0 series lead, it was clear over time that Rikara and support Zaqueri "Aphromoo" Black were heavily outmatched by the Team Liquid duo of Kim "Olleh" Joo-sung and Yiliang "Doublelift" Peng. With Doublelift securing an average CS lead of over 30 at 15 minutes, Team Liquid would convincingly win the final three games of the series and earn a trip to the Finals in Oakland. While there are still questions lingering around the champion pool of top laner Jeong "Impact" Eon-yeong and Olleh's ability to handle pressure, Team Liquid should enter as favourites to win a second consecutive crown. The victory for Team Liquid secures them enough Championship points to guarantee a trip to Worlds, the first in the organisation's long history. For 100 Thieves, a Team Liquid victory in the Finals would not only send Team Liquid to Worlds as the number one seed but would allow 100 Thieves to qualify as well based on the championship points they earned in the Spring Split.