In the first week of the North American League Championship Series Summer Playoffs, fans were treated to two dramatically different series between Team SoloMid & Echo Fox, and FlyQuest against 100 Thieves. With both series having implications beyond the summer playoffs, the quarterfinals became must watch for fans across the
NA LCS
.
Bjergsen Leads TSM Past Echo Fox 3-2
The first game of the TSM and Echo Fox gave fans a taste of the excellent series to come. Although Echo Fox's creative macro would keep them close in gold for most of the game, TSM's superior team fighting and stellar play from mid-laner Søren "Bjergsen "Bjerg would secure them the victory.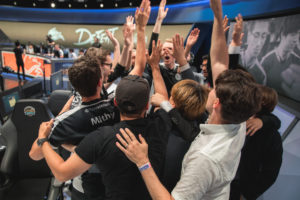 This would be a recurring trend in a series that would go the full five games, ending in a TSM 3-2 victory. In many ways, TSM's series against Echo Fox mirrored the path their split has taken up until this point. After a strong start, TSM stumbled in the middle of the Split, falling toward the bottom of the standings and coming very close to being eliminated from Playoff contention altogether. With their backs against the wall, they were able to finish strong and advance, largely off the heroics of their leader and star Bjergsen. For TSM, the victory is just one more step in their late-season resurgence. On the outside of the playoff picture looking in just a few short weeks ago, Team SoloMid have now earned themselves a match-up against the red-hot Cloud9 in the Summer Split Semifinals and a trip to Oakland. More importantly, with the victory, TSM secured a spot at the NA Regional Finals and a chance to continue their streak of World Championship appearances (if they aren't able to claim the Summer Split crown). Being eliminated in the Summer Quarterfinals will be a bitter pill for an Echo Fox team that made dramatic changes to raise their potential as a team. With a roster that only contains two of their original starters in Joshua "Dardoch" Hartnett and Heo "Huni" Seung-hoon, Echo Fox made the decision mid-split to rework a squad that had already been successful and brought them to the top of the standings. While they will still have a chance to earn a spot at Worlds in the Regional Finals, their disappointing early exit is sure to leave many fans questioning the moves made weeks ago.
100 Thieves Sweeps FlyQuest 3-0
While the TSM and Echo Fox series provided fans with a thrilling back and forth affair across five games, 100 Thieves and Echo Fox proved to be a more one-sided contest. Despite FlyQuest's ability to gain early advantages across multiple games, their failures in mid and late game shot-calling allowed 100 Thieves experience to earn them a 3-0 series victory.
FlyQuest's defeat eliminates them from a chance at a spot at the World Championships, but after entering the Summer Split with low expectations their quarterfinals exit can in many ways be seen as a success. The ability to generate early leads is a solid foundation to build for the future upon, and if their roster remains the same they should be able to contend for a top spot in the Spring Split. Conversely, it is clear that 100 Thieves have found a winning strategy for themselves through drafting late game compositions and stalling out until their win condition can be realized. While this was very effective against a team such as FlyQuest (and many other NA LCS teams) who have struggled to close out games, it could prove fatal if relied upon too much moving forward in the summer playoffs. 100 Thieves were able to sweep FlyQuest in the series, yet their early and mid game deficits from late-game compositions hint at the vulnerability of the squad. With this in mind, Team Liquid selected 100 Thieves over TSM to be their semi-final opponent, despite 100 Thieves higher seed heading into the playoffs. If significant steps are not taken to resolve some of their issues and diversify their strategies before their series against Team Liquid, 100 Thieves could find themselves with a similar result to last Spring's Finals where they were the team on the receiving end of a 3-0 defeat. All images courtesy of lolesports on Flickr.