When Team Liquid takes the stage for the Group Stage of the 2018
League of Legends World Championship
they will be wearing a new jersey. Alongside the familiar blue and white, the jersey will be lined with gold, a testament to the long journey that the organisation has taken up until this point and the golden year they have provided their fanbase. One of the founding members of the North American League of Legends Championship Series, the organisation would be forged under the guidance of Steve "Liquid112" Arhancet as Team Curse. Fielding lineups that contained legendary NA LCS names such as Brandon "Saintvicious" Dimarco, Joedat "Voyboy" Esfahani, and Chae "Piglet" Gwang-jin, Curse was a mainstay near the top of the
NA LCS
.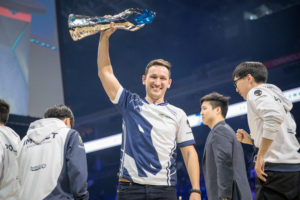 Through Arhancet's vision, Team Curse was at the forefront of innovation in the NA LCS, assembling an academy team to support their main roster and making acquiring big foreign stars that included Piglet and former Gambit Gaming support Edward "Edward" Abgaryan. Following the disappointing 2014 season, Team Curse would merge with another organisation, rebranding under the Team Liquid banner. Although they were able to claim first place in the 2015 Summer Split, a quick exit in the semi-finals and a tragic loss to Cloud 9 in the gauntlet would leave Team Liquid and their fans agonisingly short to reaching Worlds once again and continue to build the legend surrounding Team Liquid's place as "Forever Fourth". With NA LCS franchising looming, Arhancet and Team Liquid would become one of the first esports organisations to secure significant investment, providing a wealth of resources that fans believed would allow Team Liquid to assemble a monstrous roster heading into the 2017 season. And while Team Liquid made a splash with the signing of Spring Split MVP Kim "Reignover" Yeu-jin from Immortals, their newly built roster never could find the right chemistry to produce results.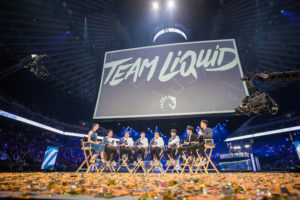 While the 2017 season will be remembered as a dark time in the history of the organisation (they avoided relegation twice in the promotion tournament), it would give way to easily the brightest signing in the organisation's history with the arrival of former Team SoloMid star Yiliang "Doublelift" Peng. Loaned to the organisation for part of the 2017 season, Doublelift would sign with Team Liquid and immediately emerge as the leader they had been missing. Along with Doublelift, Team Liquid would also sign a majority of the starting roster for an Immortals squad who had finished second in the NA LCS and had come tantalisingly close to advancing out of the Group Stage at the 2017 World Championships. Joining mid-laner Eugene "Pobelter" Park, Kim "Olleh" Joo-sung, and jungler Jake "Xmithie" Puchero in the starting line-up would be
Cloud 9 top laner
and former World Champion Jung "Impact" Eon-yeong, forming easily one of the most decorated and experienced rosters in the NA LCS. This all-star lineup led by coach Jang "Cain" Nu-ri would quickly pay dividends for Team Liquid, giving the organisation their first NA LCS crown by sweeping 100 Thieves in the Spring Final. Building upon their success in the Spring, Liquid would ride their momentum to a second consecutive Finals sweep of Cloud 9 in the Summer Split and earn the organisation's first ever trip to the World Championships. For fans of Team Liquid, the 2018 season has been a fulfilment of years of disappointment and heartbreak. While other organisations have had their moments in the sun over the years, Team Liquid had never been able to take the final step. Yet behind the strong play of Summer Split MVP Doublelift, Team Liquid delivered in full to a fan base who had continued to support the organisation with a stubborn passion. While back to back Championships and a trip to Worlds are have gifted Team Liquid's fans with an outcome they have coveted for years, it is a testament to the strength and leadership of Arhancet that Team Liquid has been able to relentless rebuild and persevere over the years. A trailblazer in the industry with his ability to help grow and professionalise esports. Arhancet has worked tirelessly to frame Team Liquid into what it is today.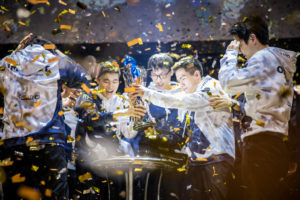 In the Summer Finals Winner's Press Conference, Arhancet tried to put to words what this season had meant for him and the organisation. "Putting this team together during the off-season was a pretty radical change from the previous season. We had the worst performance last year in terms of Team Liquid's history, and also Curse's history in League of Legends. I wanted to make a substantial investment after franchising happened, and we had the confidence to know these investments would bear return for years to come". "It feels pretty incredible to achieve something ... that's slipped through my fingers for over six years, and we finally did it." After a difficult draw that placed Team Liquid into a group with the
Korean champions KT Rolster
, the dangerous Edward Gaming, and the unpredictable MAD Team, Team Liquid's ability to advance in the World Championships is all but certain. Despite their dominance domestically, Team Liquid had struggled in their previous international appearance at the Mid-Season Invitational, and many of the questions that had emerged from that performance still remain. Still, regardless of how Team Liquid fares at this year's World Championship, this year has truly been golden for the players and fans of Team Liquid. After tortuously failing to reach the World Championships multiple times, Arhancet and Team Liquid's veteran roster have finally rewarded the continued faith of their fanbase.
All images courtesy of lolesports on Flickr.