Call of Duty: Vanguard will launch with an impressive number of 16 diverse maps set across various battlefields of WW2.
It will be one of the biggest launch rosters of maps in the history of Call of Duty, to the delight of fans around the world who can't wait to time-travel back to the 40s and start blasting some Nazis.
From the red-hot Sahara desert to the frozen and desolate streets of Stalingrad, from narrow alleys of Tuscan and European countryside, all the way to lush and damp jungles of Southeast Asia.
This is just a small part of the full list, and as you can see there's diversity like never before, both in terms of locations and in terms of structures of these maps, designed for different playstyles and combat scenarios.
In total, COD Vanguard will launch with 16 multiplayer 6v6 maps, and all core modes can be played on any of them, which includes the following game modes:
Free for All
Team Deathmatch
Kill Confirmed
Domination
Search & Destroy
Hardpoint
Patrol
Without further ado, let's check out all the maps available when COD Vanguard launches on 5th November.
All Call of Duty: Vanguard multiplayer 6v6 maps
Below you will find a full list of maps that will be released alongside the launch of COD Vanguard. We will update the list with new maps as they are being added to the game.
Battle of Berlin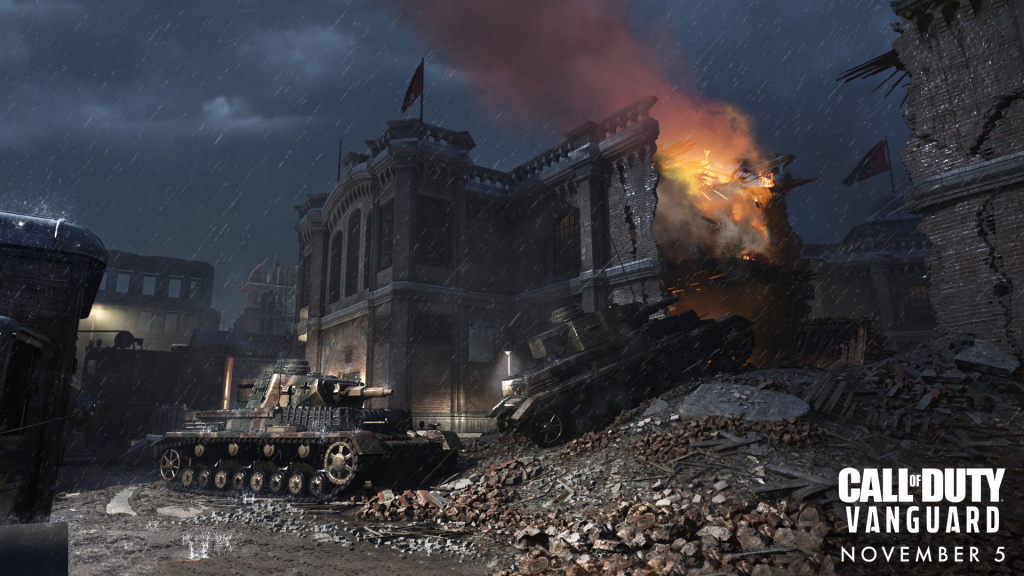 Set in Berlin, Germany, on one stormy night, marking the beginning of the end for the Axis, this large-sized urban map features a variety of combat opportunities, including alley flank routes, destroyed buildings, and stalled tanks for cover. 
Bocage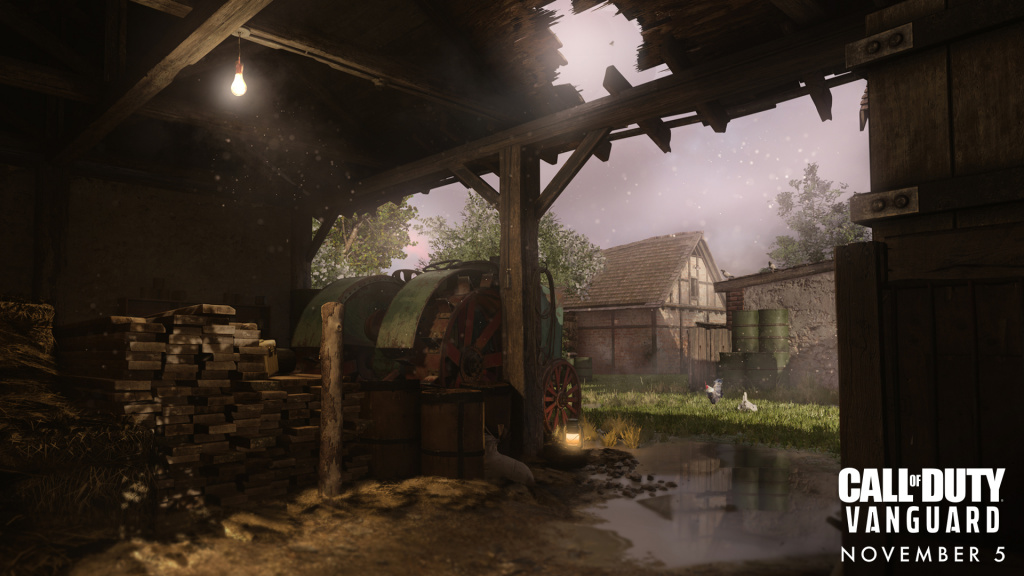 A medium-sized map set in the rural areas of northern France, in an aftermath of a huge tank battle during the Allied invasion, with infantry combat happening around the farmhouse, stables, and homes with several tanks protruding from them, left behind after the battle has ended.
Castle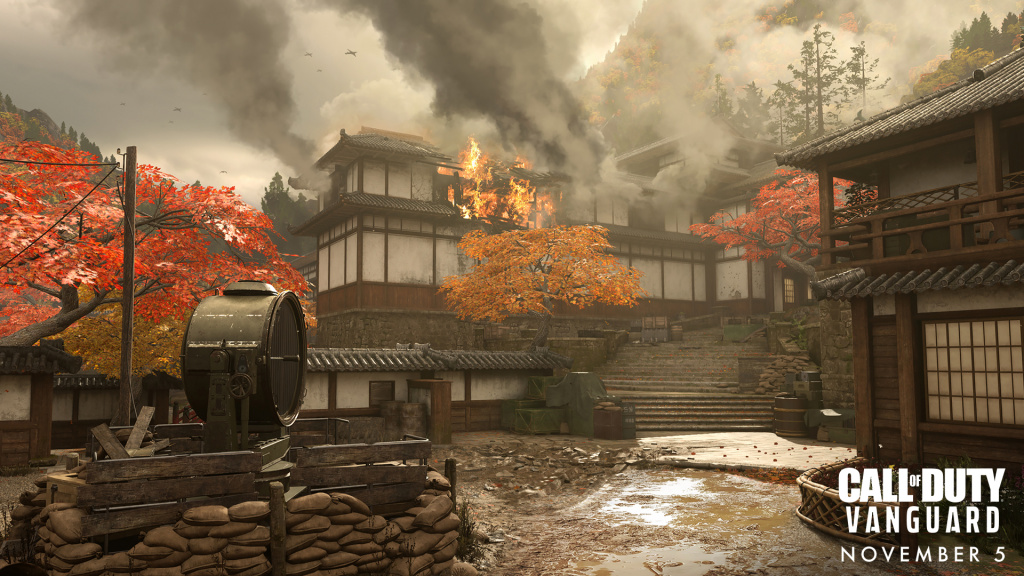 Set in an old fortress on the southern-most Japanese prefecture, Castle is a large-sized locale that is a reimagining of Treyarch's classic Call of Duty: World at War map.
Das Haus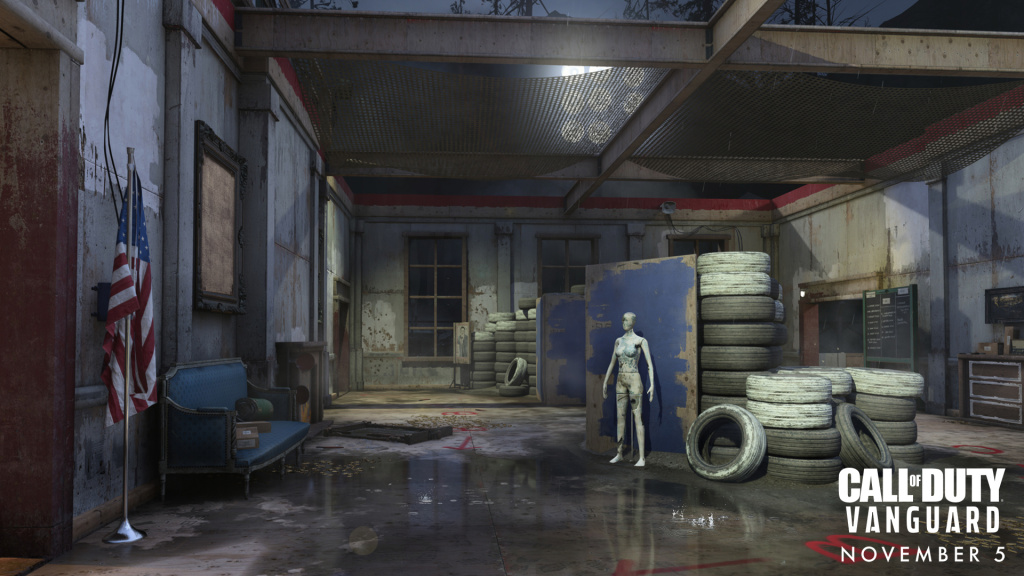 Das Haus is staged in a remote wooded location in Germany, where Special Forces train for an overseas invasion of the White House. 
It includes a mock version of West Wing, and it is designed to encourage frenetic, interior-focused close-range combat.
Decoy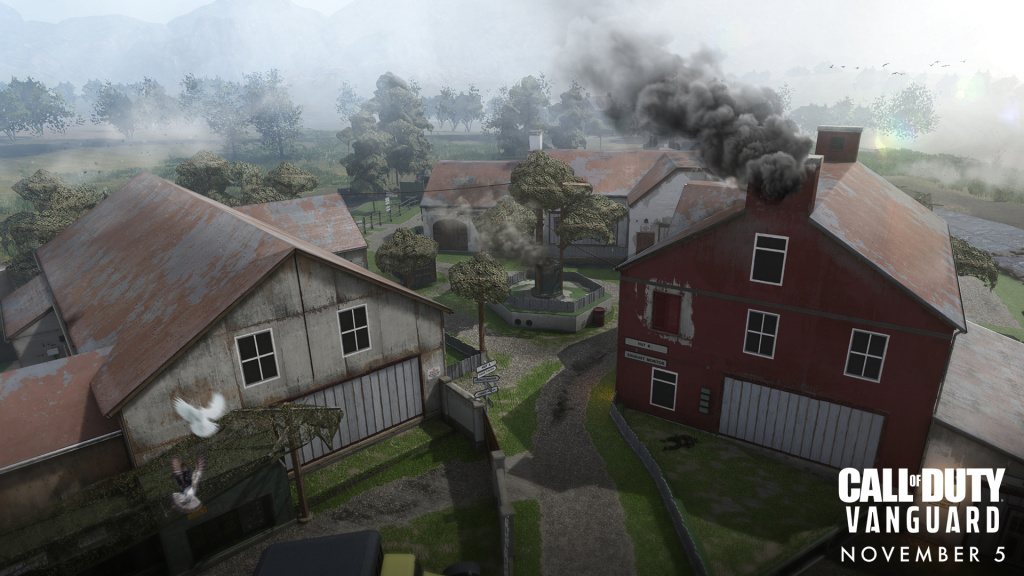 Another fake scenario, serving as a training course for German Special Forces.
This medium-sized map represents a mock town with dummy homes and businesses made up of construction materials and plywood.
Demyansk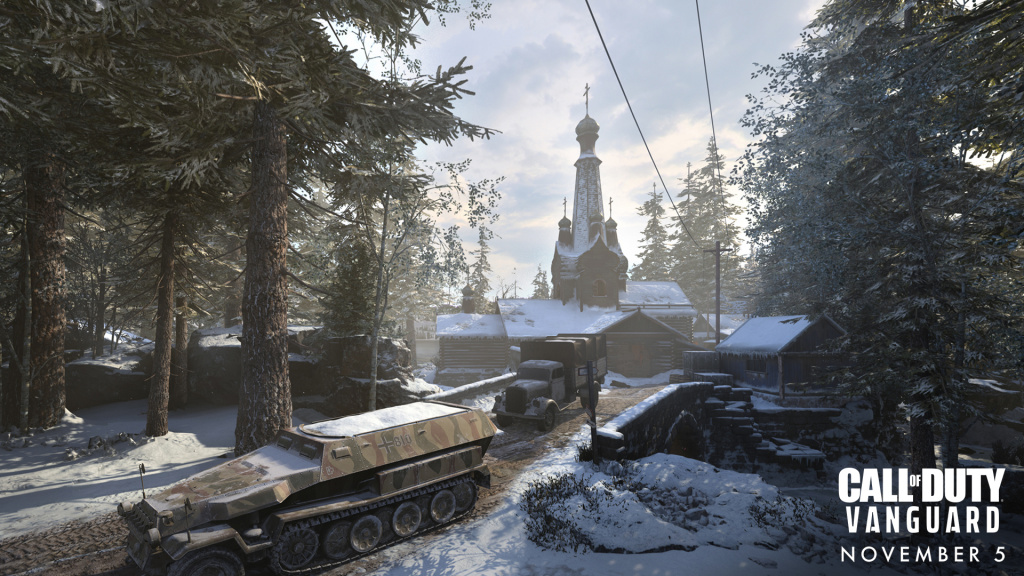 Demyansk is one of the smallest multiplayer maps at launch, featuring a small church and village on the Lovat River, where Allied Forces spread out to ambush the Axis before they can successfully retreat with supplies and equipment. 
Desert Siege
Set in the twilight of the North Africa campaign, Desert Siege is a large-sized map with diverse combat locations, from strategic railways and oil fields to sand dunes and rock formations, which offer natural cover from any incoming fire.
Dome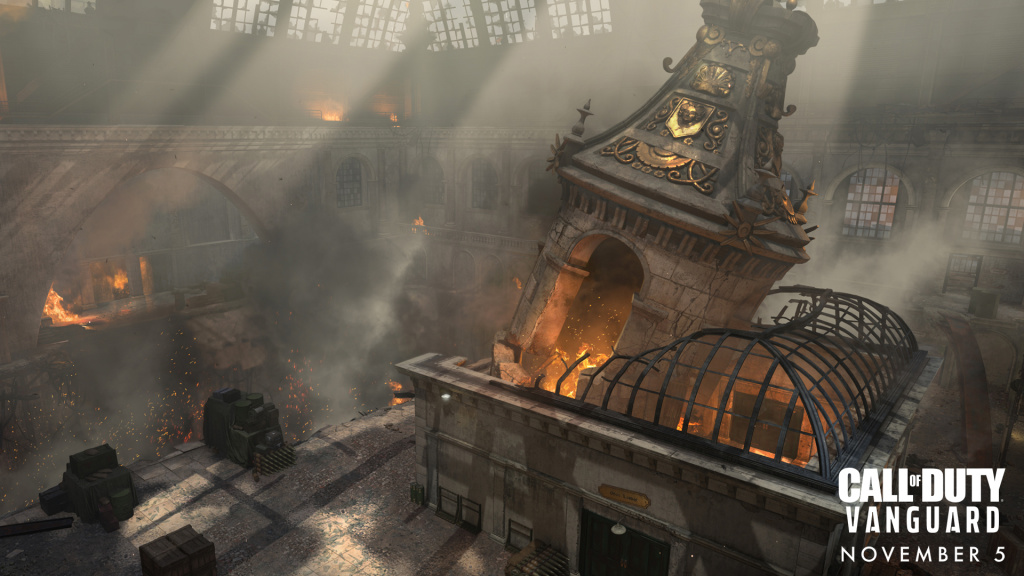 Another map set during the final hours of Nazi Germany. After heavy damage to the Reichstag Building in Berlin, Allied forces storm the bombed-out structure while Axis stand their ground.
This is a rather small arena-like map with an asymmetrical structure, so expect constant action and bullets flying around from all directions. 
Eagle's Nest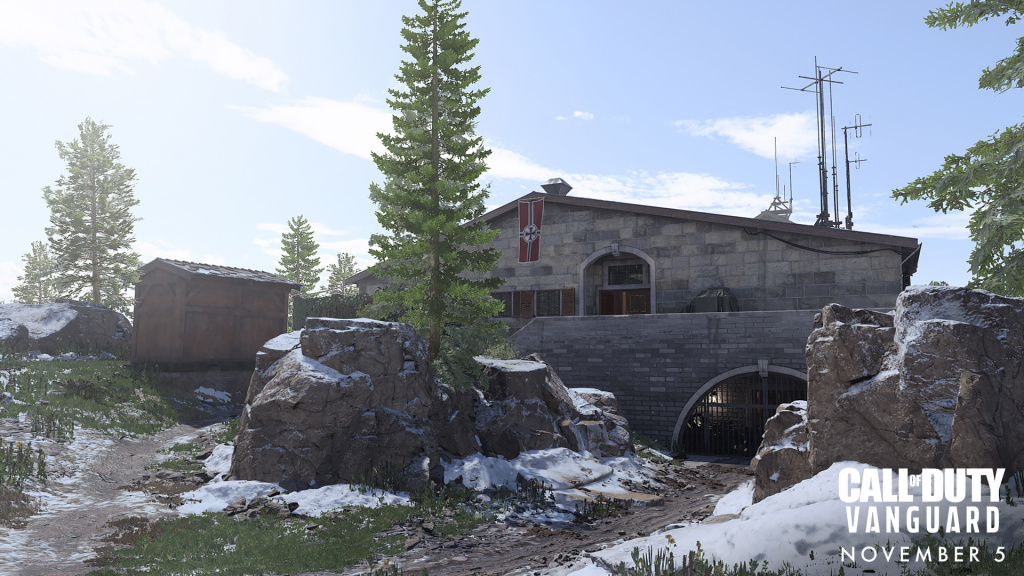 The Kehlsteinhaus is a real-life third Reich–era building erected atop the summit of the Kehlstein, 1,834 meters above sea level, near the town of Berchtesgaden, in southeastern Germany.
It was featured during the Vanguard beta, and it is a small, three-lane-like map.
Gavutu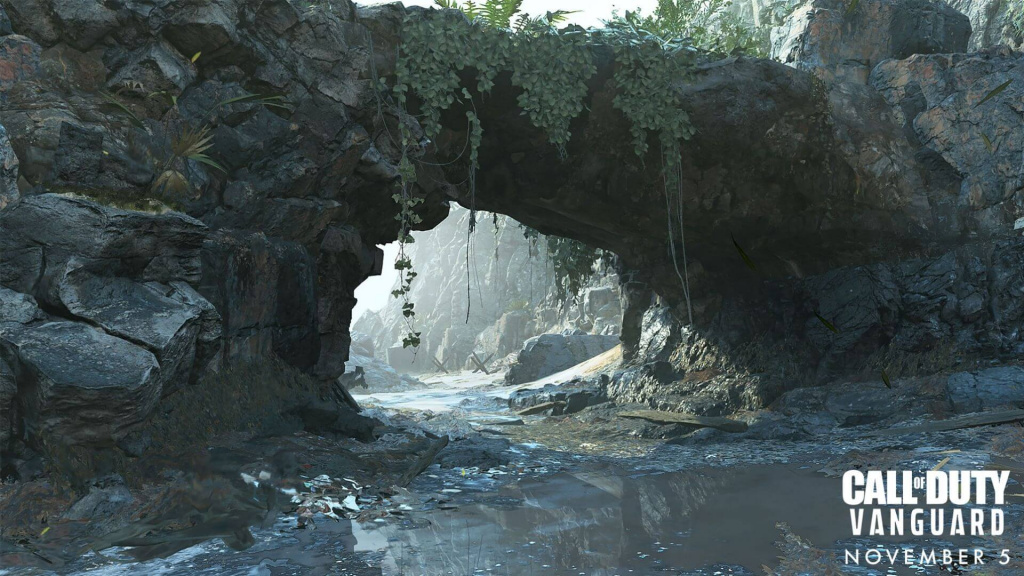 The Gavutu map is based on a famous land battle in the Pacific Theater which marked the beginning of Operation Watchtower (the Guadalcanal campaign).
During the battle, Allied forces had the weather on their side as stormy conditions allowed for them to arrive on the island unseen while being supported by air forces.
This real-life moment will be implemented into gameplay through various weather effects on this three-lane map where players will be able to advance either along the stormy beachfront, through caves and forests, or within and atop the crashed naval landing craft.
Hotel Royal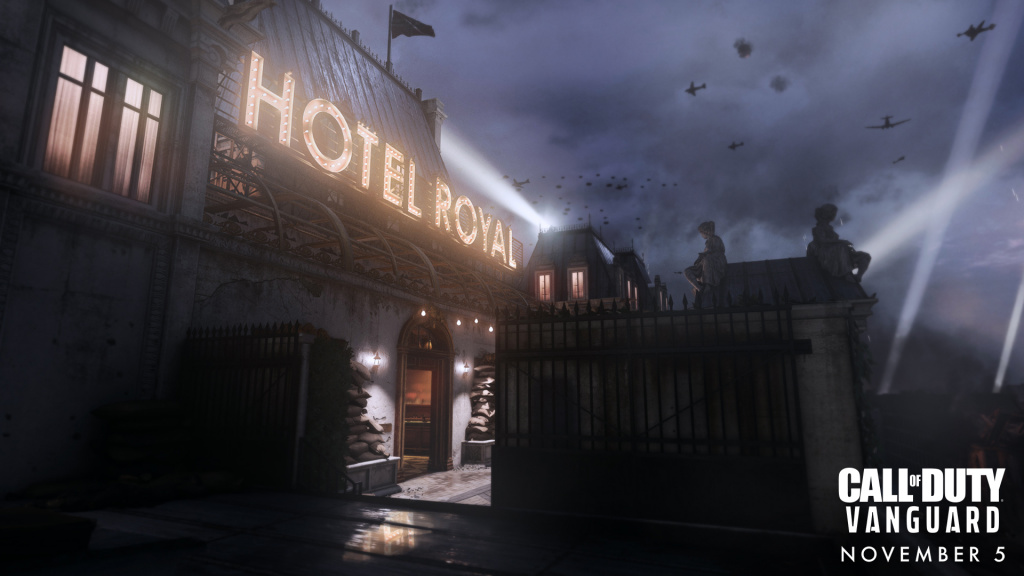 Set in Paris during the uprising following the successful D-Day invasion, this map is centred around Hotel Royal. Once Paris' largest hotel, it has now been transformed into a key stronghold of Axis forces and teams will either defend it or try to invade the hotel.
Sledgehammer calls Hotel Royal one of the most ambitious Call of Duty maps ever made, and a lot of things are going on on this medium-sized map which highlights destructibility and verticality, allowing players to approach combat in different ways and find the perfect way to flank the unsuspecting foes.
Numa Numa
This small-sized map is inspired by the Battle of Piva Fork, also known as the Battle of Numa–Numa Trail.
It is a very small map with a large machine-gun nest in its centre which will be the main point of interest players will endeavour to take control of.
Oasis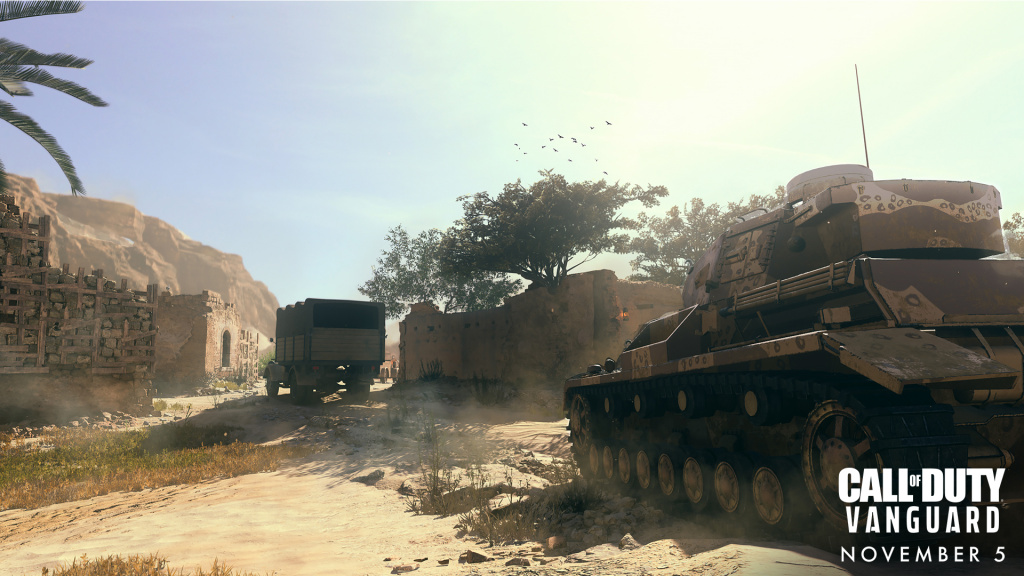 Another map located in North Africa. The map sees a Special Forces squad ambushing Allied forces advancing from Egypt to Libya.
Teams will fight to take control over key locations in ruins, as well as the titular oasis lake in the middle of the map.
Red Star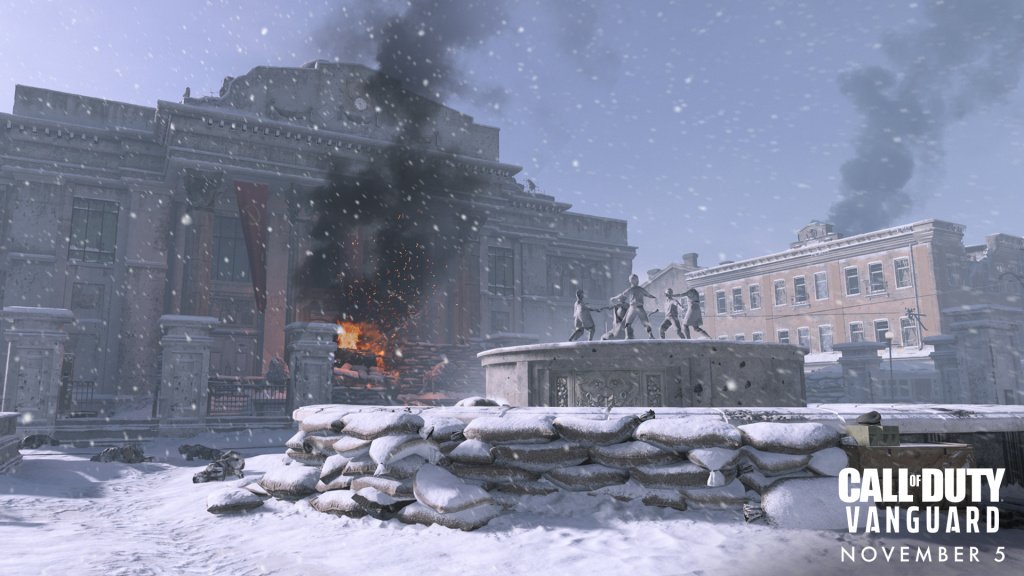 It would not be a proper World War 2 game without at least one map located on the Eastern Front, and especially without the legendary Battle of Stalingrad.
Red Star is centred around a huge plaza, with several bombed buildings being accessible for entrance, including a theatre, which all sit around a central fountain area.
Teams will fight to take control over these buildings as well as several essential vantage points on the rooftops.
Sub Pens
Sub Pens is a U-boat base off the coast of France with a lot of close-quarter areas and a massive submarine at the centre. 
Tuscan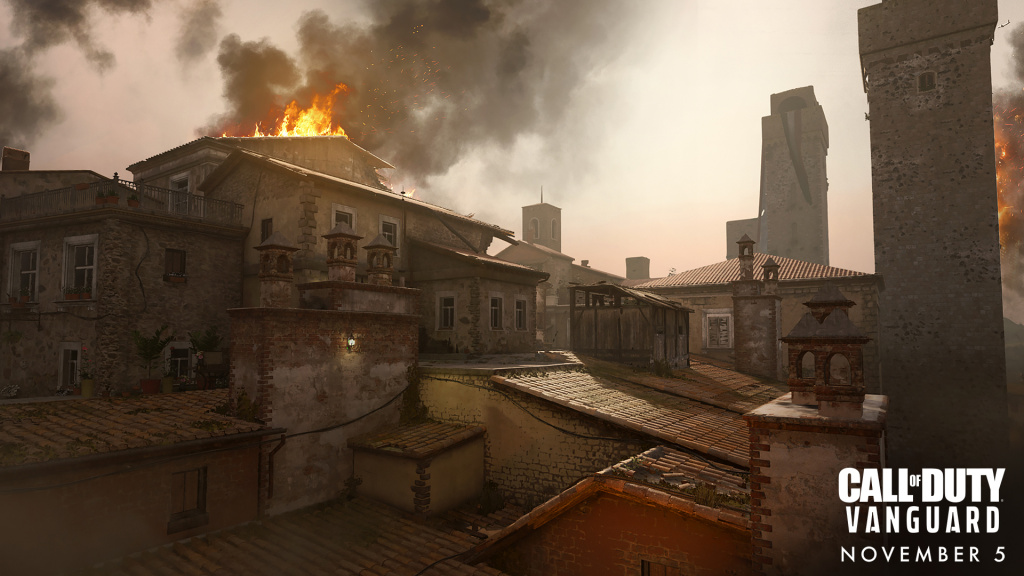 The map is inspired by the famous Italian region of Tuscany, known for its rich history and artistic legacy, permeated by small quaint and dreamy towns, just like the fictional town of Tuscan. This medium-sized map features a mix of interior combat among Roman ruins and various buildings. 
And there you have it, all 16 COD Vanguard multiplayer maps slated for release on launch day. The 17th map is Shipment, the classic frenetic multiplayer COD experience now reimagined for Vanguard, scheduled for a 17th November arrival.
If you want to learn more about COD Vanguard, check out our all killstreaks which you can acquire, perks for players to equip, and tactical equipment to take down enemies with. 
Featured image courtesy of Activision.