For those who are new to the Diablo 2 experience, the game can be complicated and unforgiving. Diablo 2 Resurrected takes us back to a time where players needed to grind for their loot and discover a variety of systems, from why attacks keep missing, to the not-so-easy task of resetting their skills and stats. Most gamers, however, know that Diablo 2 Resurrected is all about the loot, and one loot system that might be very confusing to new players is Runewords.
In this guide, we explain how you can combine Runes you've picked up on your journey into Sanctuary, creating early Runeword items to decimate the legions of the Burning Hells. Let's kick things off with the requirements for successfully creating Runewords.
How to create Runewords in Diablo 2 Resurrected
While slaying the undead and demons of Sanctuary, Runes will inevitably drop. These are important items for players to get geared up with but they aren't easy to understand.
With Runes, players can create Runeword items, powerful relics that can bolster your character's strength. 
The rules and requirements for creating Runewords are quite intricate:
Base items used to create Runewords must be gray text items, this includes normal, exception, elite, low quality and superior. While Ethereal can also be used, we recommend you don't as they can't be repaired.
You can't use Magic, Rare, Set, Unique or Crafted items.
The item must be of the correct type.
The base item must have the correct number of sockets.
Let's use the Leaf Runeword as an example for casters level 19 and above.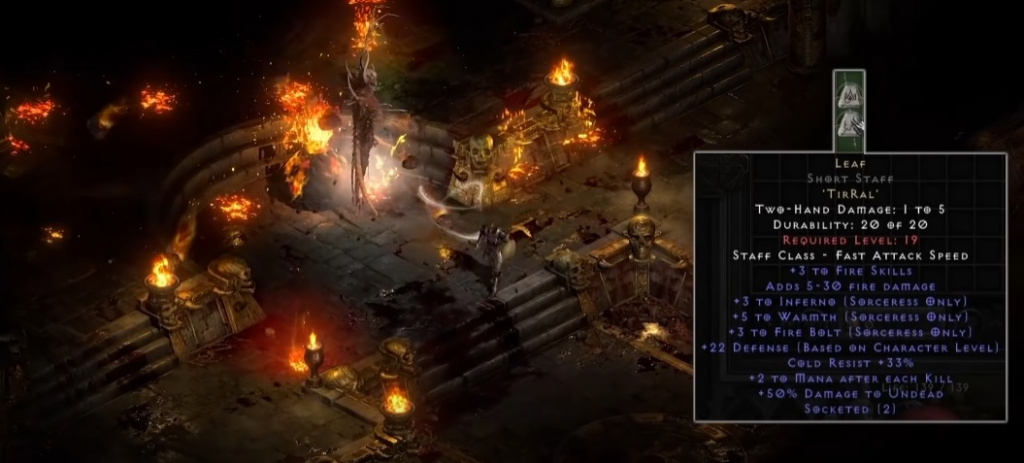 To create Leaf (TirRal) in Diablo 2 Resurrected, you first need to find a base staff with grey text, and two sockets. You also need to find the two Runes, Tir and Ral.
Once you have all the required items, place Tir in the base staff first, followed by Ral. If you place the Runes in the correct order, or in a magic item, the Runes will be stuck in the base, and you won't get the actual Runeword weapon. You can use the Horadric Cube to remove Runes from the sockets of an item with the Hel Rune + Scroll of Town Portal + Item recipe, but your precious Runes will be lost.
YouTuber Dbrunski125 has a brilliant, detailed via showcasing how Runewords work in Diablo 2 Resurrected, including early combinations and farming in Normal mode, which you can check out below to learn more.
Keep in mind that in Diablo 2 Resurrected, previously ladder-only Runewords can be used in singleplayer as well. 
Early Runeword combinations in Diablo 2 Resurrected
Now that you know how to create Runewords, it's time to dive into some early Runeword combinations, putting your acquired Runes and knowledge to the test.
Some of the early Runewords you can create in Diablo 2 Resurrected, as per PureDiablo, can be viewed below. Images via YouTuber Time TV's video.
Malice (IthElEth) - Requiring Ith + El + Eth and a melee weapon with three sockets (level 15 to use).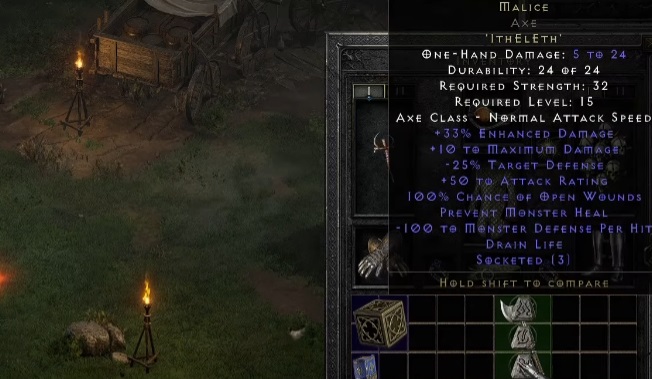 +33% Enhanced Damage
+9 to Maximum Damage
-25% Target Defense
+50 to Attack Rating
100% Chance of Open wounds
Prevent Monster Heal
-100 to Monster Defense Per Hit
Drain Life -5
Nadir (NefTir) - Requiring Nef + Tir and headgear with two sockets (level 13 to use).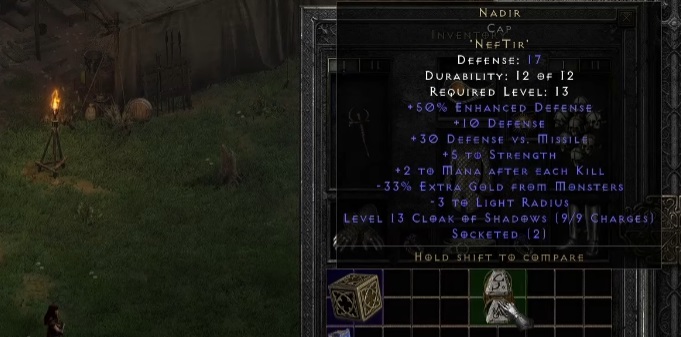 +50% Enhanced Defense
+10 Defense
+30 Defense vs. Missile
+5 to Strength
+2 to Mana after each Kill
-33% Extra Gold from Monsters
-3 to Light Radius
Level 13 Cloak of Shadows (9 charges)
Steel (TirEl) - Requiring Tir + El and a base sword, mace or axe with two sockets (level 13 to use).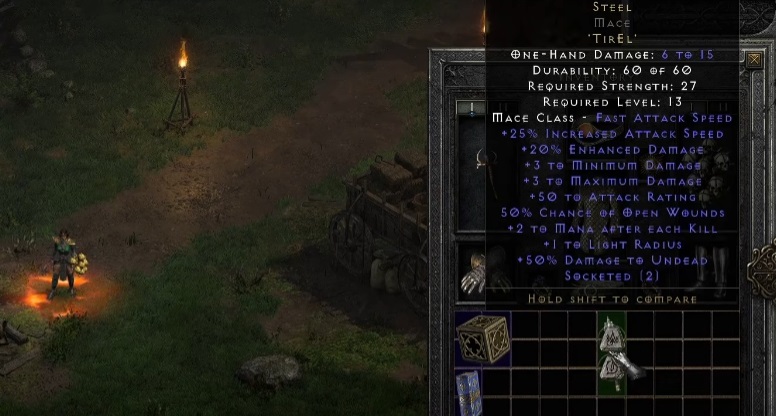 +25% Increased Attack Speed
+20% Enhanced Damage
+3 to Minimum Damage
+3 to Maximum Damage
+50 to Attack Rating
50% Chance of Open Wounds
+2 to Mana after each Kill
+1 to Light Radius
Stealth (TalEth) - Requiring Tal + Eth and armour with two sockets (level 17 to use).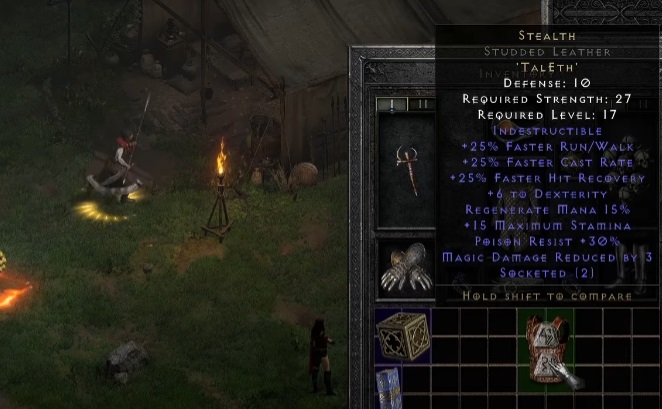 +25% Faster Run/Walk
+25% Faster Casting Rate
+25% Faster Hit Recovery
+6 to Dexterity
Regenerate Mana 15%
+15 Maximum Stamina
Poison Resist +30%
Magic Damage Reduced by 3
Check out the video from YouTuber Time TV below for even more Runewords in Diablo 2 Resurrected!
With this guide, you should be well on your way to understanding Runewords in Diablo 2 Resurrected. 
Don't forget to check out our dedicated Diablo section for guides, news, leaks and much more so that fans of the iconic ARPG franchise stay up to date with the latest information. 
---
Check out our video below, discussing Diablo Immortal's story and how the game fits into the franchise's timeline.
For more news on the game and the iconic ARPG franchise, check out our sections dedicated to Diablo 3, Diablo Immortal, and Diablo 4. Get the latest guides & tutorials for your favorite Diablo title below.
Diablo Immortal Guides - Character Server Transfer | Next Hungering Moon | Hell Difficulty Levels | Combat Rating (CR) | Recruit A Friend | Redeem Codes | Next Season | Fractured Plane Event | Vote Kick Feature | Next Helliquary Boss | XP Bug Fix | Class Change | Max Level Cost | Lost Pages | Legacy of the Horadrim | Player vs. Player (PVP) | Set Items | Resonance | Potency | Level Progression | Trading | Crusader Build | Barbarian Build | Monk Build | Necromancer Build | Marketplace | Zone Events 
Diablo 2 Resurrected Guides - Ladder Reset | Magic Find Bonus Event | Holy Grail Challenge | Underground Passage Location | Character Deleted Fix | Black Screen Freezes Fix | Unable To Start Fix | Best Assassin Build | Best Barbarian Build | Best Amazon Build | Secret Cow Level | Runewords | Attacks Missing | Horadric Cube | Cairn Stones | Reset Skills & Stats | 
Diablo 3 Guides - Zoltun Kulle Adventure Mode | Puzzle Ring | Ramaladni's Gift | Death's Breath | Next Season | Kanai's Cube | Sanctified Powers | 
Diablo 4 Guides - Cross-Play & Cross-Progression | Dungeons | Game Pass | Endgame Beta | Book of Lorath