The Twitch Rivals Diablo 2 Resurrected Speedrun will be the first big Diablo 2 Resurrected competition since the release of the game last week, and it is something you absolutely don't want to miss!
Twitch Rivals is joining forces with some of the biggest Diablo 2 content creators and speedrunners to bring you the very first Diablo 2 Resurrected speedrun event.
The cult classic action RPG has seen countless speedrun competitions over the last two decades, but how will things change now with the remaster? Will better servers and 4K visuals help speedrunners to be even faster or will they encounter some unforeseen new problems? Watch Twitch Rivals Diablo 2 Resurrected Speedrun and find out!
Twitch Rivals Diablo 2 Resurrected Speedrun schedule 

Twitch Rivals Diablo 2 Resurrected speedrun will be a 1-day event, scheduled to be held on 27th September.
The speedrun is set to start at 1 pm PT / 4 pm ET / 10 pm CET, and it will last for approximately two and a half hours.
Diablo 2 Resurrected Speedrun rules and format
The event will see 24 players divided into 8 teams of 3 competing for a 2 hour, 30-minute race, and the team that completes the most of the game will be the winning one!
Those are the basic rules, and here are the more detailed ones:
8 teams of 3 competitors each

Each team is 1 Diablo 2 Speedrunner and 2 creators
Each teammate must play a different class
Speedrunners may NOT play Sorceress class

Teams progress as far as possible in 2:30, with each Act and Quest completed adding to their score

Bonus objectives will give incentives for teams to go off the main path or to split up

Bonus objectives from an Act must be completed before the team finishes said Act or they will not score points - no "going back" to previous Acts or difficulties to complete quests, though farming items are allowed

Lobby remakes are allowed
Teams are allowed to split up between lobbies - however, see scoring as all players on a team must complete a quest to score it
Diablo 2 Resurrected Speedrun teams and players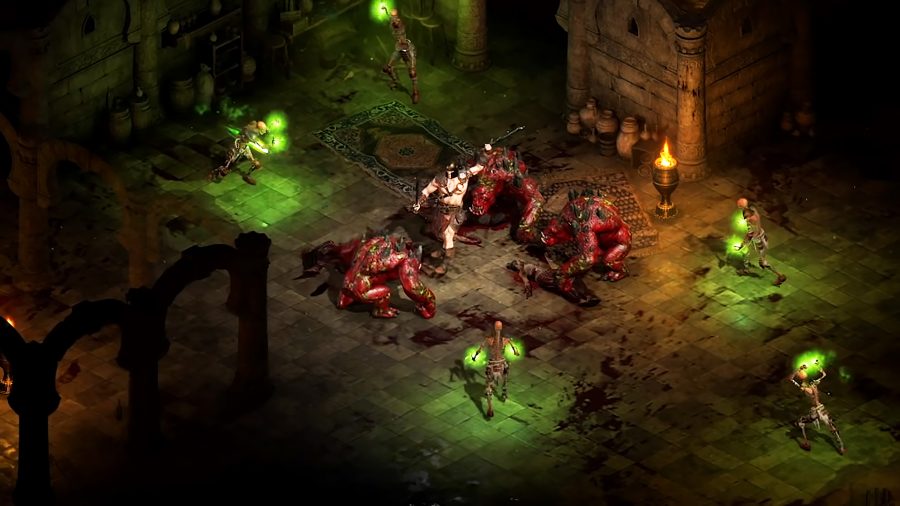 At the moment, teams haven't yet been revealed, but we expect to see some of the most well-known Diablo 2 speedrunners, such as Indrek, 327, Slimo, and others.
We also expect to see some of the familiar Diablo 2 community faces, like Kripparrian, MrLlamaSc, Dbrunski125, BTNeanderthal, and others.
Diablo 2 Resurrected Speedrun prize pool
The rewards for the event haven't yet been specified, but we will update the article as soon as Twitch reveals details about the prize pool
How to watch Diablo 2 Resurrected Speedrun: Stream
The event will be broadcasted live on the official Twitch Rivals channel.
Additionally, all participating content creators will be allowed to stream their POV of the tournament.
Don't forget to check out our dedicated Diablo section for guides, news, leaks and much more so that fans of the iconic ARPG franchise stay up to date with the latest information. 
Featured image via Blizzard.
---
Check out our video below, discussing Diablo Immortal's story and how the game fits into the franchise's timeline.
For more news on the game and the iconic ARPG franchise, check out our sections dedicated to Diablo 3, Diablo Immortal, and Diablo 4. Get the latest guides & tutorials for your favorite Diablo title below.
Diablo Immortal Guides - Character Server Transfer | Next Hungering Moon | Hell Difficulty Levels | Combat Rating (CR) | Recruit A Friend | Redeem Codes | Next Season | Fractured Plane Event | Vote Kick Feature | Next Helliquary Boss | XP Bug Fix | Class Change | Max Level Cost | Lost Pages | Legacy of the Horadrim | Player vs. Player (PVP) | Set Items | Resonance | Potency | Level Progression | Trading | Crusader Build | Barbarian Build | Monk Build | Necromancer Build | Marketplace | Zone Events 
Diablo 2 Resurrected Guides - Ladder Reset | Magic Find Bonus Event | Holy Grail Challenge | Underground Passage Location | Character Deleted Fix | Black Screen Freezes Fix | Unable To Start Fix | Best Assassin Build | Best Barbarian Build | Best Amazon Build | Secret Cow Level | Runewords | Attacks Missing | Horadric Cube | Cairn Stones | Reset Skills & Stats | 
Diablo 3 Guides - Zoltun Kulle Adventure Mode | Puzzle Ring | Ramaladni's Gift | Death's Breath | Next Season | Kanai's Cube | Sanctified Powers | 
Diablo 4 Guides - Cross-Play & Cross-Progression | Dungeons | Game Pass | Endgame Beta | Book of Lorath