League of Legends is constantly changing champions and their playstyles to give it a fresh outlook and experience. No one wants to play the same thing over and over again and that's why they introduce reworks to champions who have been around for quite a while. The latest champion to be reworked is Nunu. Nunu has been around for nearly the entire existence of
League of Legends
and despite its simplistic playstyle, Nunu has never failed to be an interesting pick. However, after nearly ten years of play, Nunu has been reworked into something special and it's worthwhile to take a look at the changes. Before the rework, Nunu was a power-farmer in the jungle who could easily secure objectives while also having a mediocre presence in team fights. What he lacked in wave clear and sometimes damage, he made up for with consistency and true damage. Now, he's something completely different and in order to understand how he works, you need to understand the kit he holds.
The new Nunu
The new Nunu is nothing like the old Nunu. While he still has some of his old abilities, the new Nunu now has more versatility and play-making potential rather than just being a simple one-sided player that follows a set list of rules. Nunu's new passive grants him and nearby allies bonus movement speed and attack speed once they've damaged an enemy champion or large monster. While under this effect, Nunu—or their new name, Nunu and Willump—cleave their opponents for a percentage of their attack damage. Their first ability, Consume, is the same as the old Nunu's. He deals a large amount of true damage to any enemy monster or minion while healing himself for a percentage of his ability power. However, now, he can also use Consume on enemy champions but instead of dealing true damage, he deals magic damage instead, still healing himself for a decent amount. His second ability, Biggest Snowball Ever, is what makes Nunu such a new and different champion now. It works like Sion's ultimate. Nunu begins to roll a snowball, charging it in the direction the mouse is facing. The longer Nunu and Willump roll, the faster they go and the more damage they'll do. The snowball explodes once hitting a large monster, enemy champion, or terrain. However, you can let go of the snowball by reactivating the ability. This allows for more gank potential from Nunu and makes him the perfect slow-paced surprise attacker. His third ability is Snowball Barrage and, for the next three seconds, Nunu is throwing snowballs at anyone within a particular range. After Nunu finishes throwing snowballs, everyone that has been hit by a snowball becomes rooted for half a second. This gives Nunu the versatility he never had in his old champion kit. Finally, his ultimate—which has stayed the same for the most part—Absolute Zero. Absolute Zero lets Nunu charge up and slow everyone within a range. Every second that Nunu and Willump spend charging, they gain an extra portion of a shield and after three seconds, everything within the range explodes, dealing a high portion of damage.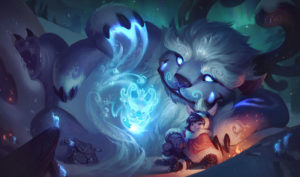 All four of his abilities have had changes in one way or another. All of these are extremely effective changes and have brought Nunu into the spotlight as a playable champion once more. He has everything one could want in a champion, but how does he affect the game overall?
How important is he?
Right now, League of Legends is in a meta where crowd-control, ganking, and power-farming are the three fundamentals for every jungler to see success. Right now, Nunu has all of that and to top it off, he even has the damage to compensate. He provides an extremely strong buff to his carries whenever they're fighting thanks to his passive, and his Snowball Barrage and Biggest Snowball Ever now give him the ability to have a presence in a team fight. Furthermore, he still has the power-farming aspect to him since his Consume still deals true damage to monsters, meaning he can easily take down objectives such as Baron Nashor and Dragon faster than most junglers can. Nunu is quite important in today's day and age. He now has more opportunities to make plays and do what he thinks is best for the team. No longer is he just one person who goes in and looks to take down objectives for his teammates, he can now help set up these objectives for his teammates. This rework has been one of the best that Riot Games has put out in recent years. They essentially took what Nunu was missing inside his kit and added it on, making him an extremely big threat if played right.