The Spring Split was a baptism of fire for Excel who entered LEC with the brave decision of fielding a 10-man roster. With a few new signings and an impressive headquarters based inside Twickenham stadium, Excel are looking to build upon their hard work and finally make Playoffs which is the bare minimum according to Raymind "Kasing" Tsang.
We caught up with the support after a tough loss to Schalke which had to be delayed as Excel had issues with flights - that's one way to stress-test your system for the first time.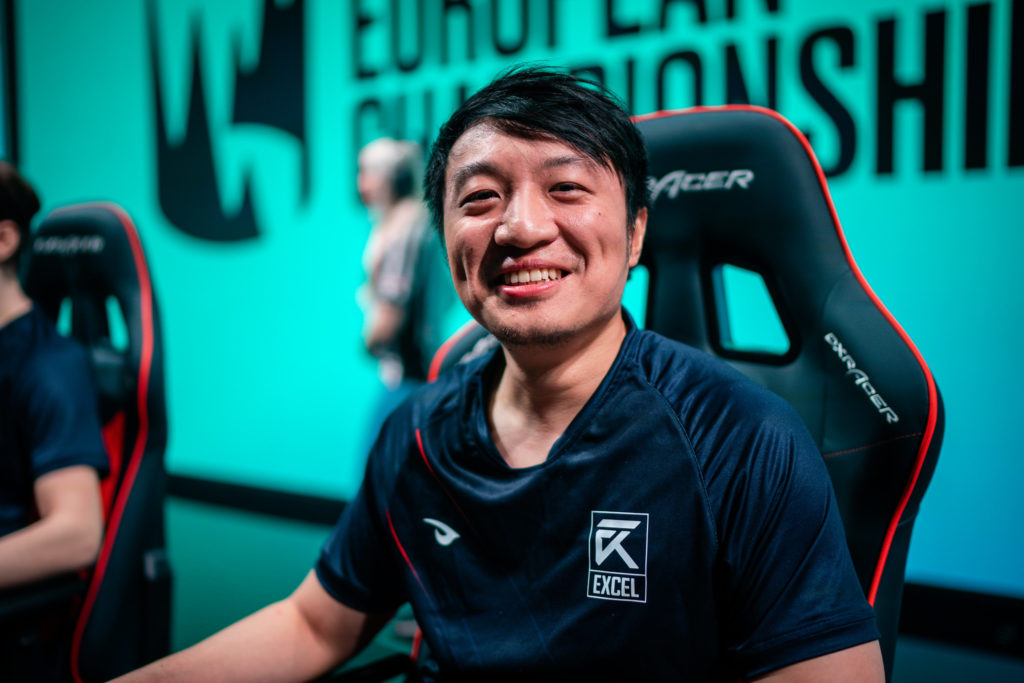 Starting things off, while it might not have been the result you had hoped for, did it feel good to be reunited with Hjarnan?
Of course we just lost to Schalke so it kind of sucks. I think the game was definitely winnable just we made small errors in some areas but that comes with team building, it takes a while to actually build a team up and be on the same page. I'm not too worried about it, it's only one loss. As long as I can see that we're improving, I'm pretty happy with our performance anyway. Of course I'd like to win but I don't really want to blame it on the travelling and stuff because, while I felt like it was stressful, we could've played better in certain aspects and it would've been a different game.
I was going to ask if the travel played a part, what actually happened?
Yesterday (Thursday) we were supposed to be in Berlin but there were thunderstorms so we couldn't make it, there were no flights at all. Then today we were meant to fly at 12:45am, and that was the only flight available, and it got delayed until 3:30pm when it actually departed. It was just so long.
But as you say, the game was very close.
The thing was we had our set-up and knew what to do, we just over-stepped a bit and were greedy for a little bit more. That's what happened in this game in my opinion. We could have done so much better in the early to mid-game, I'm playing Tahm so I'm just the guy who eats his AD Carry and hopes for the best, I just had to hope my teammates perform. We made it to the mid to late-game with Jinx so generally, we should've won.
I saw in another interview you said you have more confidence in the team going into this split, of course the whole team isn't together yet but is that how it has felt in practise so far?
In practise, we're just focusing on being together as a team, knowing what we're doing and making the same kind of play. Sometimes there's going to be games or moments where you see a play but someone else doesn't or sees a different opportunity. At the moment I think it's about meshing and making sure we understand each other.
I wanted to go back to Hjarnan quickly, it's been three years since you last played with each other. Did you find you guys had changed a lot and you're still working on your synergy or did it feel natural again?
I mean as a person, he's pretty much the same, funny Hjarnan that I know. But we have both changed our in-game play-styles and I feel like it's a bit different at the moment but we've both played with so many different bot-lane partners like Kobbe and Wadid. We just have to make sure we find that middle game and when we do it's going to be really good.
What do you think will be the big difference for Excel this split?
I think the fact we have a veteran ADC with Hjarnan, there's a carry with more of a voice who knows what he wants and what he needs. It kind of showed in the Schalke game, he was pretty far ahead at one point. We just weren't able to shut out the game properly even though we should have because we had baron. It sucks because I feel like we really should have won but that's just how it is.
And finishing off, though the travel was a bit of a nightmare are you finding things more relaxed now that everything with the headquarters in Twickenham is sorted?
It's definitely more relaxing to know I have a place that I can go in and play at. There's more stability, I'm not worried or stressed about it in the middle of the night thinking am I even going to have a place to play? It's been easier to stream too which I've been trying to get back into as before I was only practising and playing to get better. But after a while I missed streaming, I like so it would feel like a missed opportunity if I wasn't streaming.
Be sure to check out all of our exclusive League of Legends content on GINX Esports TV!