The regular season of the North American League Championship Series has finally come to a close, and with the standings very tight entering the final two games the stage was set for a week filled with drama and excitement. Week nine would deliver upon that potential in abundance as it was filled with comeback stories and nail-biting tiebreakers.
Team SoloMid keep Worlds dream alive
The fan-favourite TSM entered the week on the edge of the playoff picture. In what was easily their most important game of the split on Saturday, TSM would battle against OpTic to determine who would seize sole possession of sixth place and the final playoff spot.
Under immense pressure, both OpTic and TSM appeared reluctant to make many risky moves early in the game. While TSM would slowly ramp up their proactive macro plays, OpTic's hesitance in their reactions allowed TSM to steadily gain advantages and build their lead. In a relatively bloodless game (seven kills in over 34 minutes ) TSM would finally seize victory and control of their own playoff fate. In their final test to secure a playoff berth, TSM would be forced to overcome an even more intimidating opponent in first place Team Liquid. After a horrendous early start from TSM's bot lane would give Team Liquid star (and Summer Split MVP favourite) Yiliang "Doublelift" Peng a massive early lead, TSM would turn to their own star of Søren "Bjergsen" Bjerg for salvation. Showing his mastery of the newly reworked Akali, Bjergsen would put on a dominating performance and finish the game 14/1/5 in one of the most impressive performances by a player this split. The victory would secure TSM a playoff berth and keep alive their dream of once again attending the World Championships.
Four tiebreakers needed to determine Playoff seeding
While TSM's victory guaranteed them a spot in the playoffs, there was still much to be decided in the seeding of the final six teams. While Team Liquid had secured themselves first place with a victory on Saturday, entering Sunday there were still a number of potential finishes.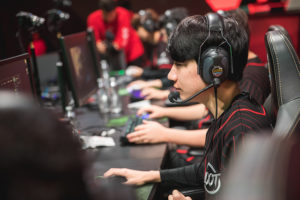 As the matches began to unfold, the unique scenario of a four-way tiebreaker for third place would slowly be realised. Cloud 9's continued dominance, OpTic's upset of 100 Thieves early in the day, and TSM's comeback over Team Liquid paved the way for four teams (100 Thieves, Echo Fox, TSM, and FlyQuest) to tie with a record of 10-8. With four matches needed to sort out third through sixth place, the matches would have to be moved to the next day. Although TSM entered the final day on a hot streak, their bot lane struggles would finally catch up to them as they were convincingly beaten by Echo Fox in the first match of the tiebreakers. In the second match, FlyQuest would place themselves in a solid position to win with their strong early team fighting and an excellent performance from bot-laner Jason "WildTurtle" Tran. Despite this, the experience and superior late-game macro play from 100 Thieves would shine through as they were able to stall out the game long enough to finally steal victory from FlyQuest. In the final match of the day to determine third place, Echo Fox and 100 Thieves would provide a back and forth match that was easily the most exciting match of the day. With multiple baron plays and team fights that kept fans on the edge of their seats, 100 Thieves would eventually emerge victorious in a match that was crowned by Cody Sun's game-ending pentakill on Jhin. The victory would bring clarity to the final playoff standings, as 100 Thieves will now face FlyQuest in the first round (TSM defeated FlyQuest in the losers match). In a mirror of the first two matches of the tiebreakers, Echo Fox will once again face off against TSM, a team who desperately needs a series win to guarantee their spot in the Regional Finals and a chance at Worlds.