SK Telecom T1 has just gone on to win its third World Championship in League Of Legends this weekend, the only team ever to do so. To celebrate the team's outstanding achievement we thought it high time that we delved a little into the history of the team, and how this success has come to be. There are few teams that can claim to be a dynasty in League Of Legends esports, but SKT is certainly one of them!
The Early Days Of SK Telecom T1
The heritage of the team actually dates back to the original StarCraft: Brood War team back in 2002, but the org's first entry into League Of Legends began in 2012. This team - which would come to be known as SK Telecom T1 S, did not actually achieve very much. Formed from the roster of Eat Sleep Game, the team competed from 2012 until 2014 rarely making much headway in the competition. The real story comes from SK Telecom's sister League squad, however, which was termed SK Telecom T1 K and formed in early 2013. Though it was just the 'additional' team for SKT, it did, in fact, outperform the primary squad and would ultimately go on to with its first Worlds competition in 2013. There was a reason this already strong team was overlooked, however. Despite the recognisable names on PoohMandu and and Impact, the other three of the squad were complete newcomers: Faker, Bengi and Piglet. It might not be such a surprise that this squad quickly made a name for itself, then. Faker, especially, was dominating in many of its games, beginning to build up a name for the young mid-lane star. One particularly noteworthy game for Faker was against MVP Blue where the mid-laner played LeBlanc, scored 10-0-1 in the game and forced a surrender by the 18th minute. For an unknown player, this was something extraordinary.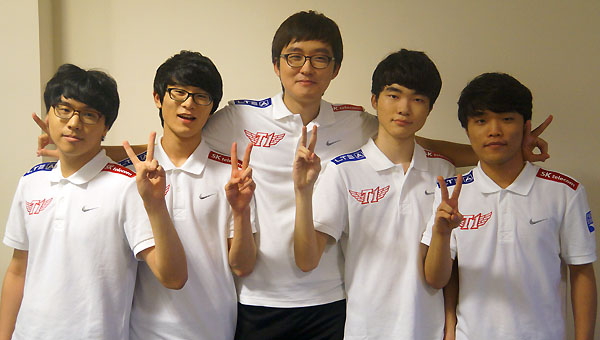 SKT's First Worlds Win
As already mentioned, SK Telecom T1 K had begun its crusade through the League Of Legends competitive scene very early on. It began in the OLYMPUS Champions Spring 2013, entered into the GOT6iX Summer Championships and crushed its opponents. It came in first place with an easy 3-0 lead in the group stage before heading through the playoffs to play against KT Rolster Bullets. The exciting match ultimately went to SKT1 K after all five games were played, the team then able to claim themselves summer champions, build up a fanbase almost immediately with Faker even winning his first Season MVP award. The time came for the World Championship, and already SKT K had a following that wanted to see them go all the way. Things would start well with an exceptionally confident group stage victory with 7 of its 8 games won with little concern. For such a new and unproven team, SK Telecom T1 had somehow become the favourites to win, even against some strong competition from the likes of Fnatic, OMG and NaJin Black Sword. The team went on to the World Championship for 2013 and suddenly a legend was born. The hype surrounding SK Telecom T1's K squad had become intense, and its fanbase was already vast. As if to solidify that fanbase, SKT1 K went on to have a perfect season in the Champions Winter season, not losing a single game. Already this team was a threat.   By 2014, the two rosters of SK Telecom couldn't have been more different. Where S was struggling and placing poorly in competitions, K had already won Worlds and was coming out on top in practically every game it played. It wasn't invulnerable, of course, and in fact placed second to Samsung Galaxy in 2014's LoL Masters. But in November of 2014, ahead of the next League Of Legends season, it was announced that Korean teams would not be able to have two separate teams. This forced many teams - including SK Telecom T1 - to shift around their rosters. With TK1 K performing so much better than its sister team, the new ruling wasn't actually a drawback for the organisation and the two teams merged with Faker, bengi and his cohorts taking centre stage in the new team. In December the new roster was finalised: MaRin, Impact, bengi, Easyhoon, Faker, Bang, Wolf, and Piccaboo - with Piccaboo being the only member of the team who hadn't previously been a player for SKT. The team never took part in the World Championship in 2014, but with its new squad solidified it started its on world domination.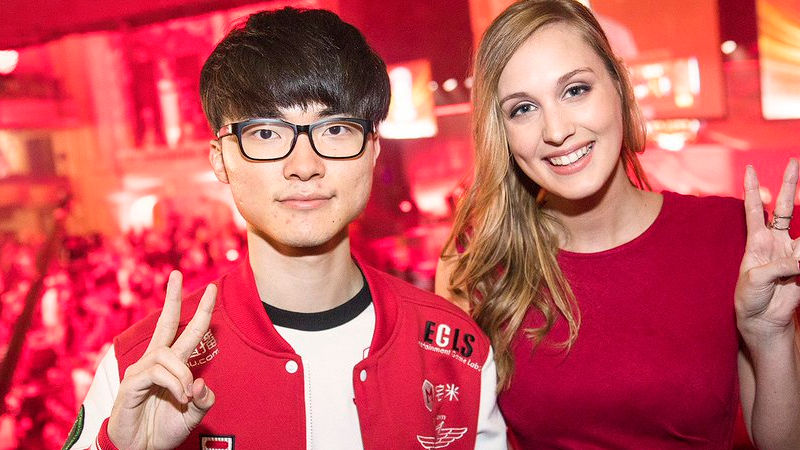 World Championship 2015
It was with determination that this new roster set about the next season. It has come in second to Samsung Galaxy at LoL Worlds, a team that had since gone on to win Worlds that year. It wouldn't be the last time they faced one another, of course, but this squad was ready to take on the world. SKT crushed the Spring and Summer LCK tournaments, coming in first in both regional competitions - and let's not forget the high-level of opposition it faces in Korea. By now Faker was already being referred to as the 'best in the world' and as his fame rose so did the team's prestige. Many expected SKT to win its second World Championship, and with the form it was playing on at the time that would not have been a surprise. Samsung Galaxy was a threat having come off the back of last year's Worlds victory, while the likes of KT Rolster and Flash Wolves were also chomping at the heels of this upstart. But KT Rolster and Flash Wolves were both knocked out in the quarterfinals, while Fnatic was also held back from the grand finals. The battle came down to SKT and KOO Tigers, who had been playing rather well throughout the tournament. It would've been a tough game to call. But SK Telecom wasn't about to let the dream die and it went on to win the grand finals 3-1, with the game victory by KOO Tigers still being a fairly drawn out affair. With this victory three of the team's players - Faker, Bengi and the team's coach KkOma) became the first League Of Legends players to win two Worlds tournaments. But, it seems, that wasn't enough.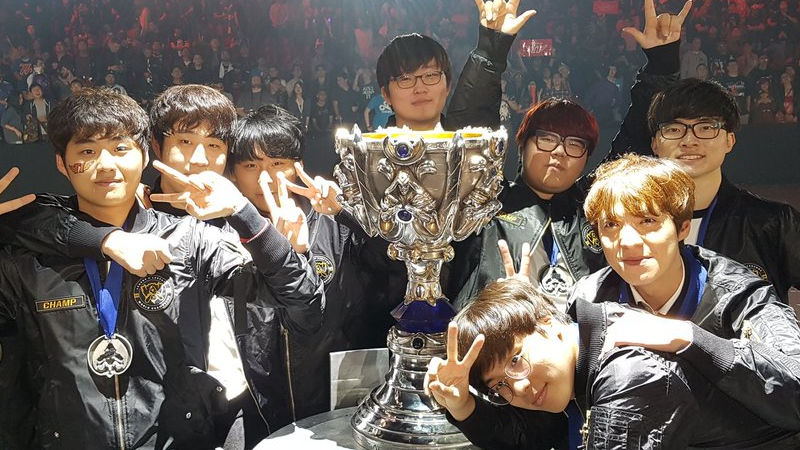 Two Isn't Enough
That leads to 2016, where we already know that SK Telecom T1 managed itself a rather uncomplicated victory. But it was never such a simple victory for SKT. It topped the LCK, sure, and played through the Worlds group and playoff stage with a rather ambivalent ease - but there were others looking for a chance at the cup. The likes of Royal Never Give Up, Samsung Galaxy and ROX Tigers had all been playing exceptionally well during the tournament, and any one of them would have deserved a victory. Even non-Asian teams like H2K Gaming or much-hyped Albus NoX Luna spun some of the pre-playoffs excitement as they managed to find themselves competing against Korea's finest. But SK Telecom T1 was at the top of its form, beyond anything that anyone could have competed with - as much as they tried. This was a team looking to make history, to make a name that would be carved in stone. It took out Royal Never Give Up first, in the quarterfinals. Then it was ROX Tigers, the second favourite to win. This match was one of the closest for SKT throughout the whole tournament, making it one of the most exciting to watch. In the frand finals, however, it was up against Samsung Galaxy, a team's who run into the grand finals hadn't been quite the challenging gauntlet that SKT had to endure. Moreover, SSG's current roster was a shadow of the team that won Worlds years earlier; on paper the tournament was already won for SKT. That said, it wasn't totally smooth. The best-of-five series had all of its games played, and while SSG never looked in control at any point, it was enough to pressure the team. Ultimately, as we know, SK Telecom T1 won, claiming its third Worlds victory - the only team to ever do so - while Faker claimed himself another award, Worlds MVP. SK Telecom T1 has built a name for itself now, and as a result it's become a target. It's one of the few teams to not constantly shift its roster around, and this might be helping the team's performance. Either way it can rest easy now, knowing it's made a name that can't be erased for a long time. Whether we'll see SKT challenging for a fourth will remain to be seen, but it'll be exciting to find out all the same.