The League of Legends World Championships is a display of skill and might from all across the world. The best teams come together to battle it out for League's most prestigious title and one shot at glory. This is where the best players come to display their talents and raw mechanical prowess. Below, I look at the five mid laners who are sure to make an impact in this year's tournament, seasoned veterans and fiery rookies alike.
5. Maple (Flash Wolves)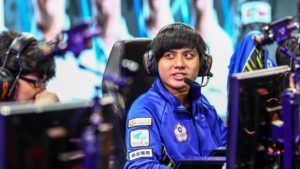 Maple has been a fundamental piece of the Flash Wolves puzzle the past few seasons. Without Maple, Flash Wolves wouldn't be where they are today; in fact, they probably wouldn't have any shot at making it out of the League of Legends Master Series. If you take a look back at his stats from LMS, you would think that he's a flawless player. On both Galio and Zoe – his two favourite champions – he has gone undefeated, winning all twelve of his games. On another favourite, Ryze, he's lost just one game out of six, and it's not uncommon for him to have a KDA above 6.0 throughout the entire split – an incredibly high rate for a mid laner in today's meta. So what makes Maple tick? Simply put, he plays a very aggressive style based on the fundamentals. His champion pool isn't nearly as diversified as other top players, but his proficiency with his favourite champions is unparalleled; he has mastered his favourites, and he knows when and how to use them. If Flash Wolves wish to perform well at this year's World Championship, they're going to have to rely on Maple. His ability to win lane and single-handedly secure objectives makes him a force to be reckoned with. He's proven to have very steady stats throughout both the Spring and Summer Split, and he'll look to improve on those at Worlds.
4. Caps (Fnatic)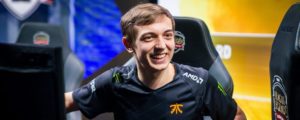 Caps, also known as "Baby Faker", is a player you don't want to miss out on at the World Championships. Unlike most of the best top laners, Caps isn't Korean or Chinese, but his precision and skill put him in the same elite category. During the Summer Split, his mid lane presence went unmatched. Not even Perkz, G2 Esports' most famed player, could match him. It seemed as if he was on his own playing field and he was the one ruling the EU LCS. When he plays his champions, he doesn't play by the textbook. Caps is a very scrappy player, and he doesn't like to follow the rules. Caps is incredibly unorthodox and innovative, switching up his champions and his builds – catching his opponents off guard with his eccentric style of play. Right now, he's been making a big impact on the Korean servers, playing new picks such as Pyke and Kai'sa, and it's become an incredibly effective playstyle for the mid lane rookie. His versatility could certainly be a weapon that Fnatic can exploit. Fnatic is going to need everything they can get to make it to the Knockout Rounds for the World Championships. If Caps can continue to mix it up, his versatility could force the Chinese and Koreans to stay on their toes.
3. Kuro (Afreeca Freecs)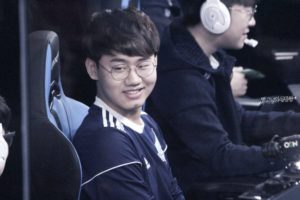 Let's be honest here. The Afreeca Freecs were never expected to make it to the World Championship. After one of the worst seasons in LCK history, they were all but ruled out of contention. One man turned it all around – Kuro. Kuro has been around for quite a while and he's played for some of the best teams out there. He played for NaJin Black Sword at their peak as well as both the Koo and ROX Tigers. During his time on each team, Kuro made a lasting impact, helping to guide them to success. Kuro is an incredibly patient player; he doesn't rush into plays. He prefers to stay back, waiting for his opponents to make the first move. This makes him an incredibly consistent player; he very rarely makes mistakes, and his sturdy playstyle is tough to beat. Don't forget Kuro because he's going to be a key player for Afreeca Freecs if they want to continue their dream run. Kuro needs to keep the momentum running and continue with his consistent playstyle; if he executes well, Afreeca Freecs could be a dark horse at this year's worlds.
2. Ucal (KT Rolster)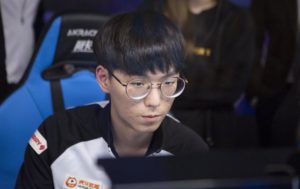 At first glance, Ucal seems to be nothing special. His KDA is far from spectacular, and his CS per minute rate can be overtaken even by North American and European players. However, Ucal's impact extends far beyond his stats alone. Ucal is the captain that every team desires. He is willing to act as the team leader, even sacrificing his own stats and glory for his team's victory. In a team filled with so much talent like KT Rolster, a strong authority is essential to success, and Ucal provides exactly that. He knows what needs to be done, and he executes on it. KT Rolster is Ucal's team. Every team fight, every objective, Ucal is always there guiding his team and issuing orders. He may not be the flashiest player, but his coordination and leadership behind the scenes are invaluable to his squad. KT Rolster is an incredibly interesting pick for this year's Worlds. They have a roster filled with talent at every position, but Ucal is the mastermind behind it all; he knows his teammates and how to get the most out of them. If KT Rolster wants to win Worlds, they're going to have to rely on Ucal to lead the way.
1. Rookie (Invictus Gaming)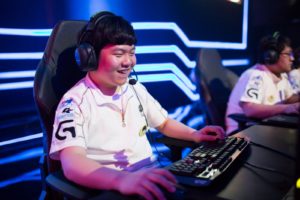 If anyone is going to take Faker's role in the game, it's going to be Rookie. He's been posting exceptional stats while also being a captain and leader to his team – the two most important attributes for any League of Legends professional. Royal Never Give Up may be known as the powerhouse of China, but they don't house the best mid laner in the world. Invictus Gaming does. Rookie's Zoe has been known to single-handedly tear apart RNG, and his presence alone forced the series to five games. His technical skills are impeccable; Rookie just doesn't make mistakes. He is a tactical mastermind, and his versatility means you never quite what to expect; he's gone from playing Lulu to Akali without even blinking. If the opposing mid laner slips up just once, they're going to face the wrath of Rookie. During Invictus' match versus LGD, Rookie didn't have a single match where he took more than ten kills. Against SNG, in games two and three, he dismantled the entire team by himself. Rookie is arguably League's most influential player; his impact on a game is unmatched by any other pro. Simply put, Rookie is on his way to becoming the best player in the world and if there's one mid-laner that can solo-carry his team to the title, it's Rookie.