With the North American League Championship Series (NA LCS) quickly approaching, we take a look at some of the teams who may find themselves rising or falling in the standings next split. While there have been few roster changes and changes to the meta, multiple teams have shown growth and will be eyeing significant improvements on their Spring Split showings. Other teams, however, over-performed last split and will have less cause for optimism going into a fresh one. Starting off, it's a team who had their best form towards the end of the Spring Split...
Trending Up: Counter Logic Gaming (CLG)
Despite missing the Spring Split playoffs, CLG have been a team on the rise over the final few weeks of the split. They will look to continue this surge of form.
With the recent changes to the jungle, there may be no player who benefits more than Kim "Reignover" Yeu-jin. A master of creating advantages through creative pathing, changes to jungle experience and early ganking could push the meta in a direction that suits Reignover's more traditional playstyle. In addition, the rise of split-pushing carries in the top lane, such as Jax and Camille, could prove beneficial for Darshan "Darshan" Upadhyaya. After disappointing in the Spring, look for Darshan to rebound in a big way and cement himself as one NA LCS's premier top laners. Although CLG was unable to complete their run to a playoff spot, do not expect the same in the Summer Split. Although they may not be ready to fight for a place at the top of the standings, CLG should prove they are a team that cannot be ignored.
Trending Down: 100 Thieves (100T)
After finishing first in the regular season and making it to the Summer Playoff Finals, 100T dramatically overachieved in their first Split in the NA LCS. With a veteran lineup led by support Zaqueri "Aphromoo" Black, 100T was able to use their wealth of experience and macro understanding to great success.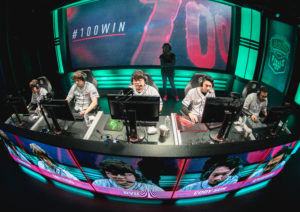 While Aphromoo's dominance earned him the Spring Split MVP, the rise of picks such as Janna and Soraka at the Mid-Season Invitational could only be the beginning of a major shift in support play away from the playmaking champions Aphromoo is known for. By limiting Aphromoo's impact on the map, it will be up to the rest of the 100T lineup to step up and have a bigger role. Much of this could fall on 100T mid-laner Yoo "Ryu" Sang-wook, but with the lowest kill participation amongst the starting mids in the Spring, there is little confidence he will be able to adjust to a new style that is not as lane-centric. While it would be hard to imagine 100T failing to make the playoffs, it would be surprising to see them earn a bye again in the Summer Split Playoffs. While other teams continue to progress or benefit from changes in the meta, 100T will need to adapt quickly to keep themselves in contention at the top.
Trending Up: Team SoloMid (TSM)
A perennial power in League of Legends, the Spring Split was by most measures a disappointment for TSM. After storming back to a third-place finish in the regular season, TSM was dispatched by the sixth-seeded Clutch Gaming in the opening round of the Spring Split Playoffs.
But there are still plenty of reasons for TSM fans to be optimistic. The long-heralded "best in the west" bot lane of Jesper "Zven" Svenningsen and Alfonso "Mithy" Aguirre Rodriguez is expected to thrive in the current bot-centric meta. Plus, their experience and well-documented mechanical prowess position them well to adjust to Riot's planned ADC changes. On top of that, TSM mid-laner Søren "Bjergsen" Bjerg is extremely comfortable on current mid-lane power picks Galio, Ryze, and Karma (who could forget that pentakill?). His importance to TSM is such that the team's success is largely dependent on how he does, which makes it a very good thing TSM that few of the current crop of NA mid-laners look capable of competing with him. In short, an already-strong team should benefit considerably from the recent changes. Before their quick Playoff exit, TSM had put together a strong finish to the season that included winning multiple tiebreakers for Playoff seeding. Expect them to do even better this split.