As the competitive scene around
League of Legends
has matured, it has been increasingly dominated by teams from the East. Since the Season 2 World Championships, both the teams in the Finals have been some combination of South East Asian, Korean, or Chinese teams, stretching to six straight years at the end of last season. The Korean teams had been particularly dominant, reeling off five straight World Championships. That streak ends this year.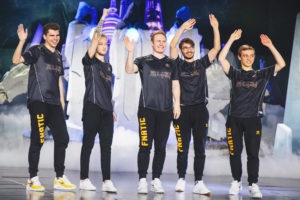 For the first time since Season 1 (when most of the developed teams were from Europe or North America), there is guaranteed to be at least one Western representative at this year's Finals. In what has been the most unpredictable World Championship to date, three teams from Europe and North America (Fnatic, G2 Esports, and Cloud9) have advanced to the final four of this year's World Championship. In addition to three western teams advancing to the semi-finals, the final two Korean teams were eliminated in the quarter-finals, ensuring their run of consecutive Championships will come to an end. For the first time in years, when fans and analysts ask the question "is the gap closing?", there is real evidence to support the idea that it might be. Often lacking in their understanding of macro play and frequently dominated in the laning phase, western teams have struggled in the past to find any sort of footing when matched up against
elite Chinese and Korean teams
. This year, the West has taken great leaps to prove they have made great strides in both of these areas, and have also brought innovation and creativity to their compositions that have given them an edge in many games.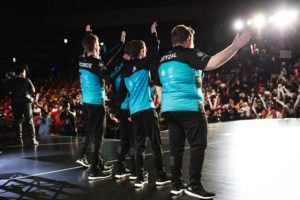 After many years where a Korean or Chinese victory appeared a foregone conclusion, fans of Western teams have been given hope once again. While this is sure to help attract new fans for Western teams, it could also help bring back those battered fans who had written off the World Championships long ago as just another disappointment. And as we so often see in the world of sports, success breeds success. While there is guaranteed to be at least one Western team in the Season 8 Finals (Cloud9 and Fnatic face each other), the West can continue on their meteoric rise if they are able to claim the Season 8 World Championship. This may have seemed a near impossible result just a few weeks ago, but Fnatic has shown they could be easily considered the best team remaining in the tournament. They should be favoured to not only advance past Cloud9 but also claim victory over the winner of the series between G2 and China's Invictus Gaming. Cloud9, in particular, has given hope to a region who has long been the laughingstock of the League of Legends scene. Since Season 1 no North American team has advanced past the quarter-finals, and the teams of the region were often criticised for not being dedicated or serious enough to find success. Even this year, Cloud9 had been criticised for a perceived lack of preparation and chastised for
time spent playing other games
when they could have been practising. Despite this, Cloud9 was not only able to escape the "group of death" with a convincing 3-0 run in Week 2 of the Group Stage, but their historic sweep of Afreeca Freecs showed North America is a region that can no longer be ignored on the international stage. For many fans and players, these victories provided deep validation after years of disappointment and heartbreak. This was clearly exemplified by the emotional reaction of North American shoutcaster Sam "Kobe" Hartman-Kenzler, who was forced to take a moment to collect himself after Cloud9's victory. Kobe's reaction echoed that of many fans and players who had witnessed the struggle of all western teams over the past seven years of the World Championships. Regardless of whether a Western team is able to claim the World Championship, 2018 will go down in history for League of Legends in the West.