This year's League of Legends World Championship has been full of surprises. Team Liquid may have struggled in the Group Stage but they still managed to shock audiences and upset Edward Gaming during their last day on the Rift. G2 Esports, despite being put in a group with Afreeca Freecs and Flash Wolves, managed to make their way into the Knockout Rounds whilst European brethren Fnatic managed to take down Invictus Gaming, a Chinese favourite, to take the first place seed for their group. However, among all these surprises, perhaps the craziest is last year's World Champions, Gen.G, failing to even make it out of the Group Stage. Nobody saw this coming and their poor performance left thousands of fans shocked. So, what happened? How could a team that upset two of the best teams in the world last year fall so easily in a group with two teams they've beaten before in the past? We'll take a look at their downfall and how it even happened.
A poor performance across the board
This year, Gen.G was placed in a group with Cloud9, Team Vitality, and Royal Never Give Up. The only team that they should have actually lost to was Royal Never Give Up. Last year, in the 2017 World Championships, Gen.G played under the name Samsung Galaxy and they lost two of their Group matches to RNG. However, as for Team Vitality and Cloud9, these two teams were teams that shouldn't have even posed threats for the former World Champions. Cloud9, while sturdy, was showing signs of weakness throughout their Summer Split and Team Vitality's entire roster was outmatched compared to Gen.G's on paper. Despite the claims that Gen.G was stronger than last year, they lost their first match in the Group Stage to Team Vitality despite holding strong leads throughout the game. They then faced a crushing defeat to RNG yet again before winning the only match they would against Cloud9. They then lost to Royal Never Give Up, Team Vitality, and Cloud9 again before placing last in the group, going 1-5 total. They were the ones that were thought to have outmatched any team they played except Cloud9 and Team Vitality but in fact, it was the other way around.
What happened?
As I've said before, Gen.G was supposed to have one of the strongest rosters at Worlds, considering that they had four out of five players from last year's World Championship run. They had Crown, who was known for his insane solo-kills. They had CuVee, who was at one point an MVP candidate for the team, and they had the bot lane duo of Ruler and CoreJJ. Last year, Ruler was the MVP of the entire World Championship and CoreJJ was the main reason Ruler was able to win this award.
This year, every single player underperformed terribly. No player on the team finished with an average KDA above a 3.00. The highest was CoreJJ who ended with a 2.83 KDA, a far fling from the fact that these players' KDA was in the double digits last year. Cuvee didn't have a single game where he got more than three kills. Haru did little to nothing for his team besides gain deaths left and right. Crown accumulated twenty deaths total over the six games they played and Ruler did little to nothing throughout his games. The team had almost no communication throughout the Group Stage. It seemed as if the entire time, the players were motivated by their own wants and their own selfish desires. Ruler wasn't playing to win for his team. He was playing to win by himself. Haru was doing little to nothing besides power farming and the occasional gank while Crown didn't pose the solo-kill threat that he used to, especially last year when he played in the LCK. Overall, the entire Gen.G didn't do anything as a team. They played for themselves.
A slow start
The first loss against Team Vitality was perhaps one of the most important pieces as to why Gen.G just fell apart this year. Analysts and fans alike all expected Gen.G to sweep out Team Vitality in the first match but they didn't.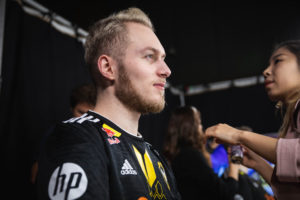 This defeat broke down the little momentum that the team had to start out with, and eventually, this led to the team not playing to the best of their ability. A large part of League of Legends depends on the momentum you have throughout the game and when you don't have any momentum to work with, it can be nearly impossible to be a top-tier team.
The missing link
Four of the five players from Gen.G are returning players but the one player who left might have been a piece as to why Gen.G fell apart. Their original jungler, Ambition, was considered to be the best jungler in the world at the time and it was largely due to his ability to communicate with his team. Even if they were playing bad or performing shaky plays, Ambition was always there to back them up and hold a consistent game plan that eventually helped them take down even the hardest of opponents. With him gone and a new jungler in, it might've been harder for Gen.G to harness their true potential.
Is there hope for the future?
There is definitely hope in the future for Gen.G especially considering the fact that they still have a team full of superstars. This year might've been an off year and even if they flopped, we still need to remember the fact that they were the World Champions last year! They know what it's like to win and now, they know what it's like to lose. If they fix the mistakes that were extremely evident in this year's World Championship, then they'll come back even stronger next year and they'll have another shot at winning a second title. All images courtesy of lolesports on Flickr