Diablo 2 Resurrected beta testing is finally starting this Friday, August 13th, to the delight of numerous fans of the cult classic around the world.
The early access weekend will allow players to test various aspects of the game, with both Act I: The Sightless Eye and Act II: The Secret of the Vizjerei being fully playable and with fully remade Act I and II cinematics as the cherry on the cake.
In addition to three classes that were playable in the technical alpha, the Amazon, the Barbarian, and the Sorceress, the beta is bringing two new classes to the table - the Druid and the Paladin.
All this will be available both in early access testing and during the open beta weekend a week later, but if you are impatient and you want to play Diablo 2 Resurrected this weekend, you can do it in two ways.
Everyone who has preordered Diablo 2 Resurrected or the Diablo Prime Evil Collection will get early access automatically. But, if you are still not sure if you want to preorder the game, there is an alternative way to get early access, and here's what you will need to do.
How to get Diablo 2 Resurrected early access Twitch drops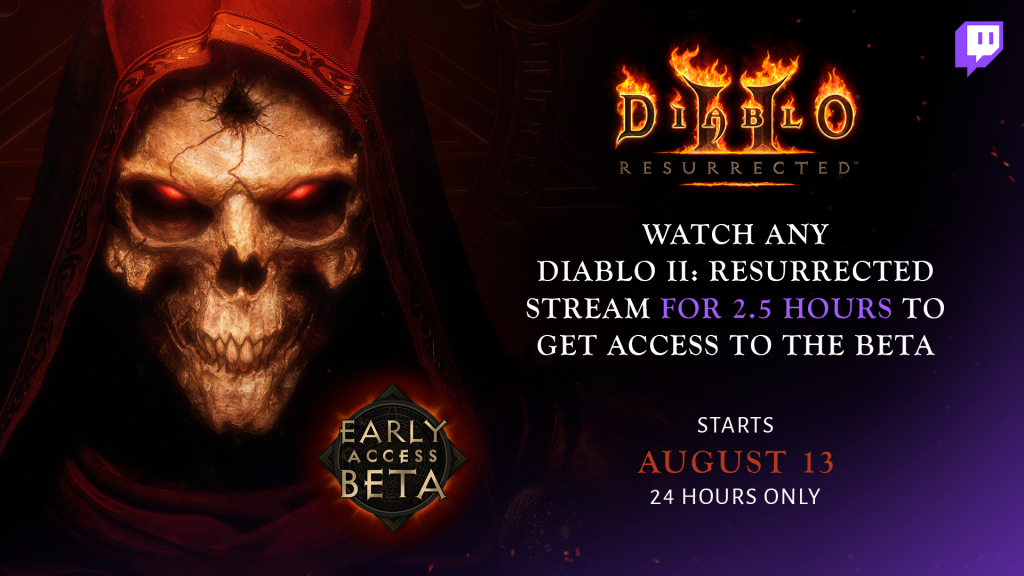 Even if you didn't preorder the game, you can still play Diablo 2 Resurrected during the early access weekend.
All you need to do is to watch some of your favourite Twitch streamers playing Diablo 2 Resurrected for two and a half hours, and you will earn early access for the beta!
You don't need to watch for 2.5 hours non-stop, nor do you need to watch only one streamer playing Diablo 2 Resurrected. You just need to watch 2.5 hours of Diablo 2 Resurrected streams in total, and you will get early access.
Keep in mind that Diablo 2 Resurrected Twitch drops will last only for 24 hours, so make sure to use the opportunity!
The open beta early access kicks off on Friday, 13th August, at 7 pm CET / 1 pm ET / 10 am PT, and that's when Twitch drops will start as well, and they will be available for 24 hours.
In order to be eligible for Twitch drops, you will first need to connect your Battle.net account with Twitch.
How to link my Battle.net and Twitch accounts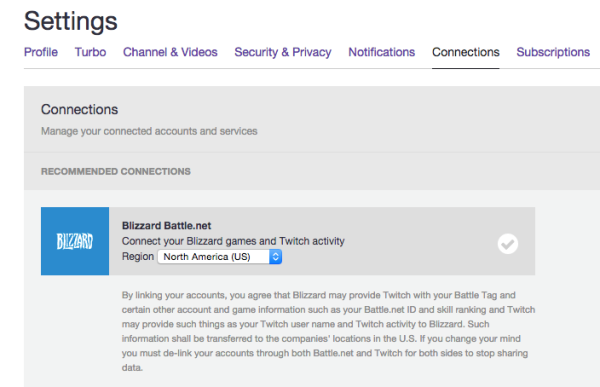 Follow these steps to make sure your accounts are linked properly.
Log in or create an account on Twitch.tv.
Navigate to the Settings menu by clicking your account name in the top-right corner of the home screen.
Navigate to the Connections tab of the Settings menu.
Find the Battle.net section, then follow the instructions after selecting a region and clicking Connect.
When connecting accounts, be sure that you're currently logged into the Battle.net account on which you'd like to receive your rewards.
And there you have it, now you are ready to watch Diablo 2 Resurrected streams and earn early access in the process. Have fun watching and play the beta!
Diablo 2 Resurrected will officially release on 23rd September on the Nintendo Switch, PlayStation 4, Xbox One, PlayStation 5, Xbox Series X /S and PC (Battle.net).
Don't forget to check out our dedicated Diablo section for guides, news, leaks and much more so that fans of the iconic ARPG franchise stay up to date with the latest information.
---
Check out our video below, discussing Diablo Immortal's story and how the game fits into the franchise's timeline.
For more news on the game and the iconic ARPG franchise, check out our sections dedicated to Diablo 3, Diablo Immortal, and Diablo 4. Get the latest guides & tutorials for your favorite Diablo title below.
Diablo Immortal Guides - Character Server Transfer | Next Hungering Moon | Hell Difficulty Levels | Combat Rating (CR) | Recruit A Friend | Redeem Codes | Next Season | Fractured Plane Event | Vote Kick Feature | Next Helliquary Boss | XP Bug Fix | Class Change | Max Level Cost | Lost Pages | Legacy of the Horadrim | Player vs. Player (PVP) | Set Items | Resonance | Potency | Level Progression | Trading | Crusader Build | Barbarian Build | Monk Build | Necromancer Build | Marketplace | Zone Events 
Diablo 2 Resurrected Guides - Ladder Reset | Magic Find Bonus Event | Holy Grail Challenge | Underground Passage Location | Character Deleted Fix | Black Screen Freezes Fix | Unable To Start Fix | Best Assassin Build | Best Barbarian Build | Best Amazon Build | Secret Cow Level | Runewords | Attacks Missing | Horadric Cube | Cairn Stones | Reset Skills & Stats | 
Diablo 3 Guides - Zoltun Kulle Adventure Mode | Puzzle Ring | Ramaladni's Gift | Death's Breath | Next Season | Kanai's Cube | Sanctified Powers | 
Diablo 4 Guides - Cross-Play & Cross-Progression | Dungeons | Game Pass | Endgame Beta | Book of Lorath