Whether you're a hardened shooter or FPS game veteran, or perhaps trying to get into the world of eSports for the first time, there are some great Counter-Strike: Global Offensive events coming up that could be the ideal place to  start. Let GINX be your guide, as we take a quick look at the final qualifiers coming up this weekend for CS:GO and Valve's first Major Tournament of the year – MLG Columbus 2016!
What's A CS:GO Major Anyway?
If you haven't watched competitive CS:GO before, then you'll need a quick explanation of what a "Major" is. Valve (the company behind CS:GO) support three large competitions a year by giving them Major status. Major status gives a few perks to a tournament. The first is a hefty prize pool – MLG Columbus will have the first $1 million dollar prize pool for a Major this year, a milestone in Counter-Strike history. The second takes the form of various buyable in-game stickers of participating player signatures and team logos, that fans can buy to support their favourites, or simply just to make their favourite virtual weapons look that bit more swaggy. Last but not least,  a chance of free stuff! If you watch a Major Tournament within CS:GO on your computer or on Twitch with your Steam Account linked, you're in with a chance of getting free Souvenir weapons and items in-game. All of the above, the status and more make Major Tournaments
*the*
most desirable for teams and players to compete in – competition to qualify will be fierce, and will make this weekend's qualifiers well worth watching.
What's Happening This Weekend Then?
MLG Columbus is actually at the end of March (never fear, we'll be back to walk you through that closer to the time), but with 8 qualifying spots still to be decided, this weekend's Major Qualifier event should give us a great look at some established and up-and-coming teams, as well as some fast and frantic CS:GO.
Where and When Can I Watch?
The event's from 9:45am EST on Friday 26
th
 February, so tune in then at 
http://www.majorleaguegaming.com/
 - that's 3pm UK/ 4pm CEST for you European folks.
Tournament Format:
It's pretty simple – four groups of four teams, playing in Best-Of-One map matches to start. After a round of matches in a group, winners play winners, and losers play losers in a longer, Best-Of-Three map battle. Best of Ones are fast and frantic affairs, and prime territory for upsets - winner takes all. Best of Threes, give more of a chance that teams will be forced to play on maps they may not be as comfortable on; so should favour teams with more skill, experience, and a wider "map pool", or ability to play well on a selection of maps. Win against two teams, you're qualified. Lose then win, you're still qualified. Lose two games – adios amigos!
Who's Playing?
Here's a pretty graphic, courtesy of the good folks at MLG. If you're brand new to CS:GO, get an ELI5 / quick rundown of each team below.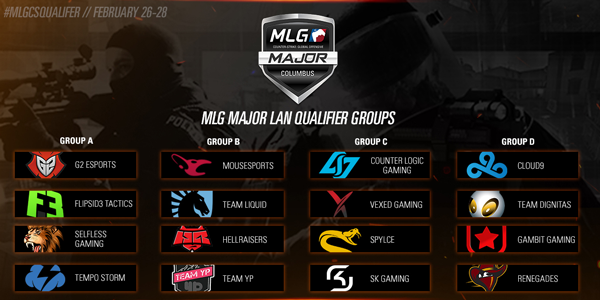 GROUP A
G2 Esports
Previously played as TITAN, with some of the crème de la crème of French and Belgian CS:GO players. Since acquiring renowned one-tap-headshot master ScreaM, the line-up's had mixed results, blowing very hot and cold. Certainly have the potential to progress, should be a favourite in Group A.
Flipside Tactics
Hailing from Russian and the wider CIS region, Flip are a mix of veteran Counter-Strike players and fresh young talent. Anchored by CS 1.6 veteran markeloff, Flipside can show up and beat much better teams on their day, but struggle with consistency fairly often against teams at their level. If they're firing on all cylinders, qualification should be their target.
Selfless Gaming
Previously playing under the Enemy banner, this NA team are without an organisation at the moment. The tournament will be a swansong and a goodbye to their most well-known player – sniper/AWP'er Koosta will play this final tournament for Selfless, before joining Team Liquid permanently after this event is done. Qualification will be a challenge.
Tempo Storm
Previously playing as Games Academy, this line-up has shown interesting form in recent weeks. With a victory against top NA team Cloud 9 just this week and some competitive results against other top teams in the region, it'll be interesting to see if TS can show continued improvement against non-American opposition. A dark horse for an upset in-group, could join their fellow Brazillians LG in the Major Finals in March.  
GROUP B
MouseSports
Always the bridesmaid, never the bride! On their day, Mouz can cause any team in the world serious trouble. AWP/sniper player chrisJ can almost single-handedly turn games around for the team when he's on form, and with talented rifleman in nex and Niko, the German outfit have all the ingredients to become a top-tier team. Have struggled with tactical calls and strategy at times, but should be aiming to qualify as favourites from Group B.
Team Liquid
Liquid qualify well for international events, but have often struggled against non NA opposition in the past. The team has strengthened with the addition of a prodigal Ukrainian talent in s1mple, whose maverick talent could lead him to be one of the top players in the world. Liquid have shown improvement in American matches – now's the time to prove themselves against non-domestic opposition. Have a good shot at qualifying.
HellRaisers
The definition of CS:GO inconsistency. HellRaisers were a Tier 2 team on paper, but tend to play up to the level of better opponents, before dropping games against theoretically worse opposition. Recent results have been mixed, with new additions to the line-up yet to gel together. If HR bring their A game, they could well qualify. On current form, may struggle.
Team YP
Don't Google them too much without SafeSearch on! Another Russian/CIS line-up, and worth keeping an eye out for a talented AWP/sniper in DavCost. Could be a dark horse for an upset in group B, but qualification will be a challenge.  
GROUP C
Counter Logic Gaming
A top tier NA line-up who tend to struggle with consistency at international events. Have put up some fighting performances against top-tier international teams in the last month, with some good wins against tier 2 teams too. Have a shot at qualifying on home-soil in what could be the most open group.
Vexed Gaming
Previously known as eBettle, this Polish line-up have Major Tournament experience from last year. They've tweaked their line-up a bit since then, and are still gelling as a team if their recent ESL Barcelona performance is anything to go by. Recent form is mixed against similar level opposition, will probably be battling CLG for the second qualification slot.
Splyce
There's some talented aim in this Splyce line-up, but with recent domestic performances being mixed against second tier American teams, this'll be a test of adaption and a trial of different opposition playstyles for LeX, flowsicK and co. Qualification will be a challenge.
SK Gaming
A long-established Swedish outfit, SK's latest line-up has been bonding well in recent matches. Pimp's acquisition from Team Dignitas appears to have given the team a much-needed core of experience, and strong performances and wins against top-tier teams such as NaVi recently seem to have got the team on a roll. Should qualify, group favourites if they bring their recent confidence to MLG.  
GROUP D
Cloud 9
In the first half of 2015, Cloud9 were American CS poster boys, and arguably the best CS:GO team in North America. After being somewhat eclipsed by the rise of NA rivals LG and the retirement of their in-game leader/tactician seangares, they've not had a great start to 2016, failing to qualify from NA for the DreamHack Masters last week and becoming embroiled in some out-of-game antics, with one of their players recently being fined for bad behaviour. Have the talent and skill to qualify here, but need to bring their A game. Watch out for AWP/Sniper Skadoodle, and the calculated, lurking and sneaky play of n0thing.
Team Dignitas
Another team who have shown great improvement in recent months. Dignitas have taken several top-tier teams to the wire recently, and float between being defined as a Tier 1 or Tier 2 team. With RUBINO and k0nfig on form with rifles, they've demolished similar-level opposition recently too. Should qualify from the group.
Gambit Gaming
A new-ish line-up compromised of a CIS mix of known Russian players wayLander and hooch, combined with ex-HR players AdreN, Dosia and mou. Recent results have been solid against similar level opponents, and there's certainly major experience in the team, but they may struggle here against more established line-ups.
Renegades
A cheery and fiery bunch of ex-pat Australians now living and competing in the US top tier, Renegades are always a fun team to watch. They've surprised one or two top tier teams, and can always put a good fight up against most opposition. Look for the yelling of captain sPUNJ in any key rounds – a dark horse to grab the second qualifying spot in Group D.