FACEIT have partnered with streaming platform Twitch to release a Premium Pass for the FACEIT London Major, the first ever event pass for a CS:GO event that aims to offer an interactive experience for fans. The FACEIT TV account, which has been streaming the Minors and Challengers stages of the Major officially became the fastest growing account earlier this month according to statistics gathered by TwitchMetrics.
Starting today, fans will be treated to even more features and special access via a one-time $9.99 subscription to the FACEIT London Major Twitch channel, which will include:
11 channels powered by interactive stats and custom extensions powered by GenVid

Interactive HUD
Player POV cameras
Stats and tactics information

Two weeks of FACEIT Premium
Exclusive chat emojis
Premium-only chat channels
Exclusive VOD content released throughout the Major, including:

Exclusive behind-the-scenes Legends player interviews
Major time machine 8 films, produced by Sodiac
The return of Sounds of CS:GO

Plus more Premium features
The Premium Pass, created in coordination with broadcast partners GenVid and StatsHelix, encompasses the Legends and Champions Stages of the FACEIT London Major running until the 23rd September and unlocks special access to the tournament and new features for hardcore CS:GO fans exclusively on www.twitch.tv/faceittv. "Partnering with FACEIT to provide a Premium Pass for the FACEIT London Major reflects our ongoing efforts to increase the interactivity of esports," said Michael Aragon, SVP Content, Twitch. "Since Twitch has already made spectating a live, interactive, shared form of entertainment with features such as Extensions, Cheering, Drops, and exclusive offers via Twitch Prime, our recent focus on passes adds another compelling layer to the social video experience."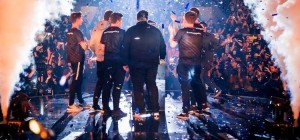 "The Major is the most prestigious CS:GO tournament and sees the highest level of competition from the best teams," said Michele Attisani, CBO & Co-Founder of FACEIT. "This is the time when fans want to learn even more about the teams they love. We want to offer our audience new innovative and interactive viewing opportunities and we see Premium Passes like this partnership with Twitch as an evolution of traditional esports content." FACEIT have also announced that fans can now link their FACEIT accounts to their Twitch accounts to win drops throughout the Major. This will be open to all users and not just those with the Premium Pass.