Astralis have undoubtedly been the dominant team of the last few months in the top tier of international Counter-Strike. They may very well be the most complete side we've seen in some time. They've seemingly "figured out" CS:GO and appear to have most tournaments firmly under control. What might it take to dethrone them? How would a potential usurper overcome the Danish powerhouses?
Looking good
Their combination of a fundamentally sound tactical approach, unrivalled utility efficiency and the ability to frag well across all five players has made Astralis the best team in the world. You'd be hard-pressed to find anyone brave enough to refute that claim. Building on their tactical style, in-game leader Lukas "gla1ve" Rossander is one of the very best callers and probably the best fragging IGL in CS:GO today. Coach Danny "zonic" Sørensen is one of the best motivators you'll see in the scene as well as helping guide and prepare the game's most strategically diverse team.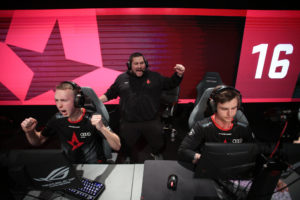 The zonic and gla1ve partnership helped take this team to greatness last year with Kjaerbye and has now repeated that feat in 2018 with the current lineup. Except for this time, they don't look nearly as fallible as before. I mentioned their use of utility. There is no other team that does as much damage with grenades as Astralis. They've redefined the nade meta of CS:GO and forced the rest of the scene to play catch up in this area.
Surprising losses
With the FACEIT London Major looming on the horizon, somebody is going to need to rise to effectively challenge the Danes. The most likely candidates at this point in time are FaZe Clan and Na'Vi. Both teams have beaten them in important playoff matches this year. On the two most significant occasions it took both teams otherworldly effort and a little of the unexpected pull it off.
FaZe's one-upping
FaZe's Intel Extreme Masters Sydney title came about in May, early on in the development of the current Astralis lineup featuring Emil "Magisk" Reif, before the Danes had ascended to their current seemingly unassailable level. In FaZe's victory in the best of five final, it required all of NiKo, GuardiaN and rain to perform at superstar levels of performance. This was probably the closest series with a 3 - 0 scoreline of all time. Every map was balanced on a knife-edge. It could just as easily have been a 0 - 3 win to Astralis. The win required a sustained superhuman effort from three players across three maps.
Natus Vincere's notable vanquishment
Na'Vi moved past Astralis in the ESL One Cologne Semi-Final courtesy of in-game leader Danylo "Zeus" Teslenko delivering his best individual performance in four years on the decider map. The usual bottom fragger delivered 30 kills. That's not exactly something Astralis could anticipate. Combined with a career-best tournament from Denis "electronic" Sharipov and the usual dominance of Oleksandr "s1mple" Kostyliev, this helped Na'Vi across the line.
Predicated on unpredictability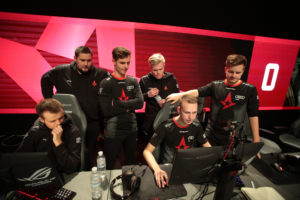 Astralis failed in both situations by the slimmest of margins. The difference makers for both FaZe and Na'Vi were individual performances that went above and beyond what could be prepared for by the Danes. That means that the only way we've seen so far to effectively counter Astralis is for players to go absolutely ham. Hardly a reliable method of conquest that opponents can count on going forward. It almost goes without saying that if you want to beat them you need two or three players on your team to have insane games at the same time. I do think however here that another key is that these two examples were not anticipated scenarios by the tactical masterminds of Astralis. Astralis are probably the best-prepared team in the game and tend to have setups designed to deal effectively with most opponents and eventualities. If an opponent can hit them with something new and unanticipated, there's an opportunity to snatch the win from them. They are simply too good at reading the game to fall prey to a predictable game plan.
Economic starvation
Astralis are unmatched at converting full buy rounds into round wins. By the very nature of their ability to win buy rounds, they tend to force buy much less than their competitors. Their forays into force buys are often fruitful, but they can't quite match Na'Vi and FaZe in this area. Na'Vi, in particular, are ludicrously good at winning force buys. Astralis force buy rounds get played to a game plan, whereas their two closest competitors rely on their explosive individuals to find picks. If you can starve the Astralis economy and deny access to rifles, they won't be quite as effective.
Strong machine
As a knock-on effect of hurting their economy and possibly of greater importance is denying star sniper, Nicolai "dev1ce" Reedtz, access to the AWP. The Danes rely heavily on dev1ce's AWPing. You need an AWPer that can at least match him to beat them. We've seen the likes of s1mple and GuardiaN do just that in the past. Beating Astralis means doing it again and neutralising him.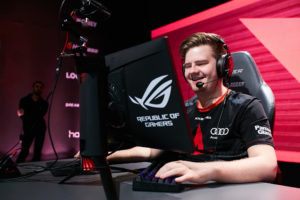 Dev1ce tends to dominate the game with his dynamic movement across the map. He dictates the pace of the match and chooses his engagements, while simultaneously gathering important information for his team. Keeping the Astralis economy in check means dev1ce has fewer opportunities to take over the game. Additionally, when he has the AWP, if you can isolate him and crack the bombsite he's not on, dev1ce will very seldom attempt the retake and risk losing the weapon. If you can predict his movements, there's a high probability of round wins.
Beating the unbeatable
This team is terrifying. They are the most complete Counter-Strike team of 2018. It requires a lot to go right for their opponents to wrest a victory from their vice-like grip. Beating them is not impossible, but on most days it's improbable. Watching teams like Na'Vi and FaZe attempt it will push the level of competition to new heights. As a fan of the game, that's an exciting prospect. The next few tournaments are going to be fascinating. All images courtesy of Starladder on Flickr.