In tonight's
Rainbow Six Siege Pro League
, we will see how tense the race to the Pro League finals in Rio is. G2 Esports are already confirmed as the first team from EU headed to Rio, leaving only one space left in a closely-knit EU ladder. Team Secret, Mock-it, and Millenium are all in with a fighting chance of qualifying. Mock-it will be facing off against Team Secret tonight, then they and Millenium will duke it out in the final week of the Pro League. We interviewed Niklas "KS" Massierer, team captain of the Mock-it Rainbow Six Siege team, and he told us why he thinks Mock-it have grown over the past few months, and what they need to do qualify for Rio. [caption id="attachment_106390" align="alignnone" width="600"]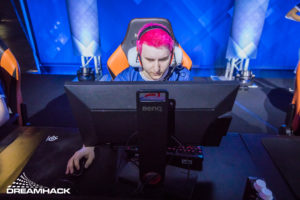 Credit: Stephanie Lindgren
[/caption]
You started well but fell off a little bit in the build-up to the Paris Major. Can you tell me your thoughts on the earlier weeks in the Pro League season?
After all these changes right before the Major in Paris, we wanted to recreate the team and make it stronger than before. We never had the goal to win at Paris Major, more like to rebuild it there and look how far we have come. With Lukas "Korey" Zwingmann and Bryan "BakaBryan" Tester we have two very new and talented players which coming into the pro league and with a new and fresh mindset to the team.
Regarding the roster changes by acquiring BakaBryan and Korey. What is it about these players that you thought would make the team better?
In the beginning, we were looking for players who speak German to minimize the risk of miscommunication while playing Pro League and of course in our free time. Let's start with our newest addition to the team: BakaBryan. Bryan wasn't really known in the community because he never played in an environment like the Challenger or Pro League. We knew him because he played with some other pros and his gameplay looked good enough to trial him. His ability to play most support operators was such a good thing for the team. A fun fact which a lot of people didn't know about Bryan: He is from Switzerland and speaks German. This is a fun fact because no one knew he speaks German because he always spoke in English. We knew Korey long before as a friend and a good R6 Player, so we asked him to join the team. We also wanted him to join because he brings a lot of in game-leading from his time with Movistar Riders into the team.
Since acquiring them, the team has improved a lot. You recently took the 2nd place position from Team Secret and kept hold of it last week. How do you account for this growth?
It's really simple. We analyse our opponents very well. This works only because of our analyst Eric "Reaper_EN" Nohl. With him on board, we can get the latest information about the play style of our next opponent. He goes through every VOD and is looking at how they play and how we counter their play style.
You're the second team to draw with G2 Esports this season. Is this a testament to how far you have come?
I would say so, yes! Just work hard and you will see the success. Without some small mistakes, we could have won against G2.
We'll know if it's you or Secret heading to Rio alongside G2 Esports tonight. How much pressure is on this match with Team Secret?
The match versus Team Secret is going to be the most important and hardest match this season. As you said, this game [against Team Secret] decides who most likely will join G2 in Rio. Millenium still can make it too, so don't count them out. Since Millenium is just two points below us and still have to play us, they could make their way to Rio as well. We do our work and hope for the best.
How much do you think the final week of the season will affect your chances of heading to Rio?
If we lose against Team Secret we most likely won't make it to Rio. So, to get there we need to win the next two upcoming matches.
In the remaining weeks of the EU Pro League, Millenium, Mock-it and Team Secret must each win both of their matches. We should be in for an exciting week of Pro League as the competition heats up.