When you think of competitive-centric developers, Ubisoft are not the first to come to mind. They aren't hyper responsive to the community; their patch cycles are typically long; it's rare you see them pushing any of their games as potential esports. And often, they fail to even get the basics right: on multiple occasions we've seen them release games full of annoying bugs or severely lacking in content – so called
'unfinished' products
. In recent years, Ubisoft have sought to change this. They waited an extra year to release Assassin's Creed: Origins, for example, and as a result that game possessed the level of quality on release we've come to expect from a triple-A developer. We've also seen them apply greater care and attention to their games' esports scenes. Nowhere is this better demonstrated than with the Rainbow Six Pro League, which has come on leaps and bounds in recent years. In fact, the entire 
Rainbow Six esports
scene is high quality – it's not for nothing that it's been so
widely lauded by the community
. But where did it go so right?
What are they doing?
Ubisoft are working at a steady pace to provide opportunity and resources to players, teams, organisations and sponsors in the most organic and efficient way possible, taking on feedback from all levels of play over the last two years. We have seen numerous map, weapon and operator fixes made entirely with the competitive integrity of the game in mind. Take the introduction of Lion to the operator pool, which was hugely disruptive to competitive play. In the initial weeks after release, Lion was a guaranteed pick in every single game, regardless of map or bomb site, due to his overpowered abilities that could change the game around in the blink of an eye.
Though every operator has unique skills that are pushed to their competitive limits by professional players, this was recognised as an issue by Ubisoft and fixed accordingly. The same can be said for the recent buff of the map Clubhouse, in which some additions have been made to better balance the map and make it less favourable of certain sides dependent on bomb-site. This is something that you don't always see top esports do, but through communicating with their high-level playerbase Ubisoft have started to shape their game around what is best for all levels, as opposed to what is best for just the casual players or even what might be best just for Ubisoft. It is easy for a top tier developer to create a game and tell its players to work around it – this is the game, and this is how you play it. Conversely, it takes careful care and attention to provide gamers with a product that works almost entirely in their best interests, and this is what Rainbow Six seeks to do.
Pro League changes: Backlash and feedback
In January, Ubisoft announced some major changes to the Pro League format – mainly in terms of the season structure and the introduction of 'Major' and 'Minor' events. However, there were also some intended changes to the gameplay at tournaments, based on maps used and the order of attacking/defending sites, that pro players were very vocal in their distaste of. https://twitter.com/FabianR6S/status/997626295851933696 However, the day following this tweet Ubisoft organised and held a meeting with representatives from across the pro league and went back on their initial plans – they listened to the players, they heard what was needed, and acted accordingly. Ubisoft's responsiveness to the situation is highly commendable, and the way feedback was taken on board almost instantaneously shows that they are in it for the long haul. They want to create a genuinely strong ecosystem around a game that was blasted upon release and very few had high aspirations for in terms of esport potential. https://twitter.com/FabianR6S/status/998248809925955586
Pro League and beyond
As mentioned, the Rainbow Six Pro League and the ecosystem of the competitive side of the game are clearly of great importance to Ubisoft. They have created a system that aims to promote competitive play from the grassroots up to Major winners, very similar to systems you see in traditional sports. The Pro League is supported by a Challenger League in each region – EU, NA, LATAM and APAC. Below that, even, are ESL's Go4 cups and the ESL UK Premiership, in which local talent is celebrated and compete against each other with the intention of eventually ending up in the Pro League.
This level of infrastructure is not common in esports, especially not in an esport still somewhat in its infancy, but it is something Ubisoft have been putting in to work since the game's inception. In an interview with Esports News UK last year, Ubisoft esports director François-Xavier Deniele said that they are "putting together lots of local championships in our bigger territories such as Europe and North America so we can provide the competition you want if you want to become a professional player." This is evidently a thoroughly thought-out process for Ubisoft, and one that is really starting to pay off.
Viewership and growing notoriety
The recent Pro League finals peaked at over 243,000 viewers, a stark contrast to CS:GO's ESL Pro League Finals, the viewership for that event peaking at around 121,000.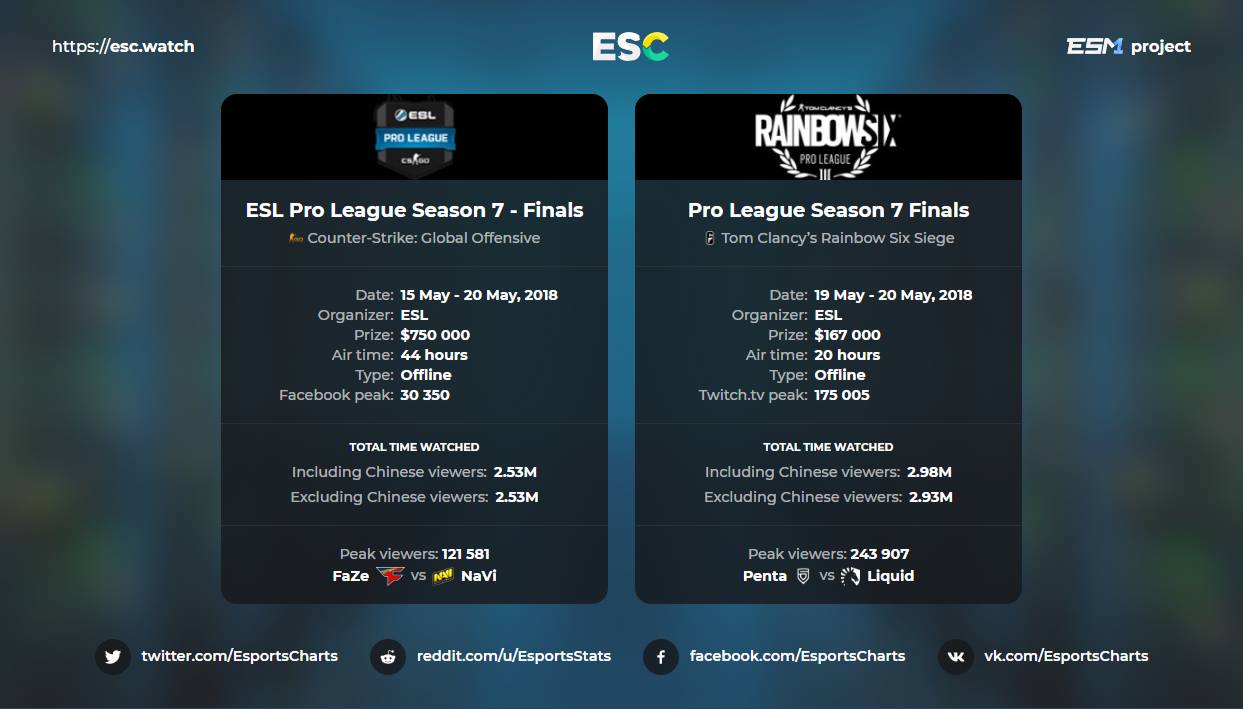 Although a lot can be said about the fact that ESL events are streaming primarily on Facebook, a partnership which hasn't been welcomed with open arms by the esports community, these numbers still say a lot about the popularity of Rainbow Six and how much it is growing. To vouch for the growth of the scene we can look, also, at the type of organisation getting involved with it. In the months shortly prior to and following February's Six Invitational FaZe Clan, Team Liquid, Evil Geniuses, Fnatic, Counter Logic Gaming, mousesports and SK have all acquired rosters within the game. These are some of the most famous brands in esports, investing in Rainbow Six because they're that sure of its future success, and reassured by the people running it. When people discuss the top esports, their favourite teams, their favourite games, you will rarely hear much of Rainbow Six Siege. However, I don't think that will be the case much longer.