South African correspondent Julia 'bish' Robson caught up with Dexo of ViNCO Gaming to discuss the team and the South African
PUBG
scene.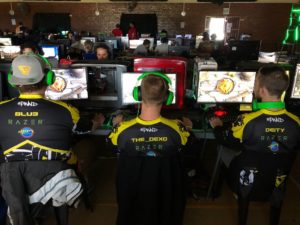 What is happening in the South African PUBG community at the moment?
At the moment there are two major tournament organisers hosting events for PUBG in South Africa. Mettlestate have their monthly pro and open league with a prize pool of R10000 as well as regular duo competitions with prize pools of around R2000. Aiming Anonymous also host weekly Sunday cups and at the moment have a prize pool of R1000 as well as custom games and duo events throughout the week for the less serious competitive players. Besides local events, the biggest opportunity for local teams is currently being played out which is the StarLadder Middle East Africa Contenders League qualifiers.
Which upcoming events can PUBG fans look forward to seeing local players compete in?
On Wednesday, February 27, local teams will try to prove their worth in the international scene once again as round 2 of the SLTV Contenders league qualifiers will take place. Mettlestate pro league will also be played out every Thursday from February 28 onwards and every Sunday you can watch the Aiming Anonymous Sunday Cup.
Talk us through the Vinco team lineup.
Since the beginning of PUBG I played competitive with my day one, BLU3 and eventually we formed the ViNCO Gaming competitive roster. Last year ViNCO Gaming were the best team in South Africa, finishing first in the Orena champions division as well as huge international success earlier in the year, however we unfortunately split up in September. After a few months of playing for different teams, in December we decided the time was right to create a ViNCO 2.0. During my time away from ViNCO, I played for top tier teams like Energy Esports, Team Global Elite and Narced, but I never felt at home in any of these teams regardless of the contracts and sweet deals they offered. BLU3 is our IGL and was playing for Lupos in his time away from ViNCO, who won season 1 of Mettlestate champions division. Acearino, my best friend from high school who I started playing PUBG with, had been playing competitively for Big5 for almost a year. Big 5 came second in season 1 of Mettlestate champions division and they were arguably the best team in South Africa after ViNCO's break up. Our 4th pickup completing the starting roster was Soda ZA. Soda goes way back to the early days of local PUBG as he was the captain of APG who were ViNCO's direct rivals and competition for 1st place in the early months of 2018. He has been in and out of the competitive scene but still remains one of the best slayers in South Africa and a perfect pickup to complete our God Squad. Recently Evo gaming, another long standing local steam split up and we picked up UnKowNzz as our 5th and final player.
Which team would you consider top ranked in SA and why?
During my time at Energy Esports I spent time analysing the local scene and I realised that our roster would never achieve first place with the current state of the scene. Regardless of not feeling at home, the thought of not being number one because of things out of my control was not a pleasant one. So the venture to form ViNCO 2.0 began and the team was built from the best of the best in the respective teams. Since the completion of our roster earlier this year, we spent months practicing and didn't appear in any local events with the other top tier teams until we knew we would win. Lat Sunday on the 24th, we played the Aiming Anonymous cup and absolutely dominated coming in first place with almost double the points of second place as well as 3 of our players on the top 5 kills list. Alongside that, we were the only South African team to finish first in their StarLadder group.
What's your opinion on the StarLadder PUBG MEA competition?
The SLTV MEA qualifiers is a brilliant opportunity for local team to get experience and exposure to the international scene which will raise the local skill level tremendously and benefit the scene as well as provide a stepping stone to international success.
You recently released a diss-track that went viral in the RSA gaming community, give us some background on this?
https://www.youtube.com/watch?v=-D2Biy3jdfE I have always aspired to be a content creator of some degree and due to the recent team shuffles and turmoil in the local PUBG scene, I decided to do something different and release a light hearted diss track on some of my friends and 'rivals' to let them know what's up and what's coming. It was received extremely well and did way better then I ever would have imagined and as a result I'm looking into creating more music for fun.