It has been three seasons since FlipSid3 Tactics played at the Rocket League Championship Series World Championship — and for fans, the team's absence has been sorely felt. FlipSid3 was a giant of the scene in the early seasons, landing in the grand finals in Season 1 and then securing the championship in Season 2. Season 3's 5th-6th place finish was a step back, and then things unraveled after that, spurring two seasons of roster changes, close calls, and missing out on LAN. Dignitas has since filled the void at the top of Europe and will compete for a chance to win its third-straight World Championship this weekend, but FlipSid3 Tactics is finally back in form to give them a proper challenge. This isn't the same FlipSid3 Tactics that we know from their glory days; only Francesco "Kuxir97" Cinquemani remains from the start and the championship season. But with captain and fellow veteran player David "Miztik" Lawrie alongside, as well as Worlds newcomer Maurice "Yukeo" Weihs, FlipSid3 has established itself as one of the biggest surprises in Rocket League this season, and a real threat to contend for another title.
Getting in sync
Following his own World Championship grand finals appearance with Mock-It Esports, Miztik joined FlipSid3 Tactics for Season 4 to replace the departing Marius "gReazymeister" Ranheim. But despite the enviable talent on the roster, FlipSid3 just couldn't pull together enough wins. A 2-5 finish saw them limp into the regional championship, and they were quickly eliminated by the eventual champions, Gale Force Esports (now Dignitas). Soon after, fan-favourite founding member and RLCS champion Mark "Markydooda" Exton left, signalling the end of the Kuxir97-Marky tandem that had proved so dominant early on. Rather than find another veteran to fill the void, FlipSid3 instead recruited Yukeo, a promising rookie who subbed for Paris Saint-Germain the previous season. However, they showed serious improvement at 4-3, winning their last three matches of the regular season. The upswing was in motion — but then they lost to Team Envy at regionals. And then something surprising happened: rather than take a breather, the new FlipSid3 roster got really, really good right after their RLCS season ended. Call it rough timing, given the quiet summer offseason, but the trio of Miztik, Kuxir97, and Yukeo started pulling off white-hot team passing plays and looking scarily in sync during online tournaments like the Ballistix Brawl (see above). The next RLCS season was months away, but it was a good sign all the same. "We definitely started to show our synergy towards the end of last season," says Miztik. "It has always been difficult to show up at the beginning of the season for me, especially with a slow offseason and nerves going into league play. We knew that we had potential to be much better after the first few weeks of RLCS, and I think that showed pretty quickly afterwards." FlipSid3 Tactics was the only other European team besides Dignitas to retain its full roster in the offseason, betting that the late-season and summer success would only improve over time. The team's initial 1-2 start didn't match that optimism, but it was similar to how the team started the previous season — and those two losses came against the region's eventual Top 2 But just like last season, they quickly put it all together for the back half and logged four straight wins to secure a trip to the World Championship. And the parting shot showed that they are ready to rise up when it matters most. In their final series of the season against compLexity, both teams desperately needed the victory: FlipSid3 wanted to earn their LAN spot and not have to worry about the regional championship, while compLexity needed a win just to avoid the relegation tournament. https://twitter.com/miztikRL/status/1049056407084040192 In the end, it was Yukeo who sank the zero-second, game-five-winning shot off of a deflected save from compLexity. Miztik later posted a recording of their comms in the moment (above), in which a dazed Miztik repeatedly says, "I cannot believe it" and "There's no way" for about a minute, while Yukeo shouts in excitement and Kuxir's feed is just fuzzy, inaudible noise. It's such a pure moment, and clear look into the kind of elation that poured out of the team following a couple of tough seasons. "I was completely focused on the game, saw the opportunity, and just tried to place it where the opponent couldn't reach it in time as fast as possible — and it worked," says Yukeo. "I couldn't believe that I finally scored such an important goal in RLCS."
Inside this FlipSid3
Both Yukeo and Kuxir suggest that it's the variety of all three members' individual play styles that helps them thrive; perhaps it helps keep opponents from getting comfortable or figuring them out right away. But Kuxir admits that pairing up their contrasting styles in the heat of a tense match isn't always an easy feat: "The only difficulty is making them fit at every moment during games." Their late-season surge is emblematic of their increased on-the-pitch synergy and further experience together as a unit, but it's also representative of their individual growth and roles on the team. Kuxir97 has long been an anchor for FlipSid3 Tactics and has consistently put up strong numbers in the RLCS — and this time around, six seasons into the league, his impressive offensive prowess earned him MVP honours for Europe. [caption id="attachment_106523" align="alignnone" width="600"]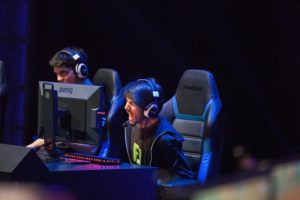 [Credit: Psyonix] Kuxir97 last appeared on the World Championship stage in Season 3[/caption]After the team's rough Season 4 and a couple of seasons out of the World Championship, some RLCS fans might have questioned if he'd ever be back in a position to compete for another title. Not Kuxir, though — he continued to grind and adapt for his next shot at the crown. "I honestly never felt like [I was] never coming back to the top. It was all matter of small adaptations to my play style and focusing on never making mistakes," he says. "I always put in hard work whenever I want to achieve a goal in my life, and this is just what happened after Season 3." Last season saw Miztik shift into an unfamiliar — and as he suggests, uncomfortable — position as the new captain. He was filling the shoes of Markydooda, one of the biggest names the game has ever had, while helping to corral both a fellow RLCS veteran and a rookie. Miztik says it's still a work-in-progress in his second season as captain, but the team's improving results suggest he's doing quite fine. "I don't think I've settled into the captain role as much as I'd like. It was definitely not a position I wanted to be in, but I didn't really have a choice — if I didn't lead the team, nobody would," Miztik admits. "I work hard to be the best captain I can be but I'm far from what the boys deserve. I will continue to work on it, of course, and have no problem continuing my current position. I find it really easy to keep my team motivated and hyped during RLCS. It's more of the in-between I struggle with. I have problems keeping scrims and practice as positive as possible because there is nothing on the line and it's easy to get distracted." https://twitter.com/RLEsports/status/1046438707815837696 Yukeo has praise for his captain, however: "In important matches, he stays calm and helps us not to get too nervous, so that we can stay focused on the gameplay itself." As for Yukeo himself, he put up a solid rookie season the last time around, but definitely feels like he's learned so much more and adapted to the pro level in the time since. "I've improved a lot. Every time I watch myself back, I think that I was garbage — which is a good thing," he says with a laugh. "Yukeo has grown considerably since last season," adds Miztik. "It's great to see him come out of his shell and show people that he is a fantastic player. I think he will continue to improve, and with the space we have to improve as a team, he will have a better season each time." In fact, Kuxir97 believes that his latest teammate could've taken the MVP honours over him, although Kuxir certainly isn't handing the title away. "I personally think Yukeo would have deserved it more than I did for how clutch he was at the end, but I'll take it," he says. "No problem."
Returning to Worlds
Ultimately taking third place in Europe at the regional championship, FlipSid3's first matchup at the World Championship will come against G2 Esports. Kuxir97 and G2 captain Cameron "Kronovi" Bills go way back; they battled for the very first RLCS championship with FlipSid3 facing Kronovi's iBUYPOWER Cosmic, who then signed with G2 after winning that title. G2 flopped at the last Worlds, finishing 8th after losing both matches, but last year's ELEAGUE Cup champions are always a threat. For their part, FlipSid3 Tactics have been on the grind for a while now, arriving in the U.S. more than two weeks early to boot camp together. FlipSid3's season two roster also boot-camped in advance of their Worlds win, before it was common for RLCS teams to do that, and that move seemingly worked wonders for them. https://twitter.com/FlipSid3Tactics/status/1055952887417921542 "The boot camp has been great so far," says Miztik. "MAINGEAR has provided us with fantastic PCs, and we all feel at home with our setups. We've been scrimming a lot each day and looking at certain aspects to help us with matchups for RLCS." This is a new-look FlipSid3 Tactics, but one that's showing the same kind of gutsy play that elevated the earlier roster to the top of the Rocket League world. It's a strong legacy to live up to, but they believe that if they focus and play their dynamic game together, they'll be able to elevate F3 back to its former Rocket League greatness. And doing so would undoubtedly help justify the past seasons of frustration and perseverance that led to this point. "It would mean everything to bring another trophy home to F3," asserts Miztik. "We've had an incredibly stressful season with lots of ups and downs. A win at the championship would definitely make it all worth it. I can't wait to get onstage again." "We are more confident than ever," adds Kuxir97. "No one can make predictions anymore for how good all the teams at the LAN are, but I'm sure that we could beat anyone when playing at 100%."