Savage! has been one of the most entertaining teams to watch in this season's Rocket League's Rival Series. The unsigned European squad currently sits in first place and has scored some ridiculously massive goals… and their Twitter account routinely replies "Savage!", referencing the game's familiar quick chat line and their apparent namesake. That's fun, too.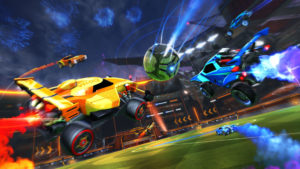 But if you haven't been following Rocket League's second-tier league this season, then you might be surprised to find out exactly who is on this team. It's headlined by David "Deevo" Morrow, a past Rocket League Championship Series winner who last played for Team Envy, as well as Daniel "Bluey" Bluett, the high-flying ex-Paris Saint-Germain star who won DreamHack Leipzig with them earlier this year. And to top it off, these two RLCS veterans have teamed with a total rookie, 15-year-old Alpha54. Deevo and Bluey both bounced out of their RLCS teams after last season, and both now have something to prove. But along with Alpha54, they're gelling together and seemingly having a blast – and now they have a chance to make the promotion tournament and try to vault back into the RLCS. We spoke with Savage! ahead of Friday's pivotal final league play match.
Departing RLCS
Both Deevo and Bluey rocketed to pro success. Deevo landed in the grand finals in his very first season with Mockit Aces, and then harnessed his acrobatic aerial abilities and double-tap prowess to lead Northern Gaming to the Season 3 championship—and his own MVP medal. But after signing with Team Envy, things went downhill: they finished 2-5 in Season 4 and missed the playoffs. Envy rebounded slightly at 3-4 and a World Championship return last season—but in the offseason, Envy dropped the team and the team dropped Deevo. "Leaving Envy was tough as they're a great team," says Deevo. "I don't really know how much I can say, but I'm just glad they're doing well. My contract came to an end and we didn't decide to carry on together. I just hope I can join them and the rest of the RLCS players soon." When we interviewed ex-Envy (now We Dem Girlz) captain Remco "Remkoe" den Boer last month, he suggested that splitting with his past teammate was necessary — he believed that Deevo's grind had diminished since their championship run. "It felt like it was something we had to do. I'm sure he would agree with the fact that he had lost a lot of motivation over the seasons to stay at the top in the game," says Remkoe. "I'm really happy that he's been doing well with his new team and still has a passion for competing. It's great to see him do well, but it didn't look like it was going to happen if he stayed on our team." Bluey, on the other hand, blasted into the RLCS in Season 4 as a member of Frontline, which went 6-1 and signed with Paris Saint-Germain before the season was up. After a 5th-6th finish at both the RLCS World Championship and The ELEAGUE Cup, PSG finally sealed the deal at January's DreamHack Leipzig with a victory over NA's then-surging G2 Esports.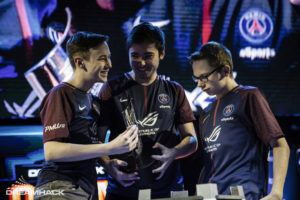 Credit: Jennika Ojala/DreamHack. Bluey (left) won a major tournament just months ago with his last team
He had quickly established himself as one of Rocket League's elite players, and one of the most dynamic on the pitch. But when PSG struggled in RLCS Season 5, Bluey was seen complaining about his teammates and teasing a departure, stoking chatter about discord within PSG. As Season 6 neared, PSG benched him in favour of a new starter. Rather than stay on that RLCS roster and wait for a possible opportunity to start again, Bluey requested his release. "When you become a substitute for a team, you don't get to play at the level that you want to," he says. "Since Europe's Rocket League scene is so strong, I felt that if I played in either RLRS or RLCS, I'd at least maintain my skill level and possibly reach new heights with a fresh team."
A Savage! fresh start
Neither player probably expected to be in this situation following their RLCS success, but the longtime friends saw it as a much-desired opportunity to finally team up together.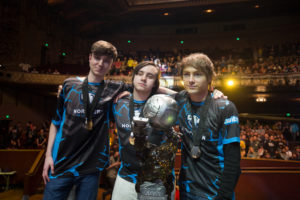 Credit: Psyonix. Deevo (left) helped Northern Gaming win it all in RLCS Season 3
For Deevo, especially, it was an opportunity to get back to the kind of youthful enthusiasm that made him fall in love with competitive Rocket League in the first place. "Me and Dan go way back. Our journey in Rocket League happened at the same time, both picking up the game when it came out on PS4," Deevo recalls. "We noticed each other online playing at the same level, and from there, we played 2s and soon realised we had a great energy when playing together. I've just always wanted to play with him ever since the old days, to bring us back to why we played Rocket League in the first place: to play with friends, and above all, have fun." Given that heartwarming sentiment, it's easy to see why Savage! is having such a good time together. However, a professional Rocket League team is more than just two players. Instead of trying to team with another ex-RLCS player or someone who's long been on the bubble, they opted to pick a relative unknown—someone who hadn't logged a lick of RLCS or Rival Series time in his life. That's because at age 15, Alpha54 just became eligible to play at the highest level. But Bluey first encountered him as a particularly domineering 1v1 opponent. "I could never beat him, which evidently annoyed me enough to remember him," says Bluey. "He's absolutely awesome, as the moment he gets the ball, he makes it count. I feel, because of the fact that he plays at a high level against players like myself and isn't fazed by his competition, that he's more than prepared for the future." Alpha54 certainly hasn't wilted in the brighter spotlight so far. He's already had a few knockout shots, even landing on our list of September's top plays — and while Bluey has been the team's top offensive force thus far, the rookie hasn't been far behind.
WHAT?!?!?!? WHAT? WHAT!?@Alpha54RL YOU ARE INSANE!#RIVALS

📺https://t.co/PpKjSDWZR1

🚀https://t.co/YaSObt9CJgpic.twitter.com/Jm4nkEyWpr

— Rocket League Esports (@RLEsports) September 21, 2018
A few weeks of Rival Series play is a small sample size, but so far, the young French player has both lived up to the hype and stood tall alongside his estimable English teammates. He's no weak link. "As a 15-year-old, there hasn't been much opportunity to show the world my Rocket League skill—but Deevo noticed how well I've been playing recently and wanted me to team up with him and Bluey," says Alpha54. "I've always wanted to play with players at a professional level, so it all feels like a dream to me right now." "I feel like everything is happening so fast for me right now that it's just awesome to experience," he adds.
It comes down to this
You'd expect a team with proven RLCS veterans to dominate the Rival Series, but success is hardly assured. Fellow EU team exceL, which features past champion Mark "Markydooda" Exton, just finished 2-5 in the Rival Series after being relegated from the RLCS last season. And over in North America, The Hosses — a team comprised of former RLCS players from Evil Geniuses, Rogue, and CLG – likewise finished 2-5, dropping their last four games. It's surely easy to lose motivation and momentum once you're out of the RLCS, but that hasn't been a problem for Savage! Deevo, whose passion for the game was questioned the last two seasons, appears to be newly inspired. Bluey, who was cast out as a poor team player, could be the catalyst that elevates this new squad back up to the big leagues. And Alpha54, the unproven rookie, is showing exactly why these seasoned pros trusted him as their third.
SAVAGE! @BlueyRL does it again!#RIVALS

📺https://t.co/PpKjSDWZR1

🚀https://t.co/YaSObt9CJgpic.twitter.com/wrjDivnPQV

— Rocket League Esports (@RLEsports) September 14, 2018
Bluey chalks their early success up to synergy. "The best teams all need that, and I feel we have something special," he says. Adds Deevo: "A great team in Rocket League is not only flawless on rotation, but also fast and accurate in play. As a team, we just always seem to score the most ridiculous goals, and I think that's what the fans love about us the most." At 5-1, they're sitting atop the standings after taking out top teams like Method and Team Secret—but it all comes down to this Friday. The last handful of Rival Series matches will determine who finishes Top 2 and makes it into November's promotion tournament. Facing the 1-4 team The Clappers might seem like an easy way to close out the season, but overconfidence could sink a team in this scenario—and there's little room for failure. If they win, they're in. But if they lose, they'll need help to maintain that Top 2 slot. Both Deevo and Bluey know a thing or two about high-pressure situations, and they'll surely hope that it's rubbing off on Alpha54, as well. Prior to last week's matches, we asked Bluey about the prospect of making the promotion tournament, but he wasn't ready to jump the gun. He's trying to keep his mind focused on what's happening now — and just play well and have fun with his friends. "I don't like to get too ahead of myself," he says. "We just need to play the Rocket League that we love, and then we have nothing else to be ashamed of."