Last weekend's departure of Alexandre "Kaydop" Courant from Dignitas' Rocket League team was another unexpected twist in what's been a wild RLCS offseason so far. Kaydop has played in the last four RLCS World Championship grand finals, winning Season 4 and Season 5 with his ex-Dignitas teammates, Jos "ViolentPanda" van Meurs and Pierre "Turbopolsa" Silfver.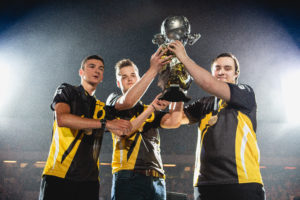 Credit: Psyonix
But they didn't win the last one – the dominant squad finally faltered on the game's biggest stage in November, when Cloud9 shocked the scene by overpowering Dignitas in back-to-back series' to take North America's first championship in five seasons. And then they lost again to Cloud9 at December's ELEAGUE Cup, ultimately finishing 3rd-4th. Given the team's past dominance, Dignitas seemed like a safe bet to sort through any issues in the offseason and return to their winning ways. Instead, Kaydop left to join French team Renault Sport Team Vitality and play alongside friend and fellow Frenchman, Victor "Fairy Peak" Locquet. Now, Dignitas has made its own move, signing Austrian player Maurice "Yukeo" Weihs from European rival FlipSid3 Tactics. Yukeo joined in Season 5 as a rookie, with stats site Octane.gg rating Yukeo as one of the top five EU players during Season 6. His addition and growth helped fuel FlipSid3's resurgence over the last two seasons, and now he's found himself playing alongside a pair of teammates with five total championship wins between them.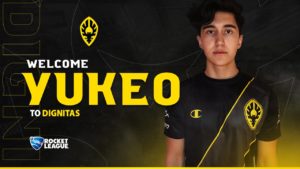 Credit: Dignitas
Following the announcement, we spoke with Dignitas CEO Mike Prindiville to learn about the team's big offseason moves and how it sets them up for further success in 2019.
Kaydop's decision
Initially with Gale Force Esports, that Dignitas roster had an incredible run over the last year and a half. In addition to winning two RLCS championships and the first NBC Universal Open, they won the European region all three seasons and made the grand finals of several tournaments. It was Rocket League's dream team, and undoubtedly the most successful team to play the game to date. But after their Season 6 World Championship defeat, Kaydop decided that he wanted to go a different route – and Prindiville says it wasn't because of the loss. "Having the best three players in the world at one time is amazing, but at some point in everyone's life, they decide that there's something they want in their career," says Prindiville. "Kaydop came to me this winter and said that he really wanted to play for a French club. Look, I come from a soccer background, so I understand wanting to play with people from your own country and the allure of that. I understand that Kaydop loves France. This is his wish, and I wanted to help him make that happen."
Our 1st @RLEsports year has been filled with ups & downs. In 2019, we want our @RenaultSportF1 Team Vitality squad to reach & stay at the top all season long 💪

To achieve that, we're welcoming a champion who proved its worth with @Dignitas: the talented and experienced @Kaydops pic.twitter.com/1DU5vTyJWa

— Team Vitality (@TeamVitality) January 13, 2019
Joining Renault Sport Team Vitality reunites Kaydop with his former Mock-It teammate Fairy Peak, with whom he made the Season 3 World Championship grand finals, plus it teams him with talented young pro Kyle "Scrub Killa" Robertson. Scrub Killa's rookie season wasn't a great one for Vitality, which finished 3-4 and didn't make the World Championship, but the dynamic tandem of Kaydop and Fairy Peak could give them a better chance in Season 7. For Dignitas, it was also an opportunity to shake things up. Kaydop is undoubtedly one of the world's best Rocket League players and an incredible offensive force, but Prindiville said the opportunity to start fresh in 2019 was a welcome one. In short, he sees it as a mutually beneficial move. "Vitality wanted to sign him. We wanted to see him off in a good place, because we love him – and at the same time, obviously, we got beat in the [RLCS] grand finals, and we got beat at ELEAGUE," says Prindiville. "That was never Kaydop's fault in particular, but we were ready to freshen things up, as well. We think with Yukeo, we're going to be able to take more interesting opportunities going forward. Again, Kaydop really loves France and wants to stay home and play, and we're looking for someone who's got a little more of an appetite to do something interesting going forward."
Yukeo's ascent
Yukeo came out of nowhere to fill FlipSide Tactics' roster opening for Season 5, putting up a solid rookie effort, and then really turned it on last season to elevate the team to a 5-2 finish. He also scored the winning zero-second goal (below) that returned the organisation to the World Championship, and continued to play well at the finals in Las Vegas. "He's a fantastic Rocket League player," says Prindiville. "He's an amazing upstart talent. Essentially, we knew we were going to move Kaydop, and we pretty quickly talked with Panda and Turbo, and they really liked Yukeo. We had seen Yukeo play, obviously, in Season 6, and he was dominant for FlipSid3. I think everything happens for a reason, and I think we're just excited to be a little bit fresh and new coming into the season. It's tough to play a team that's got a new look to it."
WELCOME TO #LANVegas!@YukeoRL, @kuxir97 and @miztikRL have punched their ticket to the World Championship!#RLCS6

📺https://t.co/PpKjSDWZR1

🚀https://t.co/YaSObt9CJg pic.twitter.com/huSdfqd9VJ

— Rocket League Esports (@RLEsports) October 7, 2018
Francesco "kuxir97" Cinquemani has been the one consistent rock for FlipSid3 Tactics throughout its six seasons, including the Season 2 championship win. His offensive surge secured him the regular season MVP honours last season, but Prindiville suggests that Yukeo – one of the rare keyboard-and-mouse players in the league – was starting to take over that title of the team's most dynamic force. "Kuxir's been the man at FlipSid3 for a while now," he says. "But I think everybody saw in the last season, Yukeo kind of creeped into the leadership position on that team, or the most dangerous player role for sure, and quietly went about his work. He plays with a simplicity and thoughtfulness that I think personifies Dignitas in terms of a style of play. Panda's talked about that before. He and Turbo are the Barcelona of Rocket League, and Yukeo, we think, has the skills to fill that role, for sure." According to Prindiville, Yukeo's new teammates are excited about their new ally – "100%," he says. "The first thing we wanted to do was have a conversation with those guys, to decide who was in the pool of players that they would want to play with," he continues. "Obviously, you go through the permission process and scrims and things like that, and sort of weave your way through the world of possibilities, but I think Yukeo was always at the top of their list and top of their minds."
A fresh start
Even so, Yukeo has significantly less RLCS experience than Kaydop, and no championships to his name just yet. He'll have to get accustomed to two brand new teammates, and they'll have to learn the tendencies of a fresh third. Dignitas' strength has always been incredible game sense; they didn't play flashy, but all three teammates were incredibly capable and almost preternaturally aware of where their partners were located. Working Yukeo into that style of play could take some time. "It's always going to be a learning experience anytime anyone changes to a new team," Prindiville admits. "He's had less time on the job and less experience, but my sense is that his ambition is through the roof. We want players at Dignitas who want to go higher than prior teams have ever gone before, and so I think that it's going to be an exciting season. It takes time during a season to gel, and you always want a team to peak at the right time. I think the seasons are long enough to peak at the right time, and I'm just excited to see him in the Dignitas shirt."
Credit: Psyonix
It's a fresh start for this Dignitas team, and we won't have to wait long to see the results in action. They'll play at the $100,000 WSOE 4: The Rocket League Showdown tournament in Las Vegas next weekend, with FlipSid3 Tactics also competing with Red Reserve's Jack "Speed" Packwood-Clarke as a temporary stand-in. Dignitas' success had previously seemed so effortless as they dominated the pitch, but between a new member and the rising tide of talent across both the region and the league, they'll have to put in a lot of work to remain atop Europe. Prindiville knows this. "We're gonna compete. We've got two of the best players in the world, and one of the players that we think has the greatest upstart value in the world. We're gonna work hard as hell," he says. "We're gonna put our heads down and work like heck and embrace any bumps that come our way, play the best Rocket League we possibly can, and try to win as many games as possible just like any other team in RLCS. I can tell you, there's a renewed energy about our guys that's exciting. This WSOE tournament can't come quick enough, because it's gonna be fun to watch."